On Friday, September 8, I bought 400 shares of Kroger (KR) for $21.43 per share and simultaneously "sold to open" four October 20, 2017, $22.00 call options for $0.75 per share.
It's my latest "high-yield trade" — a strategy designed to generate above average income from some of the best companies in the world.
By selling the call options on Kroger, I'm giving the buyer of the options the right, but not the obligation, to purchase my 400 shares at $21.43 per share (the "strike" price) anytime before October 20 (the contract "expiration" date).
In exchange for that opportunity, the buyer of the options paid me $0.75 per share (the "premium").
Because I collected immediate income when the trade opened, I'm lowering my cost basis on the shares I'm buying.
This is precisely what makes a "high-yield trade" safer than simply purchasing shares of the underlying stock the "traditional" way.
Yes, I'm limiting my potential upside (if Kroger shares climb to $24, for example, I'll still be forced to sell at "just" $22)… but that would still generate a capital gain for me… AND I'm generating immediate income in the process.
It's a trade-off… and one I'm willing to make because this strategy, by its very nature (selling a call option instead of buying one), is designed to be conservative and to generate income.
With all of this in mind, there are likely two ways this trade will work out — and they both spell high annualized yields on my purchase price…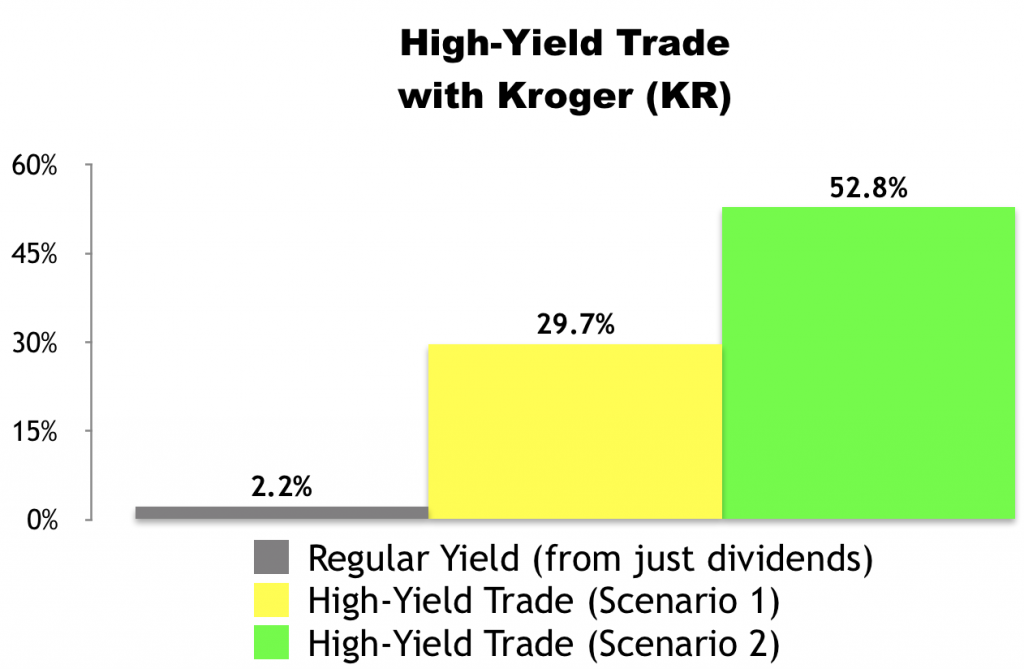 Please note: To be conservative, I don't include any dividends in my calculations for either of the following scenarios. Any dividends collected are just "bonus" that will boost the overall annualized yields even further.
Scenario #1: Kroger (KR) stays under $22 by October 20
If KR stays under $22 by October 20, I'll get to keep my 400 shares.
In the process I'll also have received $300 in call income ($0.75 x 400 shares).
The call income, or premium, was collected instantly on Friday. It was deposited in the account where I made the trade, which is my 401(k) retirement account.
At the end of the day, if "Scenario 1" plays out I'll be looking at $292.27 in profit after commissions and fees.
On a percentage basis, I received a 3.5% yield for selling the calls ($0.75 / $21.43).
When I subtract out the commissions and fees I'm looking at a 3.4% yield in 42 days, which works out to a 29.7% annualized yield.
Scenario #2: Kroger (KR) climbs over $22 by October 20
If KR climbs over $22 by October 20, my 400 shares will get sold ("called away") at $22 per share.
Like "Scenario 1", I get to keep the $300 in call income ($0.75 x 400 shares). But I'll also generate $228 in capital gains ($0.57 x 400) since I bought at $21.43 and will be selling at $22.
In this scenario, after commissions and fees I'll be looking at a $520.27 profit.
From a percentage standpoint, this high-yield trade will deliver an instant 3.5% yield for selling the call ($0.75 / $21.43) and a 2.7% gain ($0.57 / $21.43).
After subtracting out the commissions and fees, I'm looking at a 6.1% total return in 42 days.
That works out to a 52.8% annualized yield from KR. Not bad, considering the stock's "regular" yield is 2.2%.
Greg Patrick
TradesOfTheDay.com
P.S. I only made this trade because: 1) I want to own the underlying stock anyways 2) I believe it was trading at a reasonable price when I made the trade 3) I am comfortable owning it for the long-haul in case the price drops significantly below my cost basis by expiration and 4) I am comfortable letting it go if shares get called away. To be mindful of position sizing, except in rare cases, the value of this trade wouldn't exceed 5% of my total portfolio value. In addition, to minimize taxes and tax paperwork, I made this trade in a retirement account.
If you have ever thought about marijuana as an investment, I urge you to listen to what I have to say. Because like it or not, a growing number of states are becoming more and more accepting of this once illicit practice. And for investors, it's creating the profit opportunity of a lifetime. If you have just a little bit of loose change in your pocket, you could soon join this group of opportunistic Americans who are becoming "marijuana millionaires."
[Full Story...]
.
SaveSave
SaveSave