As a long-term growth investor, I love to buy short-term dips in long-term winners.
If you had been an Innovation Investor subscriber – my elite investment research service – you'd have received advanced notice to buy the short-term dip in long-term EV winner Rivian (RIVN).
Since then, Rivian stock has popped a quick 11% against a sub-2% gain for the S&P 500, so the investment is panning out thus far: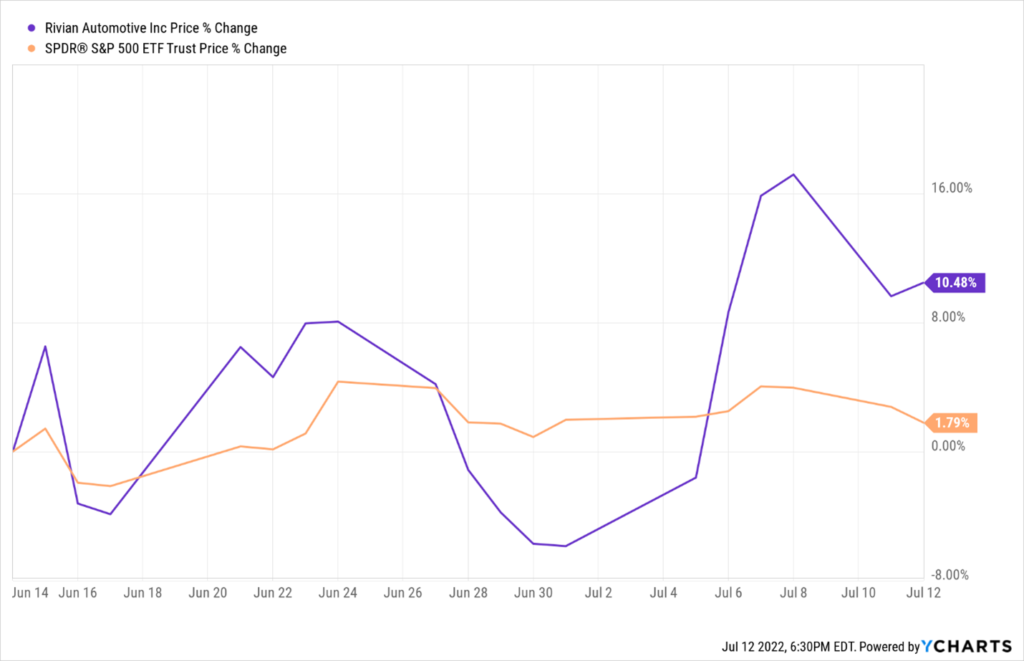 But I think things are just getting started with Rivian stock.
You may have heard that – despite all the talk of chip shortages and soaring lithium prices – Rivian delivered 4,467 vehicles last quarter. That's up an astounding 264% from Q1's delivery total.
You may have also heard that Rivian reaffirmed its target for 25,000 cars produced this year, even in the face of a dramatically slowing economy. And deliveries are expected to rise another 65% next quarter and 23% the quarter after that.
Oh, and perhaps you heard that Apple (AAPL) CEO Tim Cook took a spin in Rivian's R1T pickup truck this past weekend to the Sun Valley Conference in Idaho. It's essentially a "summer camp for billionaires," so you know all the big power players took notice of Cook's choice in EV.
Folks, things are heating up at Rivian. This disruptive EV maker is on the cusp of enormous growth over the next few quarters. Alongside all that growth, I fully expect Rivian stock to keep rebounding with vigor.
Here's a deeper look.
The Quick Rundown on Rivian
Before I go any further about why Rivian stock is a great EV play to buy today, let's revisit Rivian's fundamentals.
As an EV startup designing, manufacturing, and selling high-end electric SUVs and pick-up trucks, Rivian is widely considered among the most technologically advanced and promising pure EV makers in the world today.
The company started delivering units of its first model – the R1T – in 2021. It's an electric pick-up truck that seats five, has a 54×50-inch bed and gets roughly 300 miles per charge. It can tow up to 11,000 pounds and has a 0-to-60 mph time as quick as three seconds. The interior is comprised of vegan leather, with a panoramic all-glass roof and a custom enhanced audio system.
It is a very high-quality electric pick-up truck and currently starts at $67,500. Rivian delivered almost 1,000 of these trucks in 2021 and is on track to deliver more than 20,000 R1Ts this year.
Rivian's second model is an electric SUV dubbed the R1S. It's a large-format SUV that can comfortably seat up to seven passengers and their gear. It, too, gets roughly 300 miles of driving range on a single charge and can accelerate from 0-to-60 mph as quick as three seconds. It has all-wheel-drive capability and is outfitted with the same interior fittings as the R1T: vegan leather interior, all-glass panoramic roof, and a custom enhanced sound system.
R1S deliveries have just barely begun, with the company shipping models to employees only. Public delivery is expected to start in August or September. And the starting price is $72,500.
Rivian went public in a highly-anticipated and briefly super-successful IPO last year. The stock has since struggled after a brief hot run. Today, the company is worth $27 billion. And at that valuation, Rivian stock is an absolute steal.
The Long-Term Bull Thesis on Rivian Stock
Long-term, we believe high-quality EV stocks are great multi-year investments, since EVs are set to grow from ~10% of car sales today, to 50%-plus by 2030.
In the realm of high-quality EV plays, Rivian stock is one of our favorites. Why? Our multi-year bull thesis can be broken down into five main points:
Leader in a strong demand niche of the burgeoning EV industry. We know that the trucking niche of the automotive market is very large with very durable and strong demand drivers. Presumably, as that portion of the auto market gets electrified, there will emerge an equally large electric truck market. Presently, there is no clear leader in that market. But Rivian has a promising early start with a fantastic first-to-market truck that has among the best specs in the industry. This electric trucking market will support multiple winners, and we're confident Rivian will be one of them.
Great brand equity, with strong technology and a fantastic first product. Rivian has established exceptional luxury branding and has developed leading EV battery and torque technology. These are two things that are very important for creating a great electric truck. Indeed, the R1T is probably the highest-performing electric pick-up truck in market today. And it should remain so for the foreseeable future.
Strong early demand signals. Rivian has more than 90,000 net preorders in the U.S. and Canada for the R1S and R1T, illustrating that consumers want these cars.
Big support and partnerships. Rivian also has a very unique and promising partnership with Amazon (AMZN). The retail giant will buy at least 100,000 electric delivery vehicles from Rivian. The extent of this partnership broadly implies that Amazon has basically picked Rivian as its "horse" in the EV race. And at scale, it will convert its entire delivery fleet into Rivian cars. That represents a huge long-term opportunity.
A mammoth-sized balance sheet. The best thing about Rivian is that it has almost $20 billion in cash on the balance sheet. And that grants the company an almost unfair advantage over peers. Rivian plans to use basically every penny of that cash balance over the next two to three years to develop market-leading tech, secure market-leading supply deals, and establish market-leading production capacity. Rivian's $20 billion should enable it to create an electric vehicle empire by 2025.
For those five reasons, we believe Rivian projects as one of the largest producers of EV cars by 2030. That will render it one of the most valuable auto companies in the world by then.
Our "back-of-the-napkin" math indicates that Rivian could hit the million-deliveries-per-year milestone by the late 2020s. At a $70,000 average sales price, that implies total revenues of $70 billion. Assuming a similar margin profile as Tesla (TSLA) – 30% gross margins and 20% operating margins – that would lead to $14 billion in operating profits. That's about $10 billion in net profits after taxes.
A simple 20X price-to-earnings (P/E) multiple on that implies a potential late 2020s valuation target for Rivian of $200 billion. That's nearly 10X the current market cap, meaning we see Rivian stock as a potential ten-bagger.
Powerful Short-Term Drivers
We think that Rivian stock has multiple catalysts that could spark a significant rebound in shares over the next year.
For starters, the stock is really cheap. Rivian stock is basically trading at just 1X its 2025 sales estimates. If the company executes on its growth roadmap over the next few years, the stock should fly higher.
Previously, that was a big "if." Today, it no longer is. Rivian is meeting its revised delivery and production targets even in a bad market. That's impressive, and it should re-inject investor confidence into the company's ability to execute over the long run.
At a macro-level, we're also noticing trends of improving EV production capacity globally. With China removing recent COVID-19 lockdowns, there's buzz that global EV production will meaningfully accelerate over the next 12 months. That's because China is home to 60% of the world's EV battery manufacturing. Indeed, this is already happening. China's manufacturing PMI readings have been steadily rebounding as of late.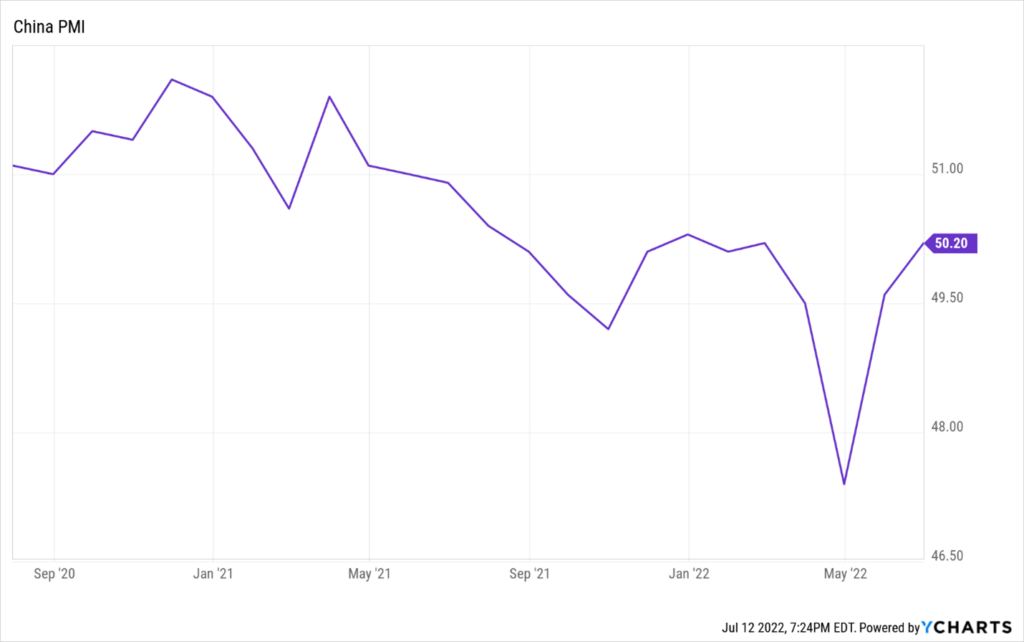 This rebound should help all EV stocks, Rivian included.
Another Major Catalyst
Another important catalyst will be falling EV metal prices in the second half of 2022. One of the biggest headwinds for EV stocks in the first half of 2022 was soaring EV metal prices. That temporarily paused the secular cost-decline trends of EV batteries (a major driver of adoption).
Industrial metal prices have been crashing recently, however. And we think this crash will persist. Although, in the second half of the year, EV stocks should perk up.
Overall, we think the whole EV industry is about to heat up in a big way. Rivian will dramatically and impressively ramp production against this improving macroeconomic backdrop, and on the heels of a huge stock price decline.
That's a dangerous combination and implies huge gains ahead for Rivian stock.
That's why we gave Innovation Investor subscribers the chance to buy the dip in Rivian stock.
The Final Word on Rivian Stock
We love Rivian stock as a long-term investment opportunity.
— Luke Lango
Silicon Valley Analyst: $5 Backdoor Apple Play
[sponsor]
This little-known Apple project could be 10X bigger than the iPhone, MacBook, and iPad COMBINED. Here's the best way to play the opportunity.
Click here for more details.
Source: Investor Place