Morgan Stanley analyst Tim Hsiao delivered some good and bad news in a recent report about Nio (NYSE:NIO). Despite NIO stock being up almost 32% in June, Hsiao thinks it's got more room to run.
That's excellent news if you've been holding the American Depository Receipts (ADRs) since the beginning of 2022. Despite the superb run in June, it's still down more than 27% year-to-date and 54% over the past 12 months. Before its swoon in 2022, Nio hadn't traded this low since August 2020.
I've remained bullish about Nio's future throughout this year's downturn. I'm not going to change my stripes now.
The analyst believes it's got more gas in the tank in the months ahead. I agree wholeheartedly. Here's why.
NIO Stock Got Too Cheap
In mid-May, Nio's share price hit a 52-week low of $11.67. For context, when the electric vehicle (EV) maker struggled to keep the lights on in the first quarter of 2020, NIO stock traded for under $3.
It took $1 billion of funding from the municipal government of Hefei, China, where it's located, to get it through its cash crunch. In Q1 2020, it delivered 3,838 vehicles. In Q1 2022, it delivered 571% more vehicles than it did two years ago.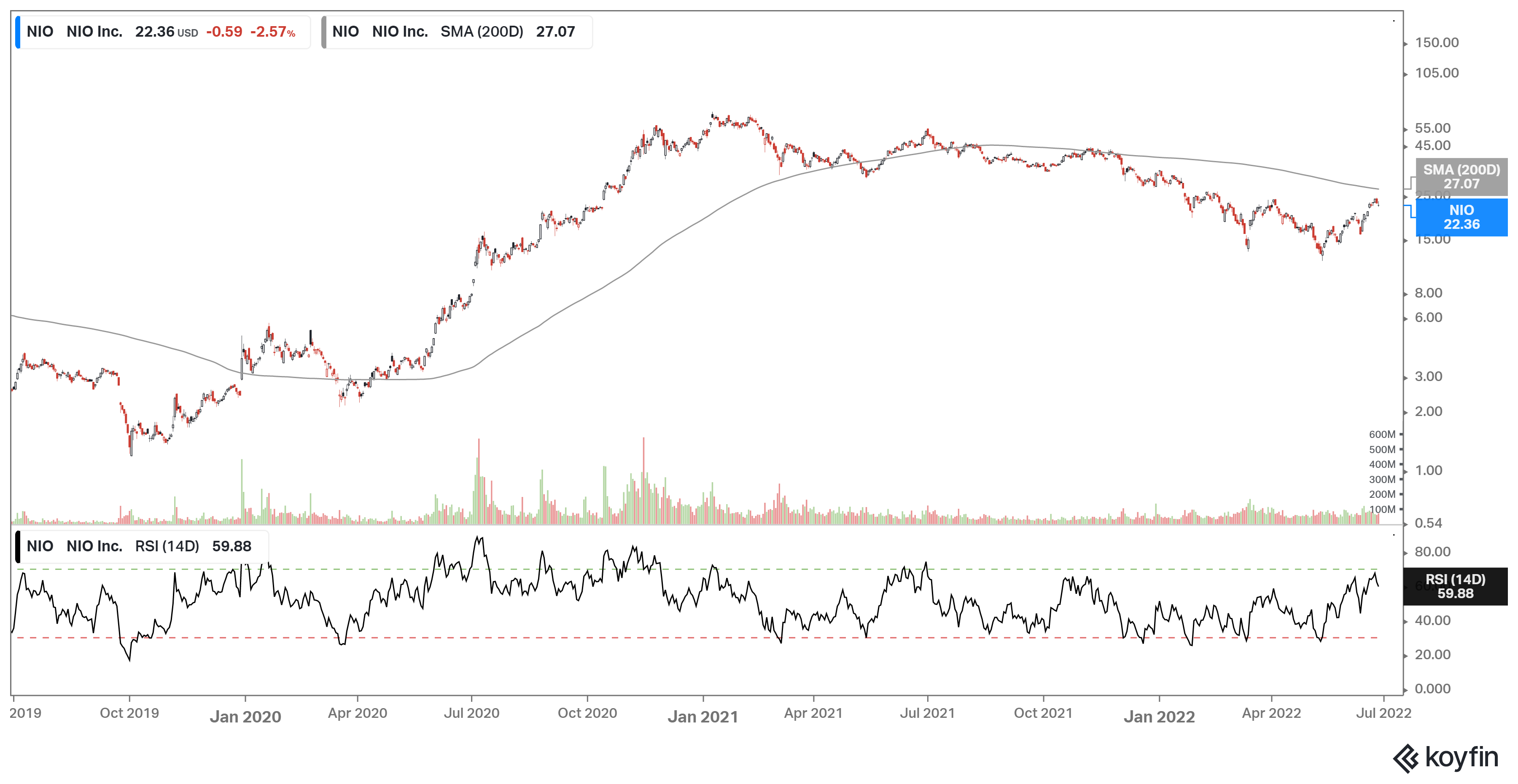 Nio's an entirely different company today. Back then, it was essentially the ES6 doing all the heavy lifting. In Q1 2022, it delivered four types of vehicles, with a fifth — the ES7 — on the way.
I suggested in May that its product diversity made it a long-term buy. I concluded that buyers around $12 in mid-May would get rewarded. They sure have. They're up more than 90% in six weeks.
"If you're an aggressive investor, even at $16.50, NIO stock is an excellent long-term buy," I wrote on May 22.
Quite simply, NIO stock had gotten too cheap in May. The markets rightly corrected that mispricing.
Some Bad News Before Takeoff
As I stated in the intro, Morgan Stanley analyst Tim Hsiao recently had some good things to say about Nio. However, he also had some not-so-good observations.
The most damning fact is that Q2 2022 gross margins could drop as much as 400 basis points to 14% from 18% in the previous quarter. In Q1, it experienced a 270-basis-point drop from Q4 2021. This means its gross margin will have dropped by one-third in six months.
Some investors will find this problematic. Hsiao, however, thinks that margin concerns are in the rearview mirror, suggesting that the next big hurdle for the company will be to reignite above-average sales growth.
"We believe that if the company can report a solid sales bounce of 11-13k in June, this should help NIO restore investor confidence," Hsiao opined. "It could also further support the shares ahead of an intense delivery schedule starting from August."
We're less than a week out from its June update. Nio reported June 2021 deliveries of 8,083, 116.1% higher than June 2020. It's May 2022 deliveries were 7,024, with June expected to accelerate throughout the month. To deliver Q2 2022 deliveries growth, it will have to bring at least 9,800 vehicles in June.
Wait Until After June Update
I'm bullish on Nio long-term. However, a disappointing delivery result for June would likely return Nio's share price to the teens.
Therefore, if you're considering buying its stock, I'd suggest buying a half position now, and a half position after the news is out. Yes, that might cost you a few bucks in the near term, but you'll still do fine in the long term.
As well, a recent short report from Grizzly Research has taken some of the momentum away from NIO stock. The firm called Nio an "audacious scheme" that inflates revenue and net income margins in order to meet analyst expectations. Nio management responded [yesterday], saying the report "is without merit and contains numerous errors, unsupported speculations and misleading conclusions and interpretations." The shares are down about 7% this morning in pre-market activity after NIO stock trading in Hong Kong lost 11.4%. Stay tuned.
As for the analysts, Hsiao isn't even the most bullish about Nio's chances. He's got a $31 target price, while the 14 analysts' target average is $36.75.
Either way, Nio's long-term trajectory is up. It remains an excellent buy for aggressive investors.
— Will Ashworth
Could This Stock Be the Best EV Play of 2022?
[sponsor]
You're not going to want to buy a single EV stock before you watch this... Louis Navellier - the analyst who found Microsoft at 38 cents - just named a top EV company to watch in 2022. And it's not Tesla.
Click here to watch.
Source: Investor Place