Each week I try to identify a key theme that defined the movement in stock prices over the past 5 days. But unlike many investors, my searching isn't based on news, it's based on price.
The charts tell the tale, if investors are keen to listen. [Last] week's exercise revealed clear rotation going on beneath the market's surface, and directed me to these top trades for your consideration.
The first part of the shift was money flowing out of leaders and into laggards.
Large-caps have long been leading the market recovery, while small-caps have lagged.
But not [last] week! The switcheroo saw little guys pick up the torch and lead their bigger brethren to victory.
As of Thursday's close, the S&P 500 was only up 3% but the iShares Russell 2000 ETF (NYSEARCA:IWM), which represents small-caps, was up 7.3%.
The second shift is partially related to the first. Stocks benefiting from the novel coronavirus saw profit-taking while economically sensitive equities (like small-caps) surged. That's a welcome development that points to risk appetite continuing its return.
Here's the silver lining. If you've been waiting for a dip before buying companies outperforming during the Covid-19 crisis, then here's your chance. These three stocks have attractive setups that make them top trades for the week:
Netflix (NASDAQ:NFLX)
Citrix Systems (NASDAQ:CTXS)
Newmont Mining(NYSE:NEM)
Let's take a closer look at their respective pullbacks and build trades to profit.
3 Top Trades for the Week Ahead: Netflix (NFLX)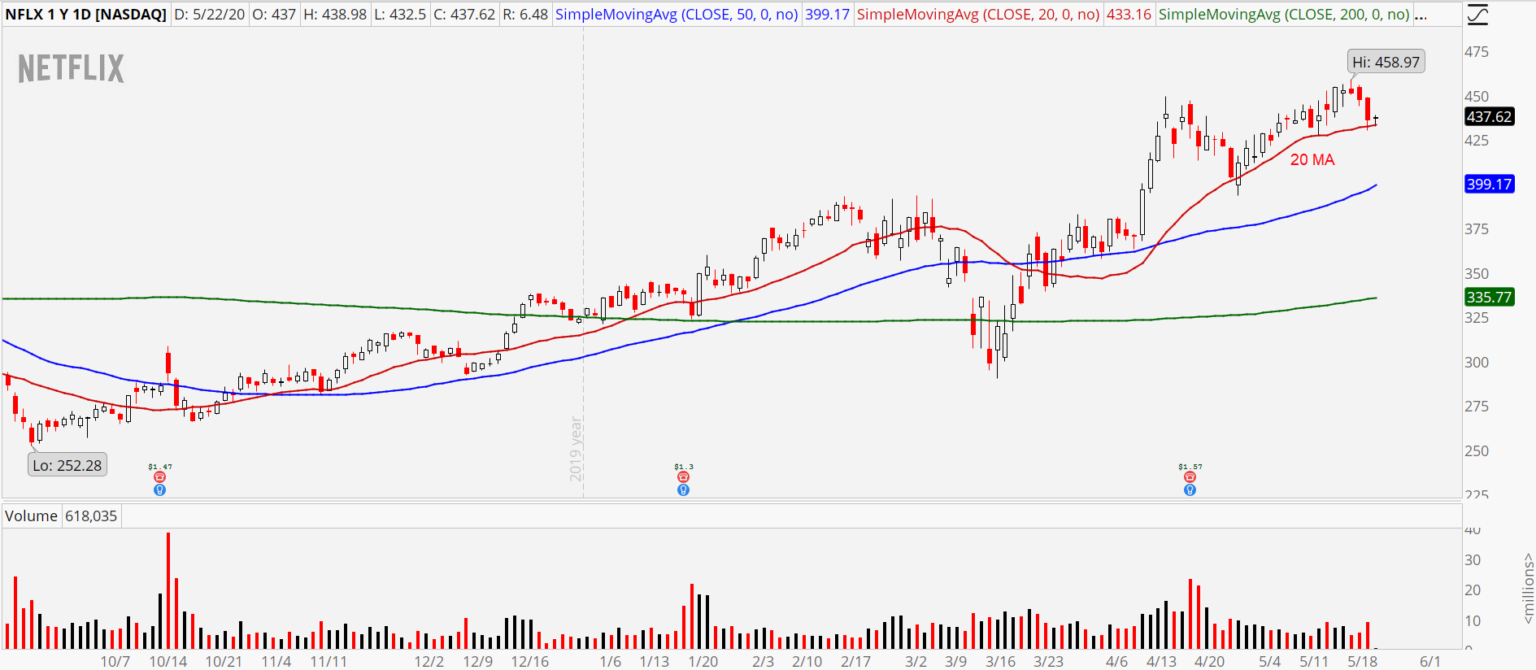 Source: The thinkorswim® platform from TD Ameritrade
Netflix is the type of no-brainer stock that should leave investors who didn't buy during the March crash kicking themselves. NFLX was bound to do well during a time when content-hungry consumers were ordered to stay home.
Netflix was one of the first stocks to recover and has since gone on to record highs. [Last] week's rotation saw profit-taking strike the streaming king even as the rest of the market rallied.
The pullback tested the rising 20-day moving average and held on Thursday. But even if the stock dips further, I think you have to view the weakness as a golden opportunity to get in on one of the top trades in the market at lower prices. Since it's always wise to have a plan in case you're wrong, I suggest watching $400 or the 50-day moving average as your line in the sand. If we push below that, then I'd change my bullish tune.
Its higher price tag makes NFLX stock a great candidate for bull put spreads. We can create a wide profit zone in case the retreat continues before buyers emerge.
The Trade: Sell the June $395/$300 bull put spread for around 90 cents.
Citrix Systems (CTXS)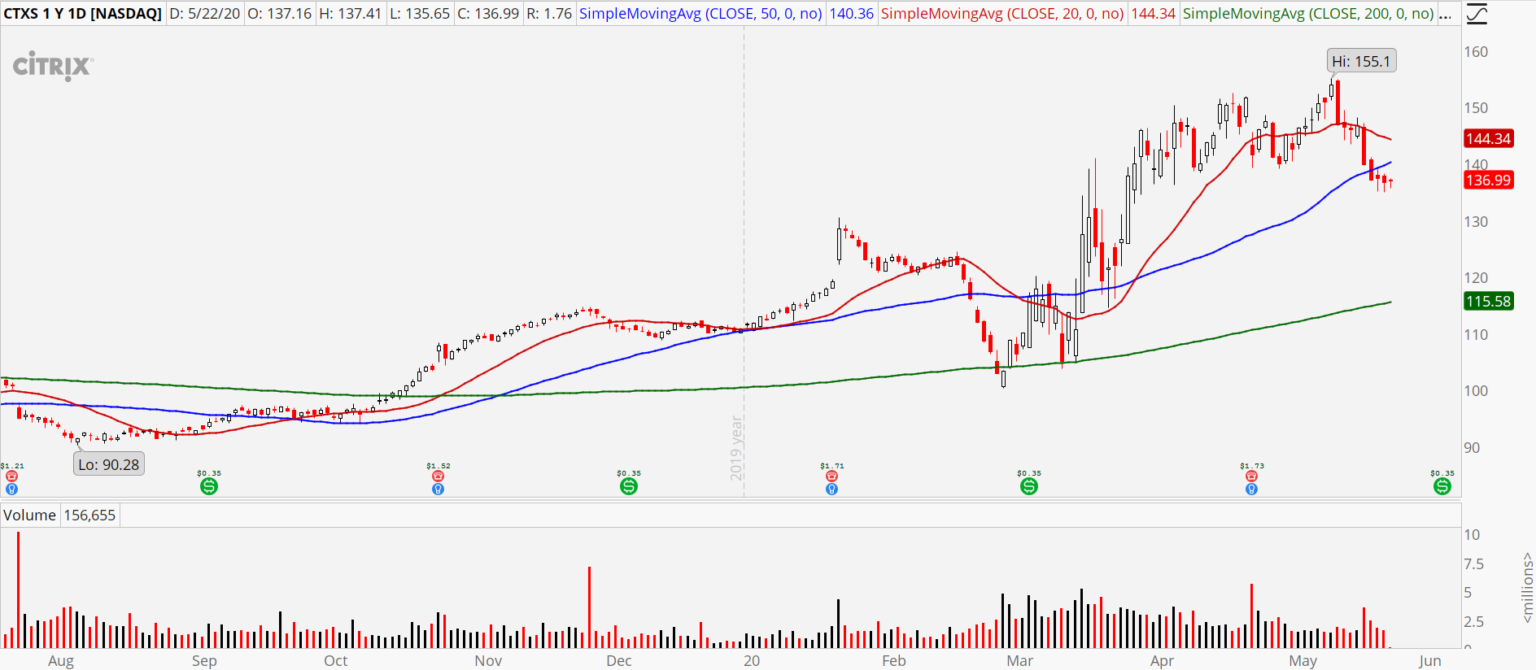 Source: The thinkorswim® platform from TD Ameritrade
Citrix Systems has been among those tech stocks seriously benefiting from the work from home trend. Its share price was up 40% year-to-date before the recent drop.
[Last] week's selling did inflict damage to the overall trend by jamming shares below the 50-day moving average. It's the deepest retreat we've seen in CTXS since March, so I suspect some would-be buyers are hesitant.
The reason I don't mind putting money to work here is twofold. First, we can wait for the stock to return above the 50-day before pulling the trigger. That will invalidate the breakdown and return CTXS stock to a healthy status.
Second, the underlying themes driving CTXS haven't changed. And that makes me believe this is a simple correction, rather than the beginning of a trend-ending sell-off. We can deploy a strategy that gives the stock some room to flounder and still profit.
The Trade: Sell the June $125/$120 bull put spread for 70 cents. CTXS options aren't that liquid, so you must use limit orders.
Newmont Mining (NEM)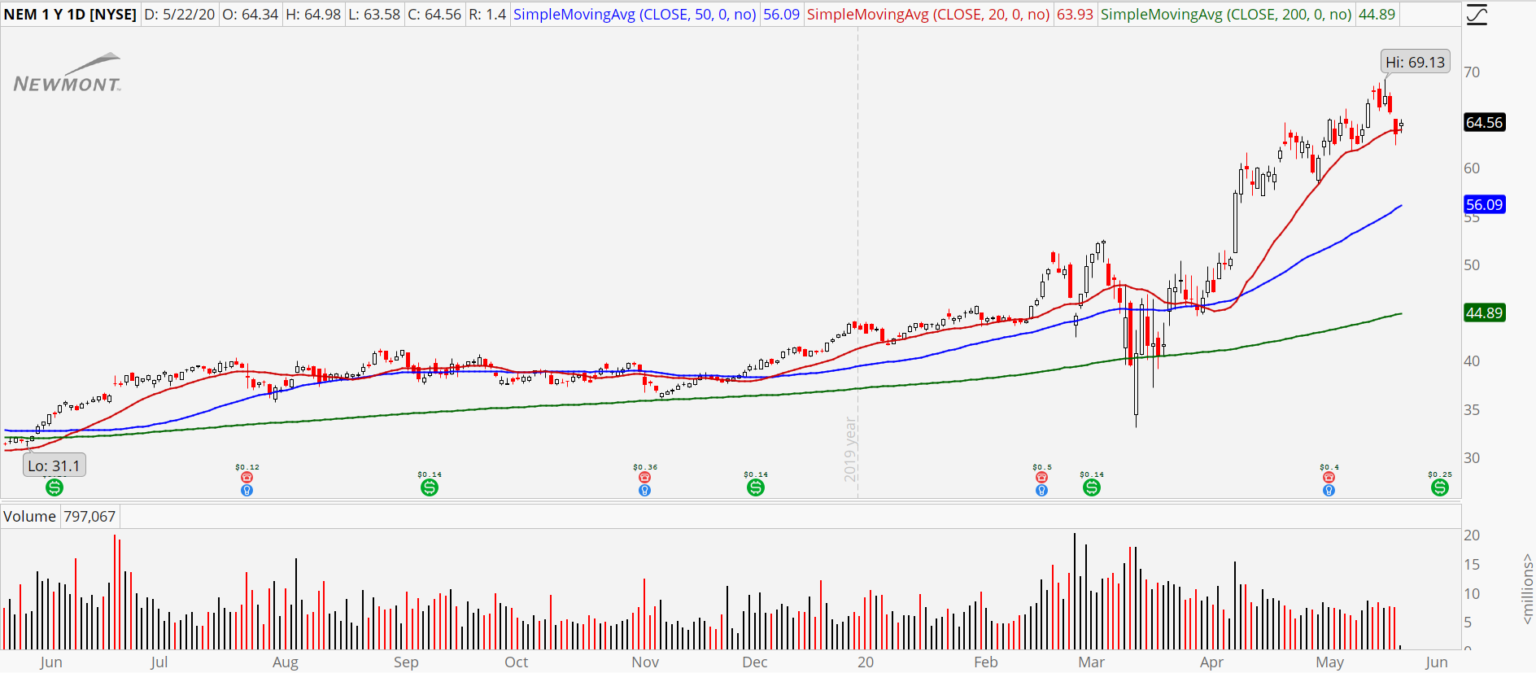 Source: The thinkorswim® platform from TD Ameritrade
Gold and gold stocks have been on fire this year. Economic upheaval and the printing of trillions of dollars is breathing new life into the bullish thesis for owning precious metal related products. And the Vaneck Vectors Gold Miners ETF (NYSEARCA:GDX) has more than doubled from March lows.
As one of the largest players in the space, Newmont Mining has been riding the rising tide. It even came within a whisper of all-time highs, which is incredible given that the sector fund (GDX) is still 50% off its peak.
NEM stock's leadership makes it a top trade pick if you're looking for exposure to the yellow metal. Buying an outperforming stock in an outperforming sector means you're betting on the strongest possible candidate.
[Last] week's rotation saw profit-taking strike and is creating a classic buy-the-dip opportunity. Every pullback this year has been a great chance to buy, and I see no reason why we should view this one differently. If you want to increase your odds of success, I like selling naked puts. You're essentially getting paid for your willingness to acquire the stock.
The Trade: Sell the June $60 put for around $1.45.
— Tyler Craig
America's top stock picker: Sell these 25 stocks now
[sponsor]
Eric Fry is widely considered the best stock picker in America - he's found 40 stocks that have gained 1,000% or more. And today, Fry says America's most popular brand is a "must sell" in the stock market. Learn more, including more info on Fry's next 1,000% or higher potential winner, by
going here.
Source: Investor Place