I never thought I'd say this given the destruction wrought in marijuana stocks over the past year. But, I'm now a fan of bull trades. It wasn't a change in fundamentals that sparked the switch, but a change in price behavior. I've surveyed every sector, and cannabis stocks are flashing some of the top trades for the week.
What began as a subtle bottoming formation has grown into an influential trend reversal with significant implications.
Cannabis stocks have long held the possibility for eye-popping gains.
But, as is often the case, the hype outran reality, resulting in a nasty comeuppance for speculators caught chasing the bubble last year.
From their peaks, the stock prices of industry leaders like Canopy Growth Corp (NYSE:CGC), Cronos Group (NASDAQ:CRON), Tilray (NASDAQ:TLRY) and Aurora Cannabis (NYSE:ACB) have fallen anywhere from 76% to 95% from their 2018 highs.
But last week, the lot of them (sans Aurora — it still looks terrible) suddenly surged.
The massive influx of buyers suggests the worst could be over, and momentum is back, baby!
Let's take a closer look at three of the top pot stocks to trade.
3 Top Pot Stock Trades for This Week: Canopy Growth Corp (CGC)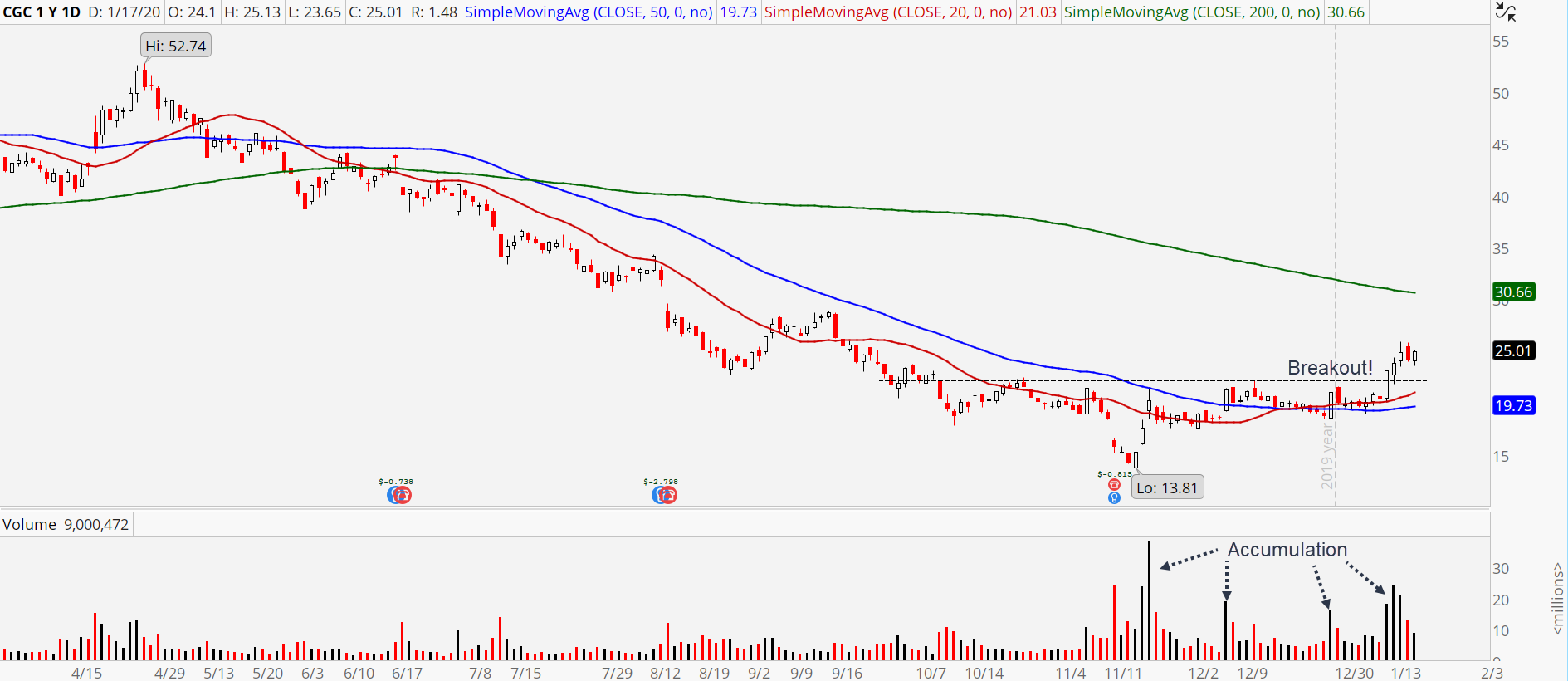 Source: The thinkorswim® platform from TD Ameritrade
Peak-to-Trough Decline: 77%
Canopy Growth shares saw capitulation following November's earnings report. Given the groundswell in volume and mass number of weak hands shaken out, not to mention the influx of buyers on the subsequent snapback, I suspect last year's lows near $14 will spell the bottom for the foreseeable future.
The six weeks of consolidation that followed without CGC making a new low helped confirm that the bottom was likely in. The multiple accumulation days cropping up also helped reveal institutions were circling the wagons.
This week, bulls abandoned subtlety and cannonballed into the water. Horizontal resistance gave way at $22, creating a game-changing breakout. With momentum traders now flocking, you should view weakness as a gift to be bought.
Buy CGC via stock, calls, or call spreads with a stop under $22.
Cronos Group (CRON)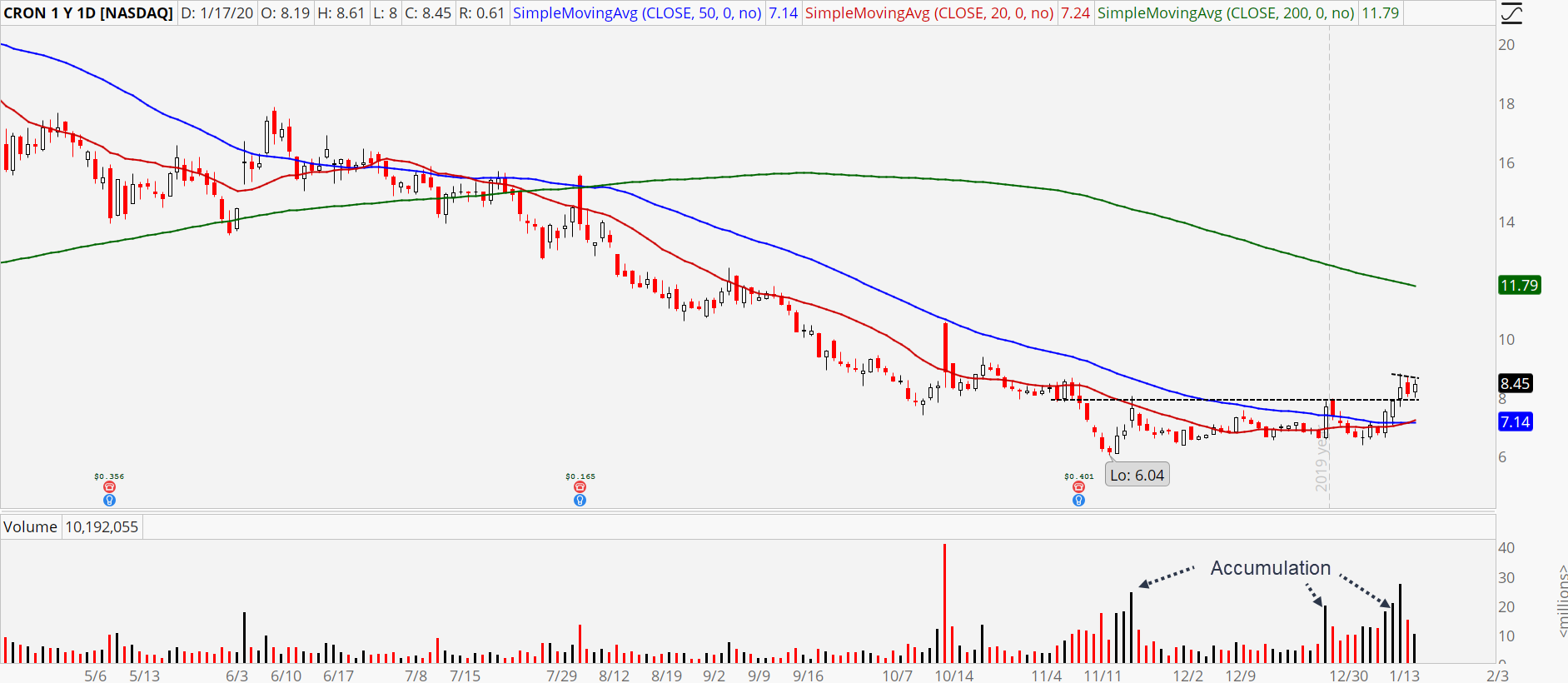 Peak-to-Trough Decline: 76%
Cronos Group is following in Canopy Growth's footsteps. Though its rebound hasn't been as vigorous, there's no denying buyers now hold the upper hand for the first time since early 2019. The turnabout has been virtually textbook. First, momentum slowed. Then the 50-day and 20-day moving averages flattened out. Accumulation days made an appearance, showing demand bubbling beneath the surface.
Finally, buyers threw caution to the wind and jammed CRON stock higher this week, blasting through critical resistance at $7.75.
Though we could use a few more days of pausing to digest the gain better and establish a high base pattern, I don't know if bulls will allow the rest. Look for a breakout over $8.80 to signal that the next stage of its recovery has begun.
CRON stock is cheap enough to play the stock outright. No need to complicate matters with options.
Tilray (TLRY)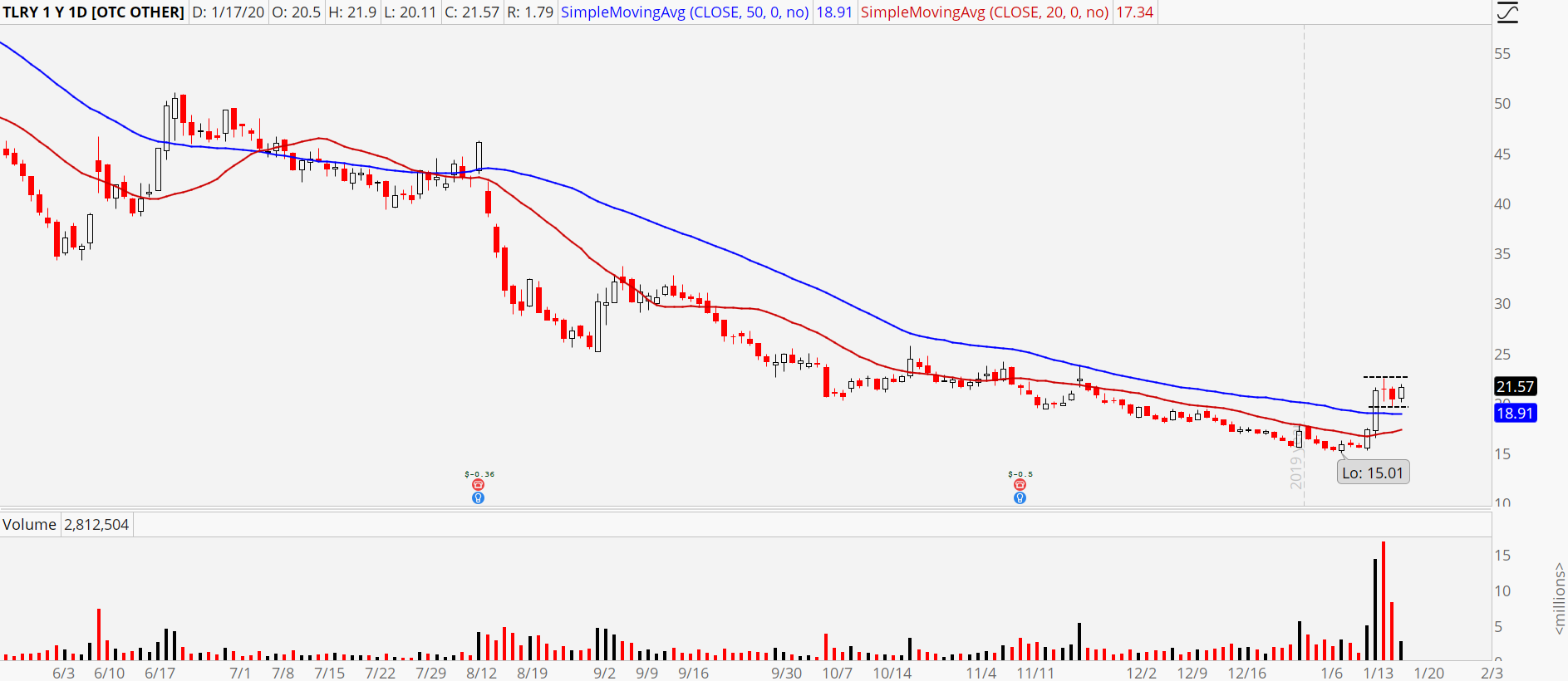 Source: The thinkorswim® platform from TD Ameritrade
Peak-to-Trough Decline: 95%
Tilray rounds out today's trio and is the most insane of the bunch. Only a select few stocks still trading can say they've fallen 95% over eighteen months. Given the destruction, you may wonder if it's wise to play with TLRY at all. It's a volatile beast, no doubt, but when things are swinging in your favor, profits accumulate quickly.
TLRY stock is seeing a mass influx of buyers right now. This week's volume was the highest of the past year and signals big buyers are stepping back in. While this rebound could suffer the fate of so many of its predecessors (that is, failure), I suspect the strength will persist long enough for tactical traders to capture profits.
Buy TLRY over $22.52 with a stop under the 50-day moving average ($18.91).
— Tyler Craig
America's top stock picker: Sell these 25 stocks now
[sponsor]
Eric Fry is widely considered the best stock picker in America - he's found 40 stocks that have gained 1,000% or more. And today, Fry says America's most popular brand is a "must sell" in the stock market. Learn more, including more info on Fry's next 1,000% or higher potential winner, by
going here.
Source: Investor Place