I'm always on the lookout for trading opportunities. I have sophisticated scanning software that scours the markets for the best opportunities available. But, sometimes the best opportunities reveal themselves in normal day-to-day life.
Last week I filled my gas tank for just over $2/gallon. It's been a while since I paid this little and it got me to thinking. I checked out Gas Buddy and discovered that the last time gas was this low was back in mid-2017.
Over the past decade, Gas Buddy reports that the average U.S. gas price has been as high as around $4 to as low as around $1.60. We are definitely at the low end of the range right now with the average US gas price at $2.13 a gallon.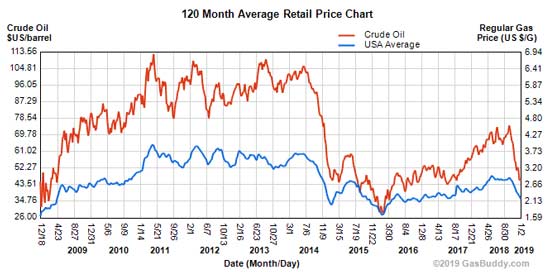 Now, the price of gas is highly correlated to the price of oil. The red line in the chart above is the price of oil and the blue line the price of gas. Both are in the low end of their 10-year ranges.
So the question at hand is
"Where will the price of gas/oil go from here?"
It's clear that the demand for oil will only increase as the world's population increases.
As a fossil fuel, many believe that we are consuming it at a faster rate than it can be renewed and others believe that we will eventually run out of oil eventually creating a supply squeeze.
In any case, it's safe to assume that demand will only increase over time.
The charts tell us that current prices are deeply discounted and at the bottom of their 10-year range.
Eventually, we can expect for prices to rise to closer to average.
Now, Supply is a big factor. OPEC countries continually adjust production to affect the supply and demand curve. Of course, oil producers make more money when the price of oil is higher, so it is safe to assume that they will adjust production to eventually raise the price of oil from these low levels.
All of this said, it's clear to me that the price of oil will rise from here certainly over the long term. The short-term technical picture is also up. The price of oil appears to have reversed with a bounce on increasing volume and an RSI reversal shown in the chart below.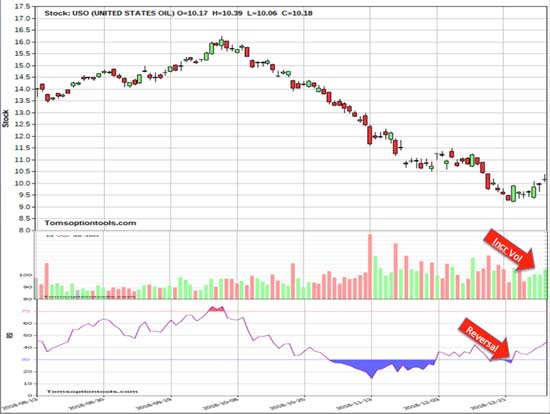 With a long-term and short-term directional prognosis for oil as up, the next thing to figure out is how to trade oil or even gasoline.
And we're currently looking at futures or ETFs.
Futures have a lot of benefits including 20:1 leverage. Oil futures contracts are sold in lots of 1000 barrels. With the current spot price of an oil futures contract at $44.48, it would cost you $8,996 ($44.48 * 1000 * 20% leverage). They are a lot more expensive than ETFs and if they aren't managed correctly, you could end up with a container-load of oil or gasoline delivered to your door.
A much easier and cheaper way is to buy Exchange Traded Funds (EFTs) that correlate to oil and gasoline.
Two that I like are:
Oil: USO (United States Oil Fund)
Gas: UGA (United States Gasoline Fund)
Both of these companies are funds that trade oil and gas futures and take care of the complications (including price) of trading futures. The price of these ETFs correlate closely with the price of the underlying commodities.
So, if you want to trade oil or gas, you can simply buy shares of the corresponding ETFs, just like you would a stock.
[Recently],
USO (NYSE: USO)
 [was] trading at $10.18 and
UGA (NYSE: UGA)
 at $23.70. Both are highly correlated, so either will work if you agree with my long-term prognosis that the price will rise over time.
This simple strategy will allow option traders to score big on one of the most lucrative corners of the market currently.
So, cash in on the sector you use every day – and fill your "tank" full of profits.
Good trading,
Tom Gentile
And then $940 RICHER in 11 seconds... $1,260 RICHER in 8 seconds... and $988 RICHER in 7 seconds! You've never seen anything like this. And you may NEVER see it again! His secret to becoming a multimillionaire is so easy that anybody can do it!
Click here to continue...
Source: Power Profit Trades