Large-caps stole the show yesterday with the big-league breakout in the Dow Jones Industrial Average and S&P 500. But the mild bout of underperformance from the tech sector does have a silver lining. It's allowing many components to build constructive bases to launch from. Take Netflix (NASDAQ:NFLX), for instance.
NFLX stock is quietly gathering strength beneath the surface for what should be a profitable breakout trade.
Ever since the July earnings release took the wind out of its sails, Netflix has been floundering.
Here we are two months later, and it's sitting almost exactly at the price it closed at the day after its summer report.
Meanwhile, the Nasdaq has been marching higher, leading Netflix's peers to new heights.
But if recent price signals are any indication, NFLX could be ready to play catch-up.
The trend turned a corner in mid-August.
Since then we've carved out a pair of higher pivot lows revealing increased buying aggression. The pivot highs continue to cluster near $375 confirming its a key resistance zone. With rising support zones backing bulls and a clear ceiling overhead, the price action has created a clean breakout setup.
August's earnings drop created a price gap that could fill if NFLX stock breaks out here. That would place the first target at $400.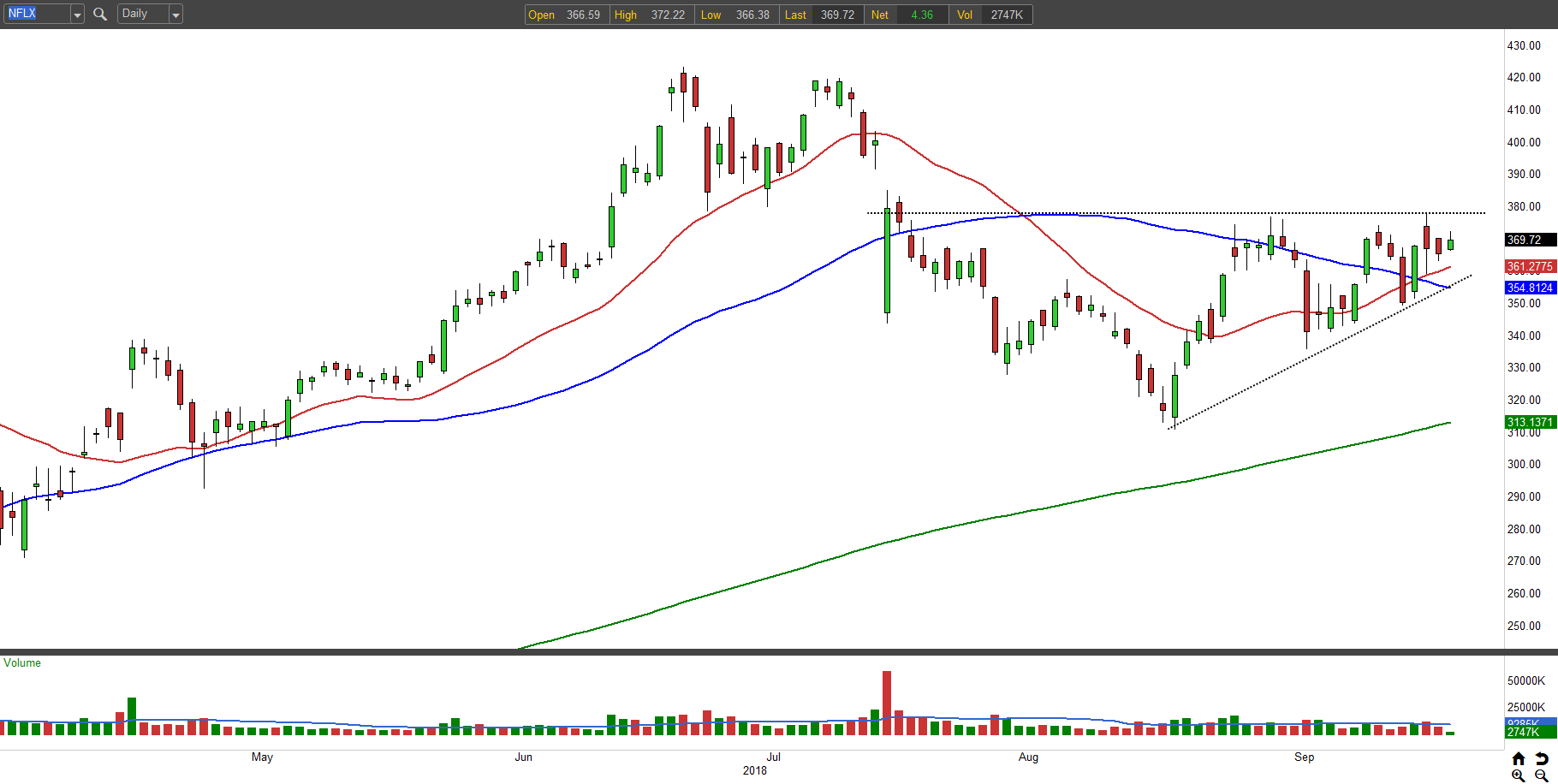 Option premiums are already expanding in anticipation of next month's earnings release. With an implied volatility rank of 66%, I suggest a spread trade versus buying options outright.
A Binge-Worthy NFLX Option Trade
In timing the entry, traders have two choices. You can enter now in anticipation of the eventual breakout. This offers a better price, but less confirmation. Or, you can wait for a confirmed break of the $375 zone and then enter. You'll get a worse price but have more confirmation that resistance has given way.
Buying a call spread offers the potential to more than double your money into a favorable move. You can purchase the Nov $370/$380 bull call for $4.60. The risk is the initial cost, and the reward is $5.40 if NFLX stock sits above $380 at expiration.
— Tyler Craig
Take the $20 Trading Challenge
[sponsor]
Give us $20 – $19.95, actually – and we'll give you 20 powerful trades. That's a month's worth of trading. 5 new trades each week, handpicked by Ken Trester – one of the longest-lasting & most successful options traders of all time. So, if you're interested, -
click here to avoid missing out.
Source: Investor Place