Square (NYSE:SQ) stock is finally cooling enough for buyers to touch it. And they probably should — with both hands. The rationale is simple.
SQ stock boasts one of the best uptrends on the Street with a long history of buyable dips.
You have to go back to late-July to find another pullback of similar magnitude, so consider this a somewhat rare treat for bulls to feast on.
Buying uptrends is wise, but what's arguably even better is buying an uptrend that's increasing in momentum.
Fortunately for Square lovers, it scored a substantial increase in momentum on its last upswing.
Price analyzers can look at the distance between pivot highs to confirm.
Indicator enthusiasts can use the RSI. It notched a higher swing high alongside the price.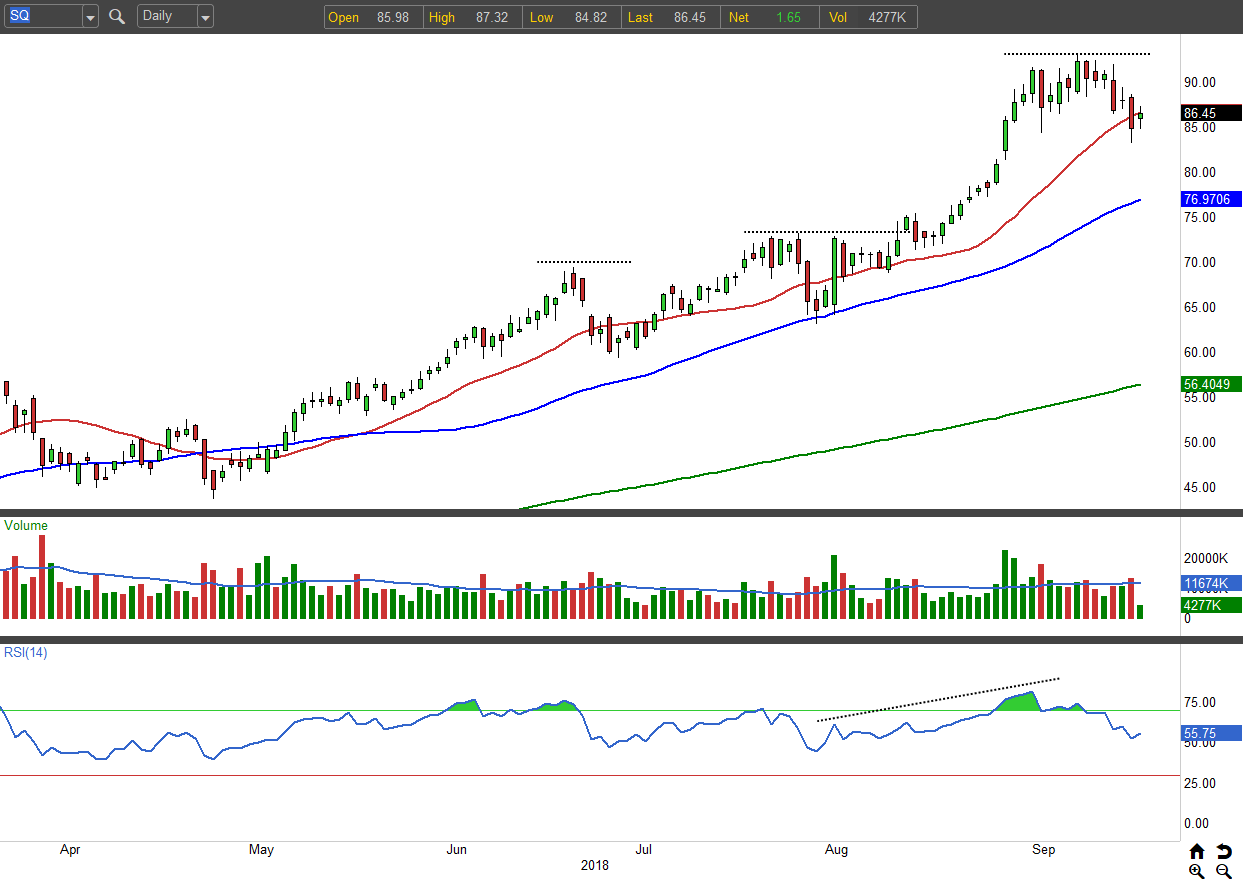 Source: OptionsAnalytix
With [Wednesday's] drop, SQ stock has now returned to its rising 20-day moving average. Previous tests of this smoothing mechanism have resulted in low-risk buying opportunities. Though it should be noted, many of the prior pullbacks ultimately broke below the 20-day before rallying back.
On the implied volatility front, option premiums are relatively subdued. The implied volatility rank is 25%. It's low, but not so low as to make short premium strategies a poor bet. I like the idea of scaling-in to bull puts to pick up long exposure into further weakness.
Sell SQ Stock Options for Profits
We can use bull puts to create a profit range that delivers gains as long as Square rises, stagnates, or only falls slightly from its current perch. To maximize the rate of gains due to time decay, we'll use October monthly options. Sell the Oct $80 put and buy the Oct $75 put for a net credit of 95 cents. The max reward is limited to the initial 95 cents and will be captured if SQ sits above $80 at expiration.
If you want to increase your odds further, I suggest scaling-in. For example, maybe you sell half of the desired contract amount now for 95 cents but wait to enter the other half until SQ falls further in price and you can sell the Oct $80/$75 bull put for around $1.50. That way you'll increase your average credit and profit quicker on the eventual stock rebound.
— Tyler Craig
Take the $20 Trading Challenge
[sponsor]
Give us $20 – $19.95, actually – and we'll give you 20 powerful trades. That's a month's worth of trading. 5 new trades each week, handpicked by Ken Trester – one of the longest-lasting & most successful options traders of all time. So, if you're interested, -
click here to avoid missing out.
Source: Investor Place