Wednesday's temper tantrum, instigated by emerging markets but quickly joined by U.S. equities, failed to derail the transportation sector. Its muscle flexing has relative strength seekers flocking to its many constituents. Take Union Pacific (NYSE:UNP), for instance.
The Omaha-based railroad company is building a high base pattern a stone's throw from record highs.
And that makes UNP stock a top pick heading into the weekend.
When sizing up transport stocks, I like to use the iShares Transportation Average (ETF) (NYSEARCA:IYT).
Since carving out a bottom at the 200-day moving average last month, the fund has been trucking higher, and now appears poised to revisit it's January highs.
The sector proved particularly resilient when it closed unchanged on Wednesday while the rest of the market looked like garbage.
That type of behavior is all the excuse needed to scan the sector for leading stocks.
Source: OptionsAnalytix
That's how I arrived at today's selection of UNP stock.
It's most recent breakout was spurred by a post-earnings rally. The July 19th quarterly report sparked a strong upswing which carried UNP to a new high at $151.50. Since then the stock has held firm, digesting its gain through time instead of price. That means we've seen sideways digestion to work through overbought pressures instead of a large price drop. The ability of UNP to maintain its gains is a bullish sign and points to higher prices.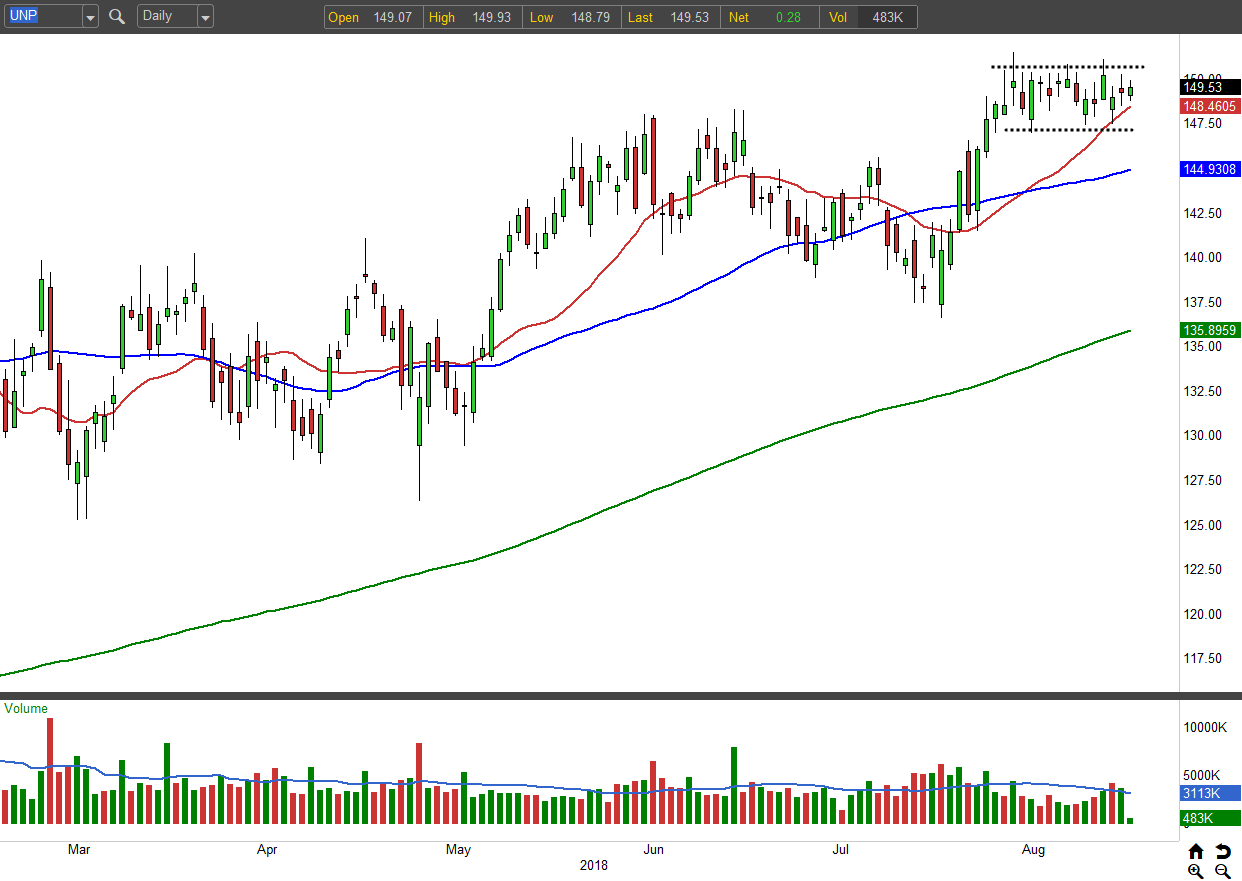 Source: OptionsAnalytix
With the 20-day moving average now caught up, UNP stock is officially rested and ready to run. Unless the broader market torpedoes this setup, a breakout is imminent. Watch for a rise above $151.50 to confirm.
A UNP Stock Option Trade
If you think we could see $155 by October expiration then here's a trade that will deliver a triple-digit return. Buy the Oct $150 call while selling the Oct $155 call for around $2.00. The risk is limited to $2, and the reward is $3.
— Tyler Craig
Take the $20 Trading Challenge
[sponsor]
Give us $20 – $19.95, actually – and we'll give you 20 powerful trades. That's a month's worth of trading. 5 new trades each week, handpicked by Ken Trester – one of the longest-lasting & most successful options traders of all time. So, if you're interested, -
click here to avoid missing out.
Source: Investor Place