Many would say the bear case for Amazon (NASDAQ:AMZN) is baseless. Ironically though, the AMZN stock chart also appears equally baseless right now. This lack of technical support means it's time to consider an unorthodox and asymmetrical 'bear-to-bull' long put butterfly that won't cost traders very much at all. Let me explain.
If you're numbers-crunching kind of investor, AMZN stock's late July earnings blowout and update on the state of its ever-growing business reach and acumen was nothing short of amazing.
Profits toppled Street views, and AWS's first-mover advantage in cloud storage and other higher margin areas like advertising were a siren song for bullish investors.
But there comes a time when the crowd gets ahead of itself.
And that time looks close at hand if we turn our attention to the AMZN stock chart.
There all of the so-called 'baseless claims' that shares are at risk are more visually apparent — and a real threat for today's bulls.
AMZN Stock Monthly Chart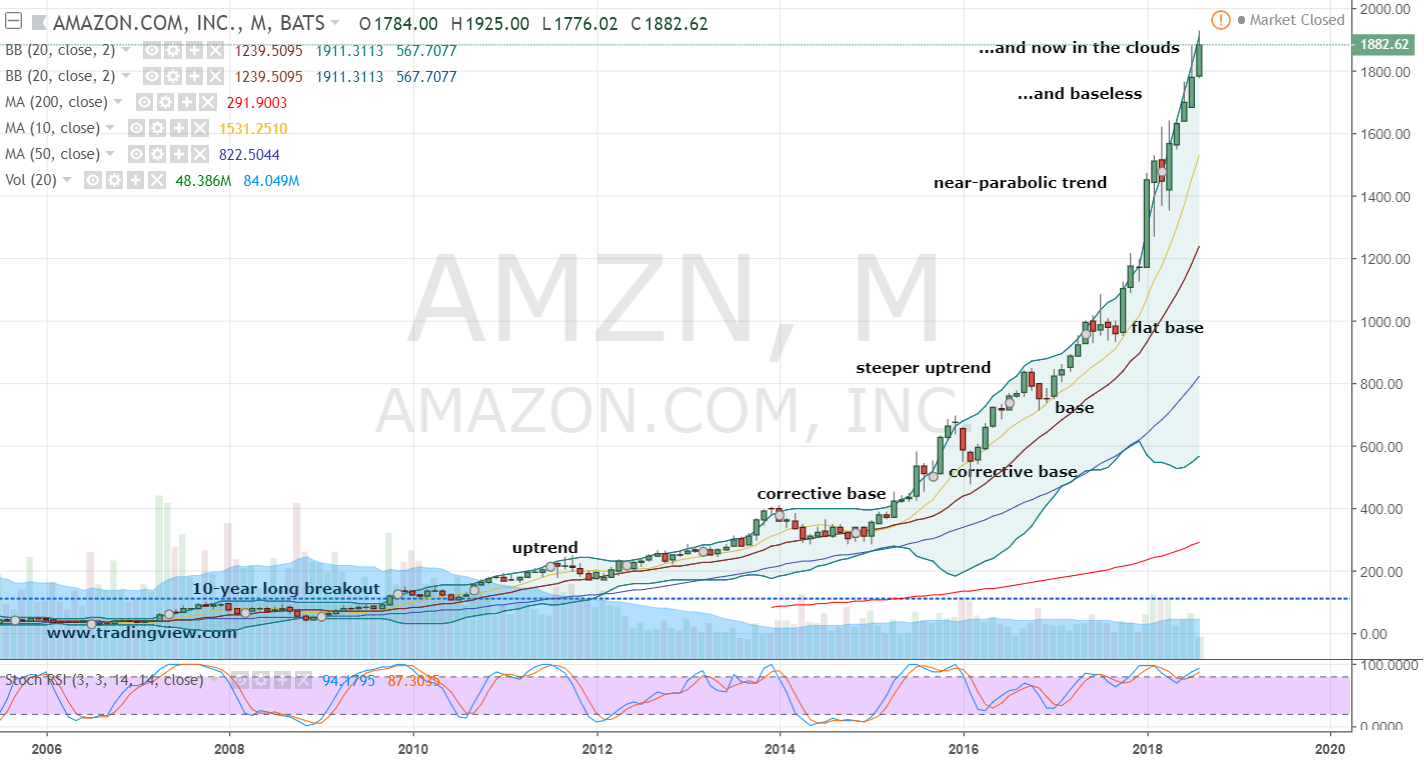 The monthly chart of AMZN stock shows shares have become increasingly popular over this past year. Since breaking out of a smallish flat base last September, Amazon's technical path to continued highs has turned nearly parabolic.
Bottom line — or in this instance, the squiggly line on the chart — AMZN has hugged the upper Bollinger band for nearly a year, maintained an overbought stochastics setup and doubled in price while absent any constructive base building. You could say shares look technically 'baseless.' And if history is any indication, today's overly-friendly price trend in Amazon is increasingly at risk of a larger correction.
Amazon Stock 'Bear-to-Bull' Long Put Butterfly
Having the view that AMZN stock looks great off the chart but at risk technically, getting long exposure at a discount makes sense. I also like the idea of profiting from a bearish move without having the position cost us very much at all in the event I'm wrong. And with an asymmetrical, below-the-market long put butterfly, traders can accomplish exactly that!
One combination of this spread type that's caught my attention is buying the November $1750 / $1650 / $1405 long put butterfly. So traders would purchase one set of put contracts each at $1750 and $1405 and sell two contracts at $1650.
If purchased the spread with AMZN at $1882.62, this butterfly does a bit better than not costing traders a cent as it's priced for a credit of about 10 cents. With AMZN at $1901 as of this writing, it's a cost of about $1.50 for the spread. Investors looking to open at a credit, can wait for a slight dip in AMZN stock.
Above $1750 and failing a correction larger than 9% by expiration this position keeps the tiny credit. That would be pretty nice versus buying shares today if AMZN declines by a few to several percent. But it gets better.
If Amazon corrects into the double digits this spread could explode in price from a 10 cent credit to a profit just north of $100 if a correction of 14% into November expiration developed. The required synchronization of price and time into the $1650 put strike isn't likely, but it is possible. That's not all though.
Should AMZN stock head even lower this spread continues to show a profit down to just below $1550. That's the equivalent of breaking even nearly 20% off Amazon's all-time-high of $1925. So while many bulls would undoubtedly begin screaming 'Bear market!' and question what they were doing when AMZN stock was in the proverbial clouds, this 'bear-to-bull' butterfly combination sets the trader up to do the right thing at the right time.
Now that's a 'prime' deal!
— Chris Tyler
Take the $20 Trading Challenge
[sponsor]
Give us $20 – $19.95, actually – and we'll give you 20 powerful trades. That's a month's worth of trading. 5 new trades each week, handpicked by Ken Trester – one of the longest-lasting & most successful options traders of all time. So, if you're interested, -
click here to avoid missing out.
Source: Investor Place