Retail stocks have been hot as a pistol of late. Perhaps their demise at the hands of Amazon.com, Inc. (NASDAQ:AMZN) was greatly exaggerated. Or maybe the expectations bar was set so low that upside surprises were all but a guarantee. Regardless of the reason, the retail industry is seeing its constituents pepper the new highs list.
And that's placing them on the radar of momentum traders all over the Street.
Conservative players loath to chase will be happy to know that profit-taking finally delivered a pullback last week.
Multi-day retreats like this wring out the excess, ease overbought pressures and tee-up lower-risk entries for buyers looking for a more palatable entry point.
If you're a believer that strength begets more strength, that momentum traders will continue supporting the newfound bull market in this once lagging industry; then retail stocks belong front and center in your watchlist.
Here are three such darlings worthy of your doting.
Retail Stocks to Buy: Target Corporation (TGT)
Not all that long ago, Target Corporation (NYSE:TGT) was on a death march to five-year lows. And then, when the $50 price level was breached, buyers finally mustered enough muscle to arrest the decline. Since then, it has been nothing but sunshine and lollipops as TGT stock has rebounded some 60% to its former glory.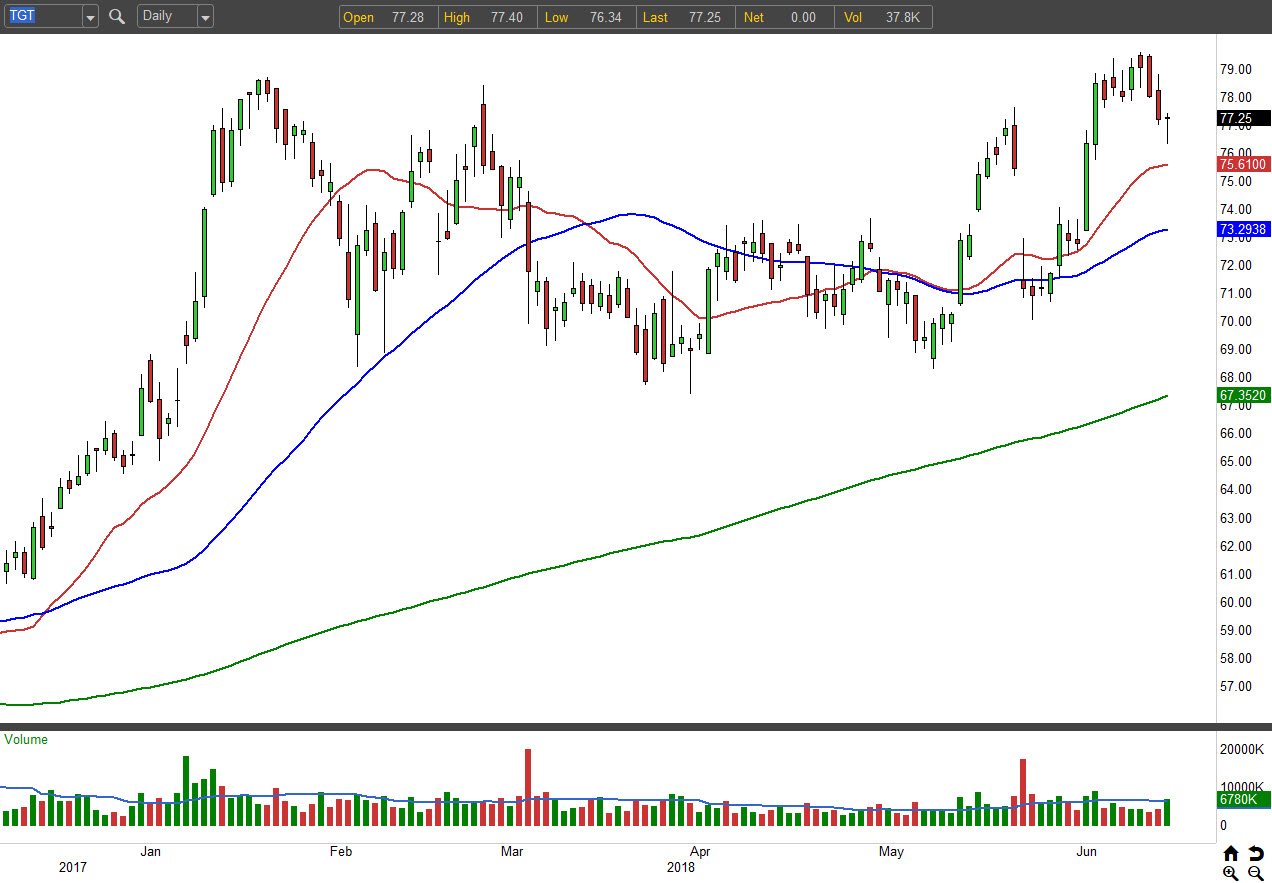 Source: OptionsAnalytix
The price now sits above a rising 20-day, 50-day and 200-day moving average. Ever since its one-day stumble following earnings last month, buyers have been making a move. I count seven accumulation days in the past three weeks which reveals strong institutional support.
Last week's four-day retreat created an alluring buy the dip setup. Consider deploying bullish trades here. I like the Aug $75/$80 bull call spread currently offered for $2.56.
Retail Stocks to Buy: Kohl's Corporation (KSS)
Kohl's Corporation (NYSE:KSS) shares just scored a big-league breakout that rocketed it back to re-test record highs. The about-face for KSS has been sudden and strong. It's up 100% since last November alone and signals just how fast the sentiment pendulum has moved from loathed to loved.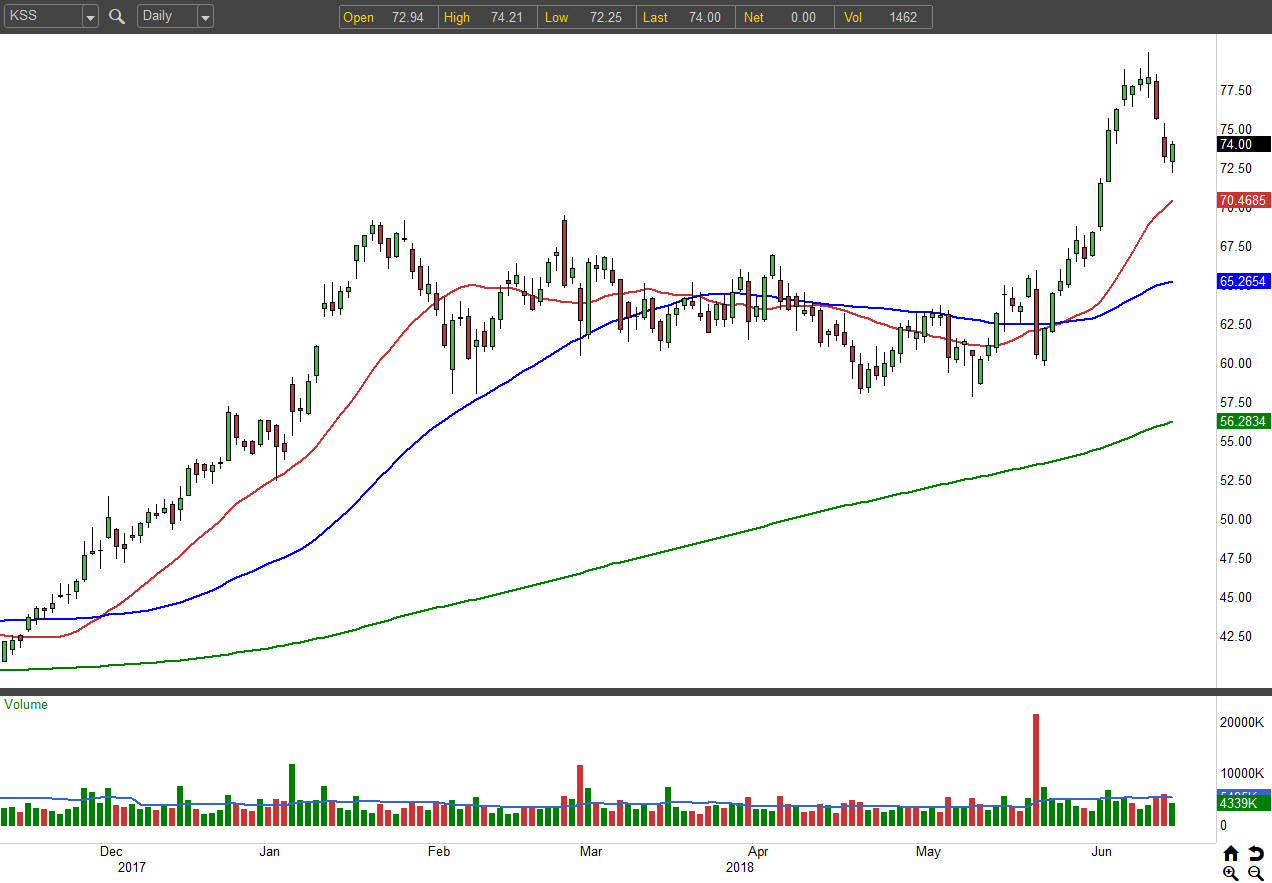 Last week's much-needed pullback is ushering KSS back to its old breakout zone. If the principle of polarity holds true and old resistance becomes new support, then it will pay to enter bullish trades on any retest of the $70 area.
I like buying the Aug $75/$80 bull call spread.
Retail Stocks to Buy: SPDR S&P Retail (ETF)
For our final selection, we're looking at how to play the entire retail stock industry with the SPDR S&P Retail (ETF) (NYSEARCA:XRT). It holds the who's-who of the space and is a liquid, efficient way for playing industry trends without having to pick winners and losers.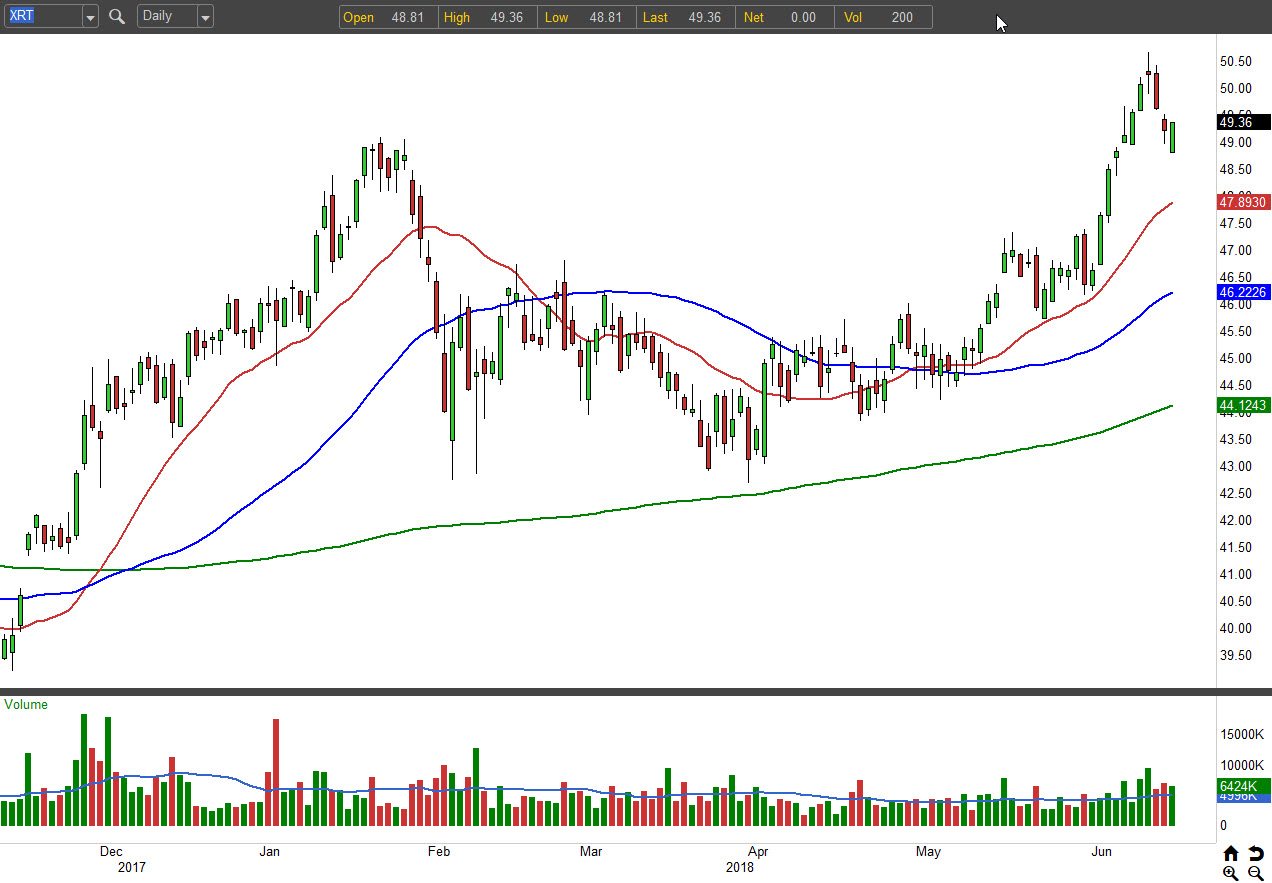 Of all the industry and sector ETFs, XRT arguably has the most alluring setup for this week. Its uptrend just exploded in momentum on monster volume, and it's flashing a nice buy-the-dip setup.
With its ultra-low implied volatility rank (3%), long calls are worth a shot. Buying the Aug $48 call should do the trick.
— Tyler Craig
"I Couldn't Reveal This HUGE Cannabis Story on Fox News - So I Quit"
[sponsor]
It's one of the "greatest wealth creation events of the last 25 years." Now, mark your calendar for Wednesday, January 23rd.
LEARN MORE
Source: Investor Place