If you've been searching for a good pairs trade, look no further than tech peas in a pod, Alphabet Inc (NASDAQ:GOOG, NASDAQ:GOOGL) and Baidu Inc (ADR) (NASDAQ:BIDU).
But if you want to further reduce risk, rather than going short GOOGL and BIDU stock; a couple of well-positioned butterfly spreads using the options market should be very good for business. Let me explain.
High Tech Buy: BIDU Stock
I've said it before and I'll say it again, plain and simple — BIDU stock is firing on all cylinders and worth investors' attention.
Late April's monster profit and revenue beat all but confirmed that China's version of Alphabet has its growth mojo back after a drawn out regulatory tussle with the Chinese government involving its dominant search business.
Is BIDU stock perfect? Nope, but perfection is way overrated.
Probably the biggest source of consternation among investors has been firstly a couple of key and unexpected departures from Baidu over the past year or so and secondarily, a trade war with China.
The most recent unsettling announcement was last month when the COO left the company. And last year, a couple executives within Baidu's artificial intelligence business departed. But each incident, while leaving a bearish initial impression on shares, proved to be lucrative buying opportunities.
What else do I like about BIDU stock? In our technical view, a price chart that's literally gone nowhere the past three and one-half years is very attractive. Bottom line or more aptly, BIDU's squiggly line looks poised for a massive bull run from its giant basing pattern — and one which should close the gap on its relative weakness with peer GOOGL stock.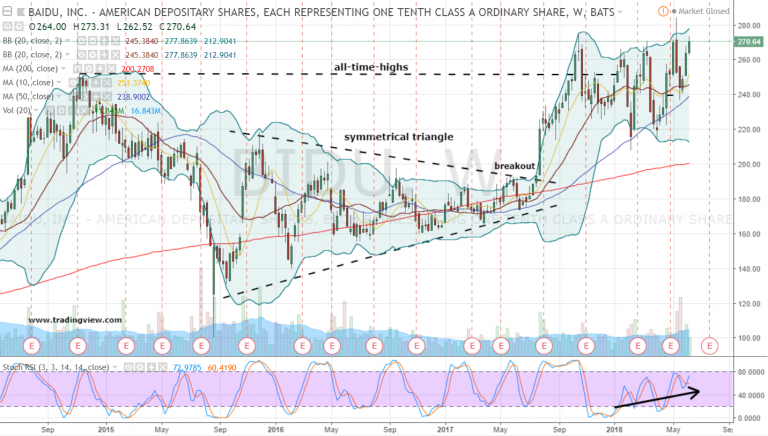 BIDU Stock Options Strategy
Reviewing the options market in BIDU stock, I like approaching shares with a modified long butterfly strategy. With Baidu at $270, the Sep $300/$330/$350 call combination is priced for $3.50.
This spread requires BIDU to breakout and continue to make new highs. But if a stronger bull run does occur, the strategy offers a max profit of $26.50 if shares land on the $330 call strike at expiration.
Realistically, the alignment of time and price necessary for maximizing this spread's profit is unlikely. However, given this position eliminates additional downside exposure beyond its rather modest debit, contains an earnings catalyst and keeps a profit of $6.50 above $350; I believe the search is over for a smarter way to play BIDU stock long.
High Tech Short: GOOGL Stock
Search giant and diversified technology play GOOGL stock has quickly made itself look appealing to investors over the last few weeks. If it sounds familiar, it should. You only have to look at a chart of the broader market to see the similarity.
In that time span Wall Street has all but forgotten last quarter's weak and mixed earnings confessional and bearish reaction in GOOGL and replaced it with bullish vigor and conviction. There's nothing wrong with that, right?
I'm not so sure.
Don't get me wrong. I appreciate GOOGL's surprise turnaround on the price chart. But as a market proxy within the most durable bull market in modern times, I'm very hesitant to buy into today's enthusiasm and an alluring cup-shaped base. Instead, I see a better opportunity in shorting GOOGL stock as part of a pairs trade with BIDU.
GOOGL Stock Options Strategy
Reviewing GOOGL's options, a moderately bearish butterfly spread looks interesting. With shares at $1158.11, the August $1,120/$1,080/$1,040 put butterfly for $4.20 is favored.
As with BIDU, this spread requires GOOGL stock to trade lower in order to profit. If shares do begin to correct this butterfly offers a reasonable profit zone in-between $1,044.20 to $1,115.80 while risking less than 0.4% of the exposure associated with shorting GOOGL stock. And in a perfect world, if Google landed on $1080 at expiration, the position would expand to $35.80.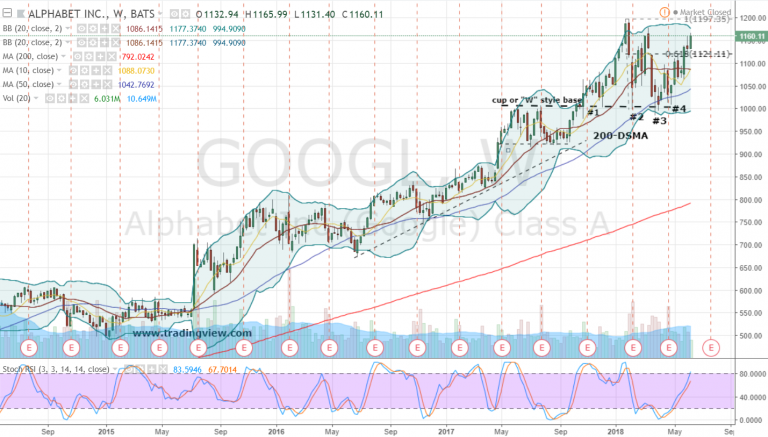 The real concession with this GOOGL butterfly, or any regular, symmetrical combination of this type, is if the desired price movement occurs too fast, profits will be slighter than they would otherwise.
Worse yet, if shares are below the $1040 put wing at expiration, the position will forfeit the small debit. However, without being overtly bearish on GOOGL and more of the mind that shares, like the overall market, may be due for another shaking of investor confidence, a 10% downside cushion is a reasonable compromise in our book as a way to get comfortably short with less risk.
— Chris Tyler
"I Couldn't Reveal This HUGE Cannabis Story on Fox News - So I Quit"
[sponsor]
It's one of the "greatest wealth creation events of the last 25 years." Now, mark your calendar for Thursday, April 4.
LEARN MORE
Source: Investor Place