If you were a bit concerned about Bank of America Corp (NYSE:BAC) and other bank stocks in recent days, you weren't alone. But following Wednesday's performance BAC stock has been granted a technical pardon from bearish incarceration — and one deserving of a well-placed, long call strategy today. Let me explain.
Sometimes all you can say is, what a difference a day makes. And that appears to be the case here, in a good sort of way, for BAC and other financials.
Headwinds of late, ranging from Italian debt concerns and 10-year yields to weak trading outlooks and other worries which had the Bank of America and other bank stocks looking defiantly bearish, were systematically swept under the carpet Wednesday.
In fear's place, a strong and overdue rotation allowed for financials to enjoy the role of technical leadership, outperforming a strong session in the broader market by more than 100 basis points.
Within the rotation, BAC stock was a clear winner on the session in finishing up 3.2%.
For its part the Financial Select Sector SPDR Fund (NYSEARCA:XLF) rallied by 1.8%, while the S&P 500 tacked on 0.8%.
Wednesday's bullish price action begs the question of whether this is the start of a more meaningful rotation and friendly trend in BAC stock or a bull trap for investors jumping into a lagging sector as the broader market approaches a three-month high?
Our vote is that Bank of America has been handed a technical-based get-out-of-jail-free card worthy of an eventual breakout.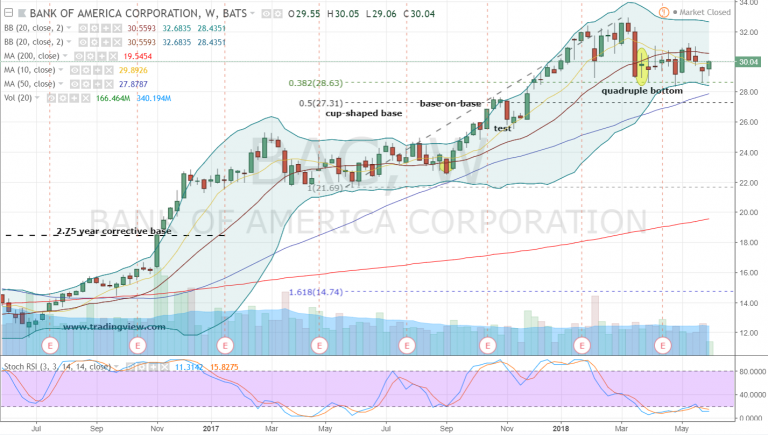 I've said it before and I'll say it again, as it bears repeating — compared to most price charts these days, BAC stock looks reasonably attractive. The key difference today versus just over two months ago are shares have now put together a more durable-looking, high-level quadruple bottom versus a developing double-bottom pattern off BAC's intermediate highs.
It's anticipated that shares of Bank of America will eventually break out from the current basing formation to new intermediate highs. At the moment though, the expectation is for bullish follow-through within the pattern following Wednesday's reversal confirmation of the weekly pivot low and stochastics offering a fairly supportive set-up.
BAC Stock Long Call Strategy
Given our bullish outlook that BAC is in position to rally near-term, offers a nice-looking weekly base for a breakout in the weeks ahead and has reasonable call premiums, I'm favoring a long call strategy in lieu of buying Bank of America shares.
Specifically and with shares at $30.04, the Sep $33 call for 38 cents is attractive. This call is 10% out of the money, but additional downside exposure is eliminated and risk is contained to just over 1%.
With more than three months of contract life the call allows for a doubling in the length of the current three month basing pattern if required. But with earnings in July a bullish reaction could provide significant returns for this strategy even sooner if shares challenge the base highs and breakout.
As attractive as this all sounds, in practice it's always good policy to be mindful of profitable or risk-reducing adjustments along the way if BAC stock does move higher as anticipated.
Alternatively, I'd be ready to set a 50% stop loss on the call contract if the quadruple bottom becomes something less desirable on the Bank of America price chart.
— Chris Tyler
"I Couldn't Reveal This HUGE Cannabis Story on Fox News - So I Quit"
[sponsor]
It's one of the "greatest wealth creation events of the last 25 years." Now, mark your calendar for Wednesday, January 23rd.
LEARN MORE
Source: Investor Place