2018 has definitely been a much more interesting year for the stock market than 2017. At least, it's been more interesting for options traders, who tend to trade volatility and movement. For stock traders, I'm sure they prefer 2017 and the calm, upward path of stocks we saw for most of the year.
But this year so far has been defined by unexpected macro-level events which have led to greater fear and uncertainty in the financial markets. Earlier in the year, it was concern over the implementation of a US tariff on Chinese goods that sparked a selloff in stocks.
Tariffs are once again causing some noise in the markets, this time affecting America's closest allies (in the form of steel and aluminum tariffs).
The impacted countries immediately leveled their own tariffs on US goods.
That's how trade wars are started – and the stock market is generally not a fan of trade wars.
Throw in the reemergence of the Italian debt crisis, and suddenly we have a lot more uncertainty at the global macroeconomic level.
On its own, concerns over Italian debt probably wouldn't have too big an effect on US stocks.
But, add it to the growing pile of global economic concerns (mostly sparked by the current US administration), and we have what looks to be a return of volatility.
And while market volatility is certainly higher than what we've come to expect, the current uptick is nowhere near what we experienced in February. You can see in the chart below of SPDR S&P 500 ETF (NYSE: SPY), the daily moves in stocks have been quite a bit more muted than early in the year.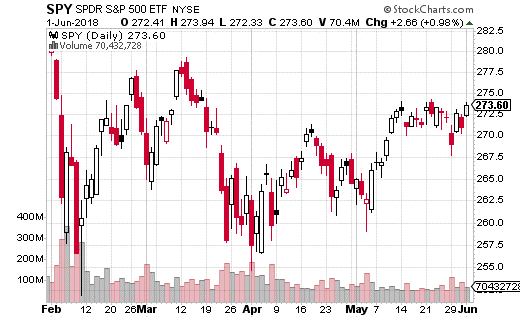 SPY is the most heavily traded ETF in the world and tracks the moves of the S&P 500 index. If you just look at the chart, it doesn't appear that the S&P 500 has a clear direction. From here, it could go easily start trending either way.
When no trend is apparent, it's a good idea to look at the options market to see what kind of action there has been in recent days. For the most part, orders have been split pretty evenly between bullish and bearish trades. However, a pretty large trade last week suggests the smart money isn't too worried about a major selloff in June.
This particular trade was a very large put spread sold on June 1st which expires on June 29th. Literally, it's a one month trade for the month of June. Selling a put spread is used when the trader believes the underlying asset is not going to move below a certain strike. It doesn't necessarily have to go up – if it sits still, the trade also works just as well.
In this case, the trader sold the SPY 260 puts while at the same time buying the 240 puts (to limit risk). SPY was at $273.50 at the time of the trade, and the spread was sold for $0.52. Here's the interesting part… it was executed over 14,000 times for nearly $750,000 in premium. That kind of action isn't going to happen on a whim.
Selling put spreads isn't for everyone. They are generally done as high probability trades, but your risk can be quite large in the event of a major market meltdown. For the trade I just described, the trader could potentially be risking over $20 million, so he or she must be very confident the market won't crash in June.
For those of you who don't want that kind of risk but believe the market is going to be stable in June, selling a narrower put spread is a safer choice (less room between the long and short strikes). Selling the June 29th 260-265 put spread will generate a credit of about $0.75, and your max loss is $4.25.
Like I said, it isn't a strategy for everyone. But, if it fits what you believe will happen with stocks this month, it's a decent credit to receive and not a ton of risk to take for a one month trade.
— Jay Soloff
Warren Buffett Went All-in In a Sector He Swore He'd Never Touch. Will you?
[sponsor]
Buffett could see this new asset run 2,524% in 2018. And he's not the only one... Shark Tank Personality Mark Cuban says "it's the most exciting thing I've ever seen."… Facebook CEO Mark Zuckerberg threw down $19 billion to get a piece... Microsoft Founder Bill Gates wagered $26 billion trying to control it... What is it? It's not gold, crypto or any mainstream investment. These mega-billionaires have bet the farm it's about to become the most valuable asset on Earth. And if you act fast, you could see tremendous returns before the year is up.
Click here for immediate details.
Source: Investors Alley