THE BULL MARKET IN FOOD DELIVERY
Today, we're checking in on one company that has cornered the "on demand" food-delivery market…
Years ago, if you wanted to order delivery, your options were typically limited to pizza or Chinese food. But today, after the rise of smartphone technology, it's easier than ever to touch a few buttons and have food from your favorite restaurants delivered straight to your door.
And chances are good that if you're ordering delivery, you're using
Grubhub's (GRUB)
services…
The $9 billion company owns Grubhub, Seamless, and AllMenus.
With this empire, Grubhub connects hungry diners to more than 80,000 restaurants across the U.S.
Last month, the company reported blowout fourth-quarter earnings.
Not only that, but it announced a partnership with fast-food giant Yum Brands… which means soon, Grubhub may handle online ordering, pickup, and delivery for more than 20,000 KFC and Taco Bell locations.
Shares recently hit a new all-time high, after soaring more than 200% over the past year alone. As you can see, this strong uptrend in "smart" delivery doesn't appear to be slowing down anytime soon…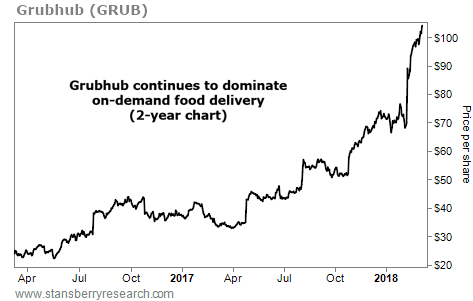 Claim a 100% Risk-Free Trial to DailyWealth Trader...
[sponsor]
For a limited time, get immediate access to "the best of" Stansberry Research's trading ideas. As one reader said: "I am 11 for 11 so far... in less than 2 months."
Learn more here.
Source: Daily Wealth Market Notes