Amazon.com (Nasdaq: AMZN) has often been referred to as the 'Death Star'. In Star Wars, this was the ultimate weapon, capable of destroying an entire planet. Not a bad analogy, considering Amazon's ability to totally disrupt the existing order of entire industries.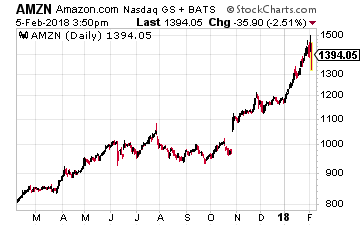 Next on the list of industries to be disrupted looks to be healthcare, as Amazon recently announced a partnership with Warren Buffett's Berkshire Hathaway (NYSE: BRK.A and BRK.B) and JPMorgan (NYSE: JPM).
The three behemoths are forming a not-for-profit healthcare firm whose goal will be to lower costs for the three companies nearly one million employees and "potentially all Americans".
This is good news for American consumers.
Here's why…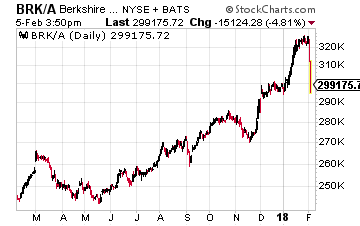 The rising price for healthcare in the U.S. has meant health benefits now make up about 20% of total worker compensation, up from a mere 7% in the 1950s.
This is likely one of the major reasons why we have wage stagnation in our country.
Healthcare – emergencies and the cost of them – are also the number one reason for personal bankruptcies in the U.S.
Ripe for Disruption
But while the Amazon-led venture may be good for consumers, any company in the healthcare sector, except those that actually provide the care or manufacture medicines should be shaking in their boots.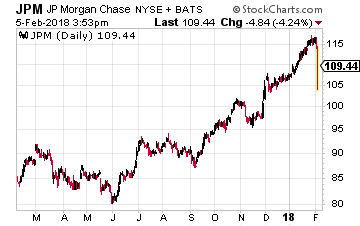 The reason why was summed up nicely by Carmen Weelso, director of research at Janus Henderson, when she spoke to the Financial Times.
She said, "The healthcare sector is ripe for disruption. [JPMorgan, Berkshire, Amazon] are potentially creating a model for something that is a lot cheaper than what is out there already."
Weelso added, "Healthcare margins are fat, and it is opaque how they make their decisions. Their profits have been great, so they've got a target on their back."
This venture will be a competitive threat to all of the many middlemen in the healthcare sector. These include insurance companies, wholesalers and pharmacy benefit managers (PBMs). I'm sure the CEOs of these middlemen companies recall Jeff Bezos' words: "Your margin is my opportunity."
The U.S. simply has too many middlemen involved in its healthcare system.
And so despite spending more per capita on healthcare than any other developed country, the US still ranks 12th out of the 12 wealthiest industrialized countries when it comes to life expectancy, according to data from the Organization for Economic Co-operation and Development (OECD).
So make no mistake – this venture is aimed squarely at those middlemen driving up the cost of healthcare.
Warren Buffett said, "The ballooning cost of healthcare act as a hungry tapeworm on the American economy."
And he's right – check out this graph on rising drug costs:
So what sectors are companies are in the crosshairs of these three giants of American industry?
First are the healthcare insurance companies. These include the top five U.S. insurers: UnitedHealth (UNH), Anthem (ANTM), Aetna (AET), Humana (HUM) and Cigna (CI). UnitedHealth alone provides or manages employee health insurance for nearly 30 million people.
Next come the PBMs that negotiate drug prices on the behalf of insurance firms and employers. These include Express Scripts (ESRX) and CVS Health (CVS) and UnitedHealth. These latter three are involved in the lives of 250 million people!
And while the drugmakers will not be affected directly – Amazon will not begin manufacturing drugs – they will be affected in so far as they may struggle trying to maintain premium pricing on their drugs.
What the Venture May Do
While no one yet knows what exactly the venture may do, I think their first target will be insurance.
Amazon, Berkshire and JPMorgan will "self insure" their employees on a not-for-profit basis. Importantly, they would likely invite more companies to join the initiative in the very near future.
Some large companies, including all the U.S. automakers, already fund their own insurance plans by keeping the premiums and setting aside capital for potential losses. But they have contracted with the health insurers and PBMs to manage the plans. That has left control and fat profit margins still in the hands of those firms. For example, Amazon uses Express Scripts as its PBM and JPMorgan uses both Cigna and UnitedHealth to meet its employee healthcare needs.
This alternative is definitely needed. According to the Kaiser Family Foundation, annual premiums for employer-sponsored family health coverage reached $18,764 last year, up 3% from 2016. Workers, on average, paid $5,714 towards the cost of their coverage with employers picking up the rest. You can clearly the rising cost of healthcare insurance:
The not-so-funny joke among those in charge of employee benefits is that they currently have no option but to deal with 'CUBA' – Cigna, UnitedHealth, Blue Cross, Anthem or Aetna. But now, there will soon be a much cheaper and very viable alternative in the form of this newly-formed Amazon-led venture.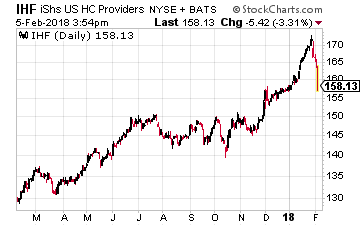 Investment Implications
So what could the investment implications be for you? They're pretty obvious.
It should give you another reason to own Amazon, if you needed one.
I think the 'Death Star' will be successful in disrupting another sector, benefiting American consumers.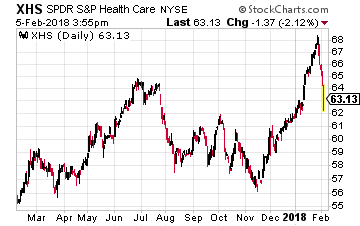 And even though the middlemen companies will fight change tooth and nail (already the big insurers have voiced their 'concerns' to JPMorgan's Jaime Dimon) I would avoid or sell the stocks of all these companies.
I would even go as far as, if you have a high risk tolerance, to look at shorting these two ETFs that are loaded with middlemen stocks, the iShares U.S. Healthcare Providers ETF (NYSE: IHF) and the SPDR S&P Health Care Services ETF (NYSE: XHS).
— Tony Daltorio
Warren Buffett Went All-in In a Sector He Swore He'd Never Touch. Will you?
[sponsor]
Buffett could see this new asset run 2,524% in 2018. And he's not the only one... Shark Tank Personality Mark Cuban says "it's the most exciting thing I've ever seen."… Facebook CEO Mark Zuckerberg threw down $19 billion to get a piece... Microsoft Founder Bill Gates wagered $26 billion trying to control it... What is it? It's not gold, crypto or any mainstream investment. These mega-billionaires have bet the farm it's about to become the most valuable asset on Earth. And if you act fast, you could see tremendous returns before the year is up.
Click here for immediate details.
Source: Investors Alley