THIS APPAREL INNOVATOR OUTSHINES ITS RETAIL PEERS
Another retailer is bucking sector-wide sales declines…
Regular readers know we've been watching the big shift to online retail. As more folks do their shopping on the Internet, many brick-and-mortar businesses have fallen into a downward spiral.
But some traditional retailers are adapting…
Earlier this week, we showed how electronics hub Best Buy (BBY) is defying the trend. Today, we'll highlight another survivor…
Athletic apparel company Lululemon Athletica (LULU) is known for its yoga attire, but it makes a range of sportswear.
Lululemon is getting ahead by improving its online presence and providing good in-store experiences.
It's also innovating products, like its fast-drying Everlux fabric. The company recently reported an excellent holiday season… And it boosted its outlook for the quarter, now expecting net revenue between $905 million and $915 million.
As you can see in the chart below, shares of Lululemon recently hit new 52-week highs. The stock is up more than 13% in the past year… And it has soared nearly 65% from its May low. If Lululemon continues to improve and innovate, the odds look good for this retailer…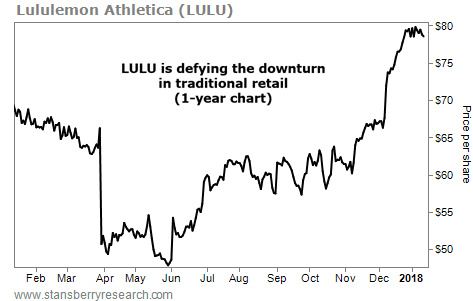 Claim a 100% Risk-Free Trial to DailyWealth Trader... [sponsor]
For a limited time, get immediate access to "the best of" Stansberry Research's trading ideas. As one reader said: "I am 11 for 11 so far... in less than 2 months." Learn more here.
Source: Daily Wealth's Market Notes