The stock market is on another unstoppable tear as we finish another successful trading week.
Stocks are popping left and right. It feels like every single stock and sector is getting a lift from the melt-up rally. But if you want to book the best possible results as you ride the next wave higher, it's crucial to pinpoint the market's strongest breakouts.
Here's the fuel that's powering the market higher this week:
1. Small-caps Soar
For more than a year, small-cap performance has been marked by strong rallies and long, choppy consolidations. Following its sharp post-election rally, the small-cap Russell 2000 was trading in the red during the early months of 2017. We were then treated to a sudden pullback followed by a strong rally beginning in late August, followed by another multi-week pullback.
One second, everyone hated small-caps. Just when the last seller leaves the building, a furious rally begins to take shape. It happened again during the fourth quarter as the Russell consolidated its September rally. Now it's off to the races again…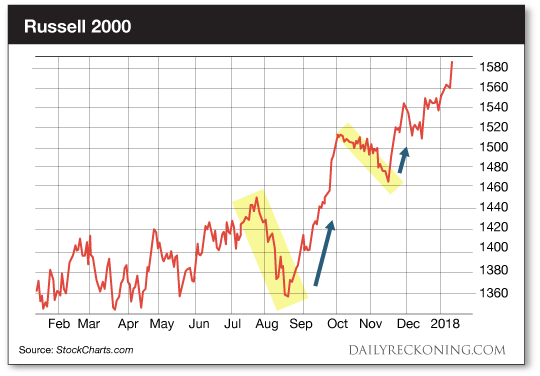 January has already been an amazing month for smaller stocks. The Russell jumped almost 1.75% yesterday, crushing the performance of the S&P 500. If these small stocks can harness this newfound momentum, the powerful rally that sent the Russell to new highs yesterday could be the start of an even bigger move.
2. Oil Powers to New Highs
Oil is cruising higher this month, hitting prices we haven't seen in more than two years.
Financial pundits like to talk about tensions rising in the Middle East or guesses regarding future demand controlling the price of oil.
The media can talk about how the energy rally is a result of the Saudi purge, dwindling U.S. rig counts, OPEC bickering, or a dozen other political or economic factors.
Frankly, none of it means squat.
The fuse on this energy rally was lit long before the news broke.
We noted back in September that something has clearly changed in the oil and energy markets.
Energy stocks had broken free of an eight-month skid to finally take on a leadership role.
That's when we jumped on the Energy Select Sector SPDR (NYSE:XLE):
Sign Up and Receive this Exclusive Report on the 5 Best Ways to Invest in Gold.
These are dark times for the economy. Our world has perhaps faced no greater amount of threats than it does today. The Daily Reckoning offers constant trends and research driven facts on markets and gold. Sign up for the Daily Reckoning e-letter today and receive your FREE report.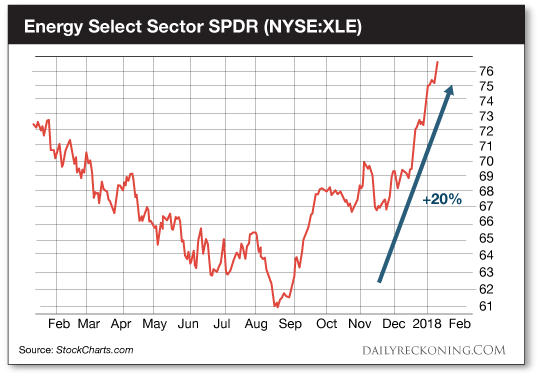 XLE is up 20% since mid-September and doesn't look like its ready to slow down just yet. Yesterday's big gain helped push XLE to year-to-date gains of more than 6%, easily topping the performance of the major averages With oil blasting well above $60 to begin 2018 trading, the action we're seeing this week could be the beginning of a massive energy stock comeback.
3. The Chart Behind the Commodity Comeback
Oil isn't the only commodity that's enjoyed a healthy comeback recently. Precious metals have also posted powerful bounces off their December lows. We can thank the sagging dollar for that…
The U.S. Dollar index is having another tough week. After a short relief rally during the fourth quarter, the dollar is threatening to break below its September lows early this morning. That will land the dollar index at levels not seen since early 2015.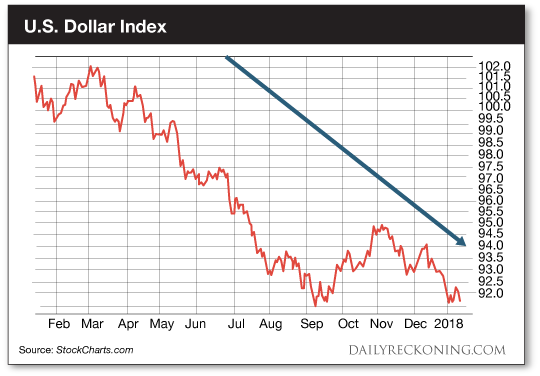 The big turnarounds we've witnessed recently in oil, gold, copper, silver, and platinum owe the tumbling greenback a big "thank you" as these trades continue to firm up this month.
We'll continue to scour the commodity space for new trade setups as this trend develops…
Sincerely,
Greg Guenthner
Do NOT Deposit Another Dollar in Your Bank Account Until You Read THIS
[sponsor]
A CIA insider has launched an urgent mission to expose the government's secret money lockdown plan... Once you see what could happen next time you go to an ATM, you'll understand why he's sending a FREE copy of his new book to any American who answers
right here.
Source: Daily Reckoning