And the winner is…
The technology sector.
Amid the relentless bull market, tech companies have enjoyed the biggest rise of any sector in the S&P this year.
Collectively, they've notched a 35% gain.
And driving that surge? You guessed it… Facebook, Apple, Amazon, Microsoft, and Google's parent company, Alphabet.
Between them, their shares are up an average of 44% this year.
That thrashes both the Nasdaq's 26% rise and S&P 500's 18% climb.
And their third-quarter sales rose by 21% – the fastest rate since Q1 2012 and three times better than the S&P 500 average.
And as Bloomberg reveals, if these companies were a market by themselves, it would be worth $3.3 trillion – making it the sixth-largest country in the world.
So why are portfolio managers going bearish on these stocks?
Another Tech Bubble?
According to Goldman Sachs, the Big Five stocks saw some of the biggest cuts in fund holdings during the third quarter. Apple suffered the biggest outflow, with managers reducing their stakes by 1.1%.
And while they're still overweight on tech in general, the sector still saw a 35-basis point cut in the quarter.
So what's going on here?
Is it simply a case of year-end profit-taking? Or are managers succumbing to fears of another tech bubble?
If it's the latter, they're wrong.
The mainstream financial media would have you convinced that we're in another tech bubble and tech stocks are about to fall.
Don't believe the hype.
For a start, consider the world we live in today, compared to the dotcom days. Whereas tech was more sporadic back then, it's become ubiquitous today – and critical to both consumers and virtually every industry. As technology continues to improve, growth will endure.
The growth isn't just exclusive to heavyweight companies, either. As Goldman notes, tech sector profits jumped by 22% during the third quarter. The only sector to beat that was energy. That led to a 72-basis point jump in profit margins. Analysts had expected a decline.
So forget the bubble babble! Here are two stocks that promise more growth ahead…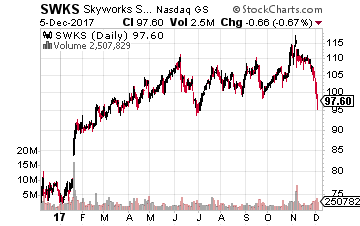 Skyworks Solutions (Nasdaq: SWKS): The Internet of Things (IoT) is a big deal.
Simply put, it's the idea of connecting everything to the internet – systems, networks, devices, appliances. In doing so, it will boost productivity, lower costs, and make our lives easier and safer, as well as getting things done faster.
Over the next five years, companies are projected to spend $5 trillion on the IoT, according to BI Intelligence.
And by 2021, there will be 22.5 billion connected devices – up from 6.6 billion in 2016.
Enter, Skyworks Solutions.
In case you hadn't noticed, we're pretty addicted to our smartphones and tablets. And it results in an incredible amount of mobile data.
To meet demand, we need more radio frequencies (RF) and semiconductor chips in each device.
Skyworks is a leading chipmaker that supplies many of the household names – Apple, Samsung, Amazon, and Cisco, for example – and enables connectivity. In other words, it works behind the scenes to make our mobile devices operate.
In our "always on, always connected" society, Skyworks' growth is only going to continue. Why?
Because as the number of mobile users continues to grow, demand for wireless data surges with it (think of all the streaming music and video content we download, for example). Such demand requires more RF content – and better, faster chips to handle it.
In addition, wireless standards continue to advance – from 3G, to 4G, 5G, and beyond. That also requires more RF content and a higher performance from the chips inside mobile devices. And such advances don't come cheap – which is great news for suppliers like Skyworks, which is already well-placed here.
But remember, this is the internet of everything – and Skyworks CEO Liam Griffin says the company is expanding its applications to include "connected homes, connected and autonomous cars, AI, augmented reality, and wearables, as well as network infrastructure."
He estimates that the number of connected devices will balloon to 75 million by 2025.
Skyworks' strong position is reflected in its numbers:
Average annual sales and net income growth rates of 18.4% and 38%, respectively, over the past five years. The latter is over six times higher than the industry average.
A net profit margin of 27.6% and operating margin of 34%.
On a P/E basis, the stock is undervalued, relative to its peers. And its 0.9 PEG ratio indicates it's undervalued by that metric, too.
The company also pays an annual dividend of $1.28 per share – a 1.2% yield.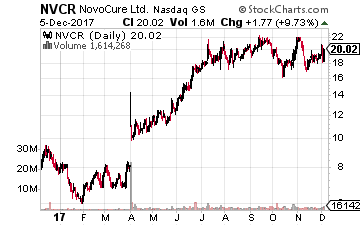 NovoCure Ltd. (Nasdaq: NVCR): Cancer. The mere mention of it will darken anyone's mood – especially with 500,000 million Americans succumbing to the disease each year.
But small-cap firm NovoCure is working to brighten the prospects.
The company's FDA-approved Optune device treats brain cancer through electricity.
That's because NovoCure has discovered that cancerous cells can't multiply as fast or in such great numbers when an electric field is present.
The skullcap-like Optune device fits on to a patient's head. Wires then connect to electric fields. These proprietary Tumor Treating Fields are tuned to specific frequencies, designed to attack the cancer.
The treatment itself doesn't involve any invasive surgery or leftover scars. It's designed to work alongside chemotherapy and radiotherapy to enhance a patient's chances of survival – which it's achieving.
Recent results from a long-term study showed that using Optune in this way doubled the survival rate after five years.
And the company just received a boost from the Japanese Ministry of Health, Labour, and Welfare. It's approved reimbursement for Optune treatment in cases of newly diagnosed brain cancer called glioblastoma.
Following its success with brain cancer so far, NovoCure aims to expand Optune treatment. It's conducting trials to test its efficacy in lung, pancreatic, and ovarian cancers.
If it can replicate the results here, expect shares to react accordingly.
NovoCure did notch $89.9 million in fiscal 2016 revenue – up 150% over 2015. But with R&D and clinical trial costs, keep in mind that while its debt is manageable, the company isn't profitable yet.
If you want a powerful bullish signal, though, insiders own almost one-quarter of the stock, which underlines their confidence in Optune.
So while the pundits continue to fret about a tech bubble, both Skyworks and NovoCure provide critical solutions from enduring trends.
— Martin Denholm
Warren Buffett Went All-in In a Sector He Swore He'd Never Touch. Will you?
[sponsor]
Buffett could see this new asset run 2,524% in 2018. And he's not the only one... Shark Tank Personality Mark Cuban says "it's the most exciting thing I've ever seen."… Facebook CEO Mark Zuckerberg threw down $19 billion to get a piece... Microsoft Founder Bill Gates wagered $26 billion trying to control it... What is it? It's not gold, crypto or any mainstream investment. These mega-billionaires have bet the farm it's about to become the most valuable asset on Earth. And if you act fast, you could see tremendous returns before the year is up.
Click here for immediate details.
Source: Investors Alley