If you've been waiting patiently on the sidelines for a pullback in Micron Technology, Inc. (NASDAQ:MU), it's here. But if you're going to buy the dip in MU stock, do it more intelligently with a modified bullish fence strategy. Let me explain.
There are bulls and bears on Wall Street.
And currently MU stock is in the clutches of those cantankerous non-believers.
Shares finished off the week down nearly 16% fueled by an on-again bearish narrative of waning demand within the DRAM and NAND memory markets.
So, and as I've asked before, "where do we go from here in MU stock?"
There are no guarantees of course, but I'm still of the mind this week's volatile sell-off in Micron is an opportunity to buy a longer-term growth story at a better value off and on the price chart.
MU Stock Weekly Chart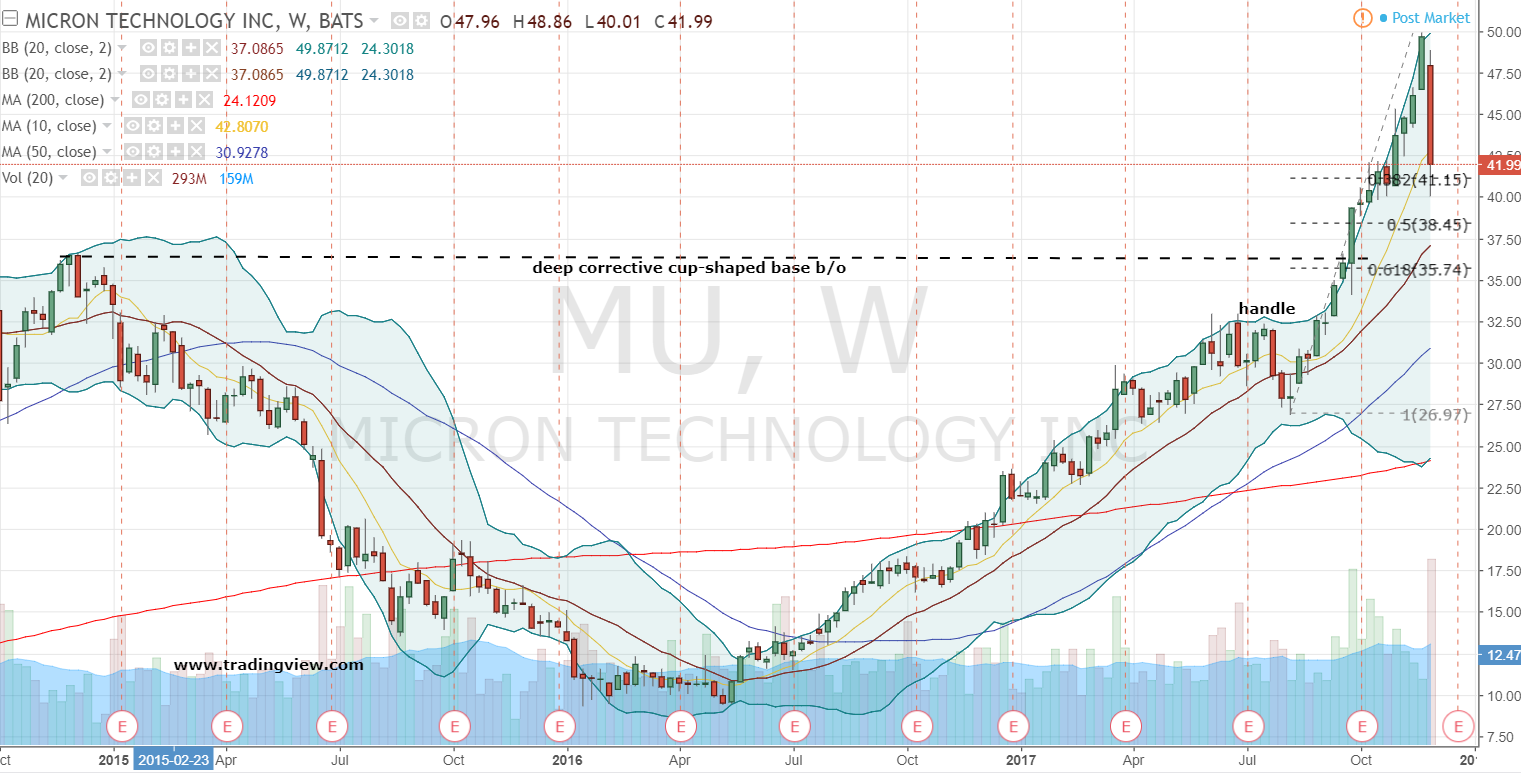 With the aforementioned corrective activity in hand, shares of Micron have tested the 38% retracement level from this summer's corrective low near $27. That's a nice, healthy pullback for investors that have been waiting to enter on weakness.
In conjunction with a massive pattern breakout in late September, a high-to-low decline of 20% and acceptance that growth stocks are known to test the patience of investors from time to time, buying the dip, without fully dismissing the current bearish action in MU stock makes absolute sense.
MU Stock Bullish Modified Fence Strategy
Last time I proffered a bullish modified fence combination in MU stock. The strategy was designed around buying the Dec $41 / $43 call spread and selling the Dec $37 / $35 put spread for even money.
Hopefully any would-be spread traders took profits as the position expanded to nearly capture its full profit potential of $2.00. As of Friday's close, that gain has been cut by slightly more than half with MU stock finishing at $41.99.
Looking forward, with implieds elevated and our belief MU stock will reassert its bullish trend, I still like this sort of strategy. The modified fence reduces and fully contains risk to a known dollar amount, while delivering larger returns than are available with selling a put spread if Micron shares are able to rally as anticipated.
Reviewing the Micron options board, one favored combination is selling the Jan $40 / $37 put spread and buying the Jan $44 / $47 call spread for even money with MU stock at $41.99.
On the upside, this strategy allows the bullish investor to own the call spread for free. If MU stock cooperates, above $47 at expiration, it will produce a profit of $3 as the vertical expands to its full value.
Alternatively, if shares of Micron remain between $40 and $44, the trader scratches as both spreads expire, but nothing was paid to enter into the position.
Below $40, the trader is subject to assignment and owning MU stock. This would amount to buying MU stock at a discount of about $2 to Friday's close and the session low. What's more, the initial purchase could be at an even steeper discount if Micron shares are below the put spread at expiration.
— Chris Tyler
"I Couldn't Reveal This HUGE Cannabis Story on Fox News - So I Quit"
[sponsor]
It's one of the "greatest wealth creation events of the last 25 years." Now, mark your calendar for Wednesday, January 23rd.
LEARN MORE
Source: Investor Place