A recent approval from an U.S. Food and Drug Administration (FDA) advisory panel has heralded a new era of medicine. An era where diseases are tackled in a totally different way, by inserting into disease sufferers functioning copies of genes that are either missing or mutated.
Gene therapy is a complex subject. So think of it this way…
Your genetic sequence is like a long book and your body is essentially a DNA 'reading machine'.
Each gene or 'word' sends a signal to your body to produce a specific protein it needs in order to function normally and healthily.
The problem is that you and I and everyone else have genes that are mutated.
Think of them as 'typos'. Depending on the severity of the 'misspelling', diseases – some of them very serious – may result.
That's where the promise of gene therapy lies, replacing the faulty genes with normal ones.
In other words, diseases are tackled right at their biological source with a one-time only treatment.
I want you to think about the state of modern medicine today. Patients are giving chemicals (drugs) that treat the symptoms of various diseases for a few hours at a time. But gene therapy means diseases such as cancer, Parkinson's, cystic fibrosis and many other diseases could possibly be cured.
First FDA Approval
The aforementioned approval from the FDA was for a product called Luxturna, which was developed by Spark Therapeutics (Nasdaq: ONCE). Notice the symbol for Spark, emphasizing its treatments are one-time only.
Luxturna is designed to help a subset of those diagnosed with Leber congenital amaurosis (LCA) that have a mutation in a gene known as RPE65. Sufferers of this particular diseases number about 6,000 in the developed world, including the United States. People with LCA suffer severe vision loss and are at high risk of becoming totally blind.
Many of the patients treated with Luxturna in the Phase III trial are once again enjoying the gift that is vision. So everything looks idyllic for this type of treatment, right? There is one major hitch though – the current sky-high price for such treatments. Spark is waiting to set the price of Luxturna until its gets official FDA approval in January, but it is expected to be in the $700,000 to $900,000 range per eye.
This price looks then to be in the same ballpark as two CAR-T therapies recently approved by the FDA – Kymriah ($475,000) and Yescarta ($373,000). CAR-T is a form of gene therapy that harnesses a patient's own immune system to attack and kill cancer cells.
Despite the high price, gene therapies may be worth it if they indeed do cure the diseases.
And I believe that gene therapies will become much more affordable. As with almost every technology, the price will decline as the market for them grows larger in scale. In other words, larger eligible patient populations will equal lower prices for every treatment.
Gene Therapy Investments
As you can imagine, many of the major pharmaceutical companies are getting involved in gene therapies, such as Novartis AG (NYSE: NVS) and GlaxoSmithKline (NYSE: GSK). But I would prefer more of a pure play in the sector. Here are several companies to consider.
Gene Therapy Stock #1 – Spark Therapeutics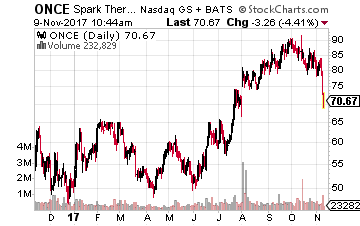 Let's start with Spark Therapeutics. Most of the company's $2.8 billion market capitalization is not due to Luxurna.
The real excitement for the company comes from several early-stage gene therapy projects that are aimed at hemophilia.
Spark reported positive initial data from its Phase I/II trial of SPK-9001 in hemophilia B, which is a serious and rare inherited hematologic disorder, caused by mutations in the FIX gene that leads to deficient blood coagulation and increased risk of hemorrhaging.
Spark is working with Pfizer (NYSE: PFE) to develop this treatment.
The company also initiated the Phase I/II trial for SPK-8011 for hemophilia A. This disease is characterized by a mutation in the FVIII gene and again results in deficient blood coagulation.
These hemophilia therapies would address a larger market than Luxturna since there are about 190,000 sufferers around the globe. A one-time treatment, even with a big price tag, would likely look good to cash-strapped health systems. That's because infusions for a single hemophilia patient can cost about $500,000 per year.
Spark Therapeutics' stock is up nearly 60% year-to-date and 66% over the past year.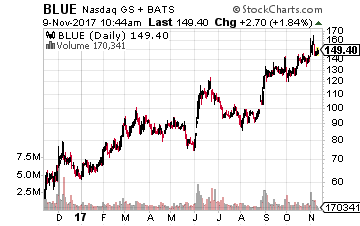 Gene Therapy Stock #2 – Bluebird Bio
The second company to consider is Bluebird Bio (Nasdaq: BLUE), founded in 1992, and has expertise across the areas of gene editing, T-cell immunotherapy and lentiviral-based gene therapies.
It does have a pretty broad pipeline including:
Lenti-D, which is in the Phase II/III Starbeam Study, and is targeted at childhood cerebral adrenoleukodystrophy.
Lentiglobin, which are in four Phase I/II studies, and is aimed at patients with rare hemoglobinopathies – severe sickle cell disease and transfusion-dependent ß-thalassemia. The stock soared over 10% at the start of November when results were announced that updated data would be revealed in December.
Other therapies in earlier stages of Bluebird's pipeline are: bb2121 and bb21217 for multiple myeloma, BCL11a shRNA for severe sickle cell diseases, as well as several oncology treatments at the pre-clinical stage. On bb2121, it is partnered with Celgene (Nasdaq: CELG) in the Phase I study.
Overall in 2017, the stock is up 137% so far and it has doubled over the past 12 months.
Gene Therapy Stock #3 – AveXis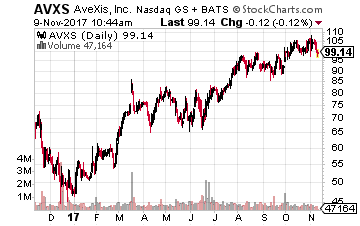 The third clinical-stage company worth a look is AveXis (Nasdaq: AVXS).
The company's primary focus is on gene therapies to develop a cure for Spinal Muscular Atrophy (SMA), Rett Syndrome and a genetic basis for ALS (Lou Gehrig's disease).
AveXis' stock spiked on September 29 after the FDA gave the go-ahead for the company to go forward with its pivotal clinical trial (STR1VE) on its flagship AVXS-101 candidate for the treatment of SMA.
The treatment uses neutered viruses as a delivery mechanism for healthy genes to suffering patients. These genes will begin in the body production of a protein, the lack of which – called survival motor neuron – causes the disease.
Short sellers had targeted AveXis claiming it would not be able to produce its treatment for SMA in sufficient quantities while meeting the FDA's high manufacturing standards. The FDA go-ahead should allay some of those fears.
AVXS-101 has shown good results so far. Earlier this year, AveXis showed that nine children with a particularly severe form of SMA, who were dosed for 20 months, are all alive and well. That compares to an average of 8% of untreated children that would be on major breathing support, if they were still alive.
The company's stock has soared 112% year-to-date and 53% over the past 52 weeks.
The performance of all three of these stocks is remarkable in what has been not a good year for many biotech stocks. Gene therapy is a paradigm shift in how to treat people afflicted with diseases, offering potentially very high profit opportunities. More good gains should follow for the companies in the sector as science fiction slowly becomes reality.
Let the basic premise sink in for a second. Diseases and conditions like hemophilia, ALS, even blindness are on the cusp of being cured with one treatment. Not managed. Not endured. But cured. Forever.
And all of that's possible from the convergence of biology, chemistry, computer technology, even government policy. We're looking at a whole new era for humankind, one where one day in a new world practically every disease can be cured. I call the new world The Singularity. And it's happening before our eyes. If you even just browse through my articles you'll find The Singularity touching every facet of life: manufacturing, healthcare, finance, employment, commerce, transportation… everything. And according to the World Economic Forum this transformation – The Singularity – represents a combined worldwide value of $100 trillion over the next seven years.
Fortunes will be made by investors. Not just the big hedge funds and venture capitalists but by regular investors like you and me. If… you know where to look.
— Tony Daltorio
[ hana-code-insert ] 'ia-alan' is not found
Source: Investors Alley