A MONOPOLY IN ONLINE DATING
Today's chart shows a booming industry created by the digital revolution…
Regular readers know we are always looking for big secular trends to invest in. As the Internet has taken on a growing role in our lives, even match-making has moved online… And more people are turning to their smartphones to get a date.
Match (MTCH) owns many of today's most popular online-dating platforms, including Match.com, PlentyOfFish, OkCupid, and Tinder.
Most of those companies are seeing rising user growth and engagement, according to this week's new earnings release.
For example, in the third quarter, Tinder's paid members grew an incredible 85% from last year… And on average, paid members increased 18% across all of Match's platforms.
Meanwhile, Match's overall revenue shot up 19% from last year to $343 million in the third quarter.
As you can see in the chart below, MTCH shares jumped about 10% yesterday after its third-quarter earnings came out. The stock is up more than 70% in the past year, and it's hitting new all-time highs. As we've said before, large-scale trends are a great way to make solid returns…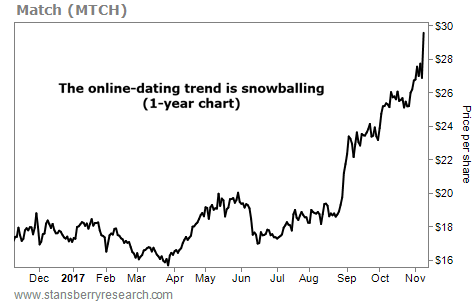 Claim a 100% Risk-Free Trial to DailyWealth Trader...
[sponsor]
For a limited time, get immediate access to "the best of" Stansberry Research's trading ideas. As one reader said: "I am 11 for 11 so far... in less than 2 months."
Learn more here.
Source: Daily Wealth's Market Notes