THIS 'OFFENSE' CONTRACTOR SOARS TO RECORD HIGHS
Today, we see more evidence of positive momentum in defense contractors…
Many folks once cautioned against investing in U.S. defense contractors. They feared reductions in government spending.
Instead, as we've noted before, the U.S. has been involved in so many foreign wars that defense contractors should be called "offense" contractors.
And our colleague Dave Eifrig is especially bullish on these companies today, expecting military spending to push higher from here.
We can see this trend at work in shares of Northrop Grumman (NOC).
With a $50 billion market cap, this company is one of the largest defense contractors in the world.
Its three main business segments include aerospace systems, mission systems (such as radar and sensors), and technology services. The company brought in nearly $25 billion in revenue and $2 billion in profit in 2016.
As you can see in the chart below, Northrop Grumman shares are at record highs. The stock rose about 35% over the past year. With global tensions running high, the bullish trend in "offense" contractors is sure to continue…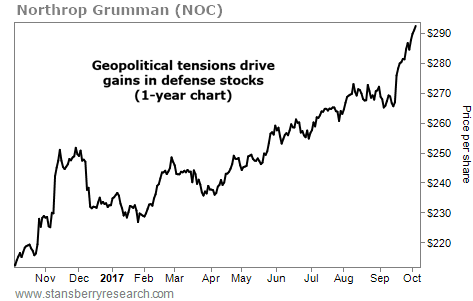 Claim a 100% Risk-Free Trial to DailyWealth Trader... [sponsor]
For a limited time, get immediate access to "the best of" Stansberry Research's trading ideas. As one reader said: "I am 11 for 11 so far... in less than 2 months." Learn more here.
Source: Daily Wealth's Market Notes