THIS "BORING" BUSINESS KEEPS CHUGGING ALONG
"Boring" works… just take a look at today's chart for the latest example…
As longtime readers know, we're fans of simple businesses… the types of companies that sell the everyday products people buy without thinking twice. These businesses have a history of beating the market and they often make for steady, reliable investments.
But because they are considered dull, these companies sometimes get overlooked in place of more exciting stocks.
One of these hidden market gems over the last few years has been WD-40 Company (WDFC).
Everyone is familiar with WD-40.
Almost every American has a can lying around in the garage or under the kitchen sink.
It has an incredibly powerful brand and is the go-to solution for a number of household tasks.
As you can see from the chart below, people are still buying cans of WD-40… The stock has soared more than 150% over the last five years and shares just struck a new all-time high this week.
It's yet another example that some of the best businesses in the world are also the least "exciting"…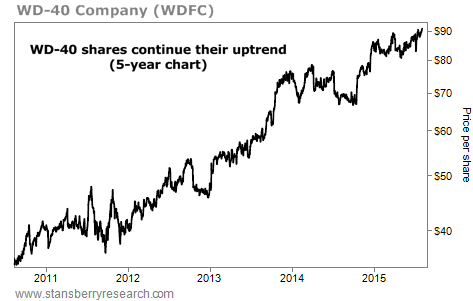 Claim a 100% Risk-Free Trial to DailyWealth Trader... [sponsor]
For a limited time, get immediate access to "the best of" Stansberry Research's trading ideas. As one reader said: "I am 11 for 11 so far... in less than 2 months." Learn more here.
Source: Daily Wealth's Market Notes