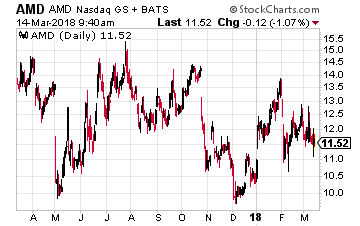 On the face of it, semiconductor firm Advanced Micro Devices (Nasdaq: AMD) is a company on the move.
Over the past two years, its share price has surged by 475%. And revenue jumped by 25% to $5.3 billion last year, leading to a $179 million profit. Quite a turnaround from the $117 million loss in 2016.
Revenue and earnings are projected to shoot up by 18% and 124% this year, respectively.
Much of the growth is because AMD has stepped up its game in the CPU and GPU business.
Specifically, its lower-priced Ryzen CPU performed well against Intel's CPUs. And its GPUs match up favorably against NVIDIA's similar offerings.
Unfortunately, AMD received some bad news earlier this week…
Two Words No Chipmaker Ever Wants to Hear: "Security Flaws"
Tests by Israel's CTS-Labs just found 13 critical security vulnerabilities on Ryzen and Ryzen Pro chips for PCs, Ryzen Mobile, and Epyc chips for servers.
According to the report, the weaknesses make the chips susceptible to a cyber-attack that could give hackers access to personal information on the respective computers or servers.
Obviously, no chipmaker needs potential security flaws to be exposed.
But the timing is particularly unfortunate for AMD, since its chips were just starting to gain some traction against industry behemoths like Intel and NVIDIA.
(For comparison, AMD's market cap is $11.5 billion, versus $244.7 billion for Intel and $151.7 billion for NVIDIA).
It's also not good news, given that both Intel and NVIDIA are set to release new CPU and GPU chips later this year.
Investors Beware
Investment-wise, although AMD's share price has rocketed over the past two years, it's down 16.6% in the past 12 months, despite enjoying an impressive year in terms of revenue and profit. And the overall net profit margin remains razor-thin.
In addition, AMD's price is significantly more expensive than its industry peers, with an uncomfortably high debt load, to boot.
While revenue and profit forecasts are strong for this year, AMD faces challenges from bigger, more diversified, more profitable rivals and needs to get back to showing that it can translate any success into share price gains.
— Martin Denholm
[NEW REPORT] Absolute 10 Best Tech Stocks to Own in 2018
[sponsored ad]
Grab your exclusive copy of this new research report that shares Growth Stock Advisor editor Tony Daltorio's "10 Best Tech Stocks" to own in 2018 and beyond. With exposure to red-hot sectors such as lasers, photonics, robotics, advanced microchips, cybersecurity, and more, you can future-proof your portfolio while also gaining exclusive access to some of the biggest growth opportunities of the next decade.
Click here now for your copy.
Source: Investors Alley