THIS GROWTH MACHINE IS ANYTHING BUT BORING
Today's chart proves that you can make big gains from stocks that "sell the basics"…
Longtime readers know we're fans of simple businesses. "Boring" products like soda, coffee, and pet food are always in demand.
While the companies that make these staples might not be flashy, they get steady business – which means strong returns for investors.
We're seeing this right now with consumer-products giant Clorox (CLX)…
Most people associate Clorox with cleaning supplies.
But the company has picked up a wide variety of household brands over the years, including Brita water filters, Hidden Valley salad dressing, Glad trash bags, and even Burt's Bees skincare products.
Clorox is a slow-and-steady growth machine…
Over the past year, its sales topped $6 billion – a new company record. And its profits reached $5.50 per share, a 34% jump from five years ago.
As you can see below, CLX has staged a multiyear climb. Shares have risen more than 90% over the past five years… And they recently broke out to an all-time high. It's more proof that selling the basics isn't exciting… but it works.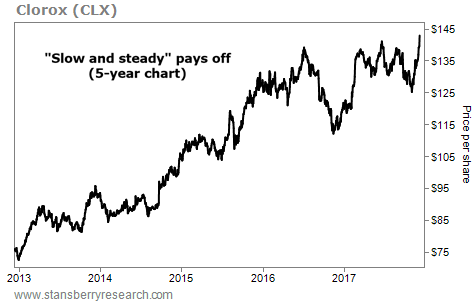 Claim a 100% Risk-Free Trial to DailyWealth Trader... [sponsor]
For a limited time, get immediate access to "the best of" Stansberry Research's trading ideas. As one reader said: "I am 11 for 11 so far... in less than 2 months." Learn more here.
Source: Daily Wealth's Market Notes