Investing can be about earnings, income potential or even being agreeable with analyst opinion regarding a stock of interest. But when it comes to Morgan Stanley (NYSE:MS) and this strategist, the big picture on the price chart also matters. That's why a long collar spread on MS stock looks even more compelling now.
Let me explain.
There's a lot to like about MS stock's prospects these days.
For instance, last month Morgan Stanley topped the Street's profit and sales forecasts for Q3 backed by the company's strong wealth management and investment banking and management businesses.
Not too shabby, right?
More recently, Instinet proffered an upbeat note on MS stock.
Analyst Steven Chubak is bullish on Morgan's revenue mix, which favors the predictable wealth management area.
He also sees the company as having stronger policy tailwinds at its back than the likes of peer Goldman Sachs Group Inc (NYSE:GS). It sounds like yet another arrow in MS stock's quiver, don't you agree?
Throw in an okay-looking 1.95% MS stock dividend and what could possibly go wrong? That's one way to look at it. Personally, I prefer to look at the big picture as it relates to shares of Morgan Stanley and remain optimistic, but also pragmatic at the same time.
MS Stock Monthly Price Chart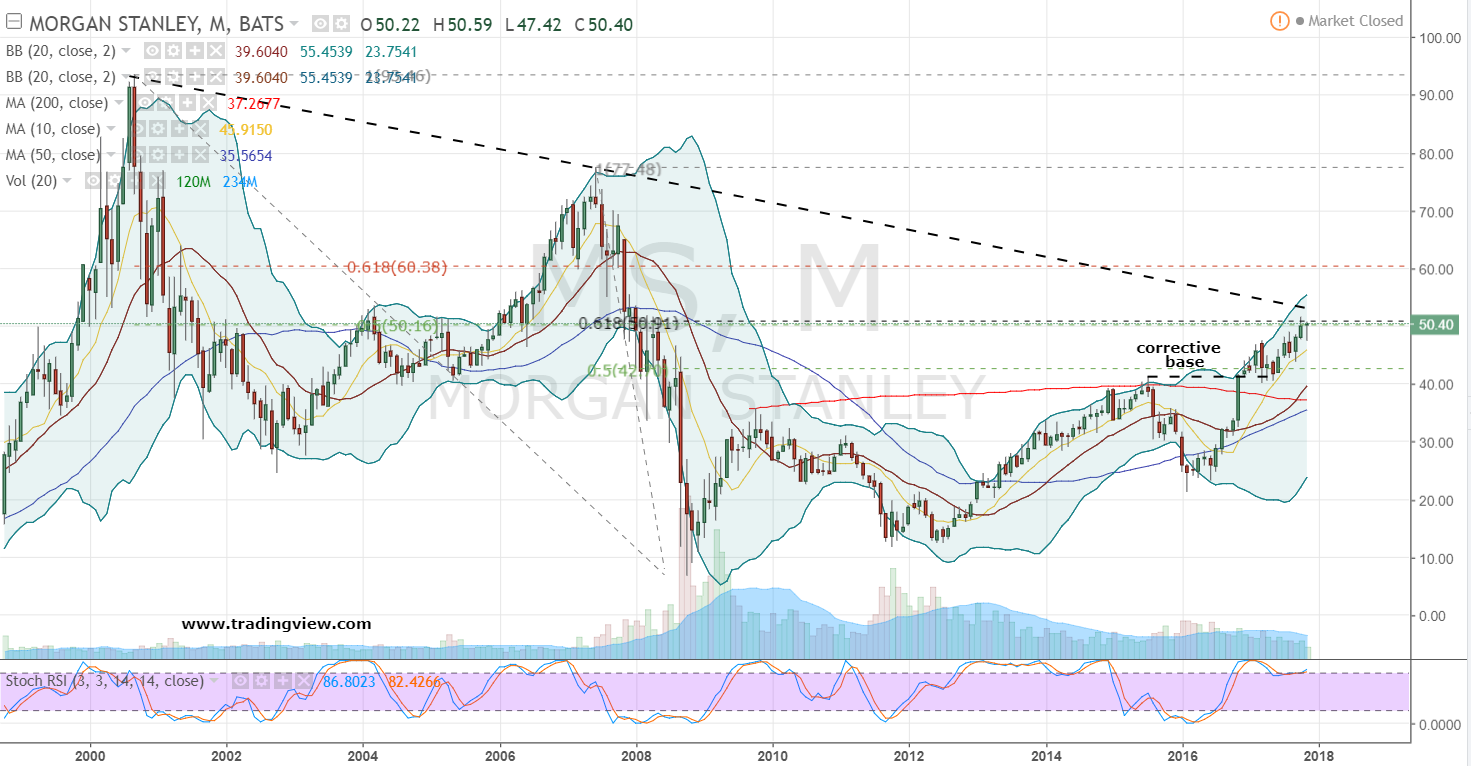 Looking at the longer-term monthly chart of MS stock and the argument could easily be made to exit or short the financial giant. Shares are testing a couple key Fibonacci retracement levels. There's also a significant downtrend line that's only a handful of percentage points removed from MS's current price, which could cause investors some concern.
Optimistically though and without relying too heavily on "ho-ho-hope," MS stock did work its way through a fairly large corrective move just last year. In our view, the staunch price action works as a bullish reset for shares. And while there aren't any guarantees, this should help MS stock power through the potential band of resistance and provide relative and absolute technical leadership moving into 2018.
MS Stock Collar Spread
In reviewing MS stock's options for a bullish, but pragmatic position — the Jan $47 put / $55 call collar is favored. With shares at $50.40, the combination can be purchased for a premium of 30 cents or $50.70 for the fully hedged strategy.
As always with the collar, this strategy offers guaranteed protection on the downside. Here, the insurance offered by the put is 7.3% below the cost of the spread. That's certainly reasonable. Yet, with the risk contained just below two recent key lows in MS stock, the strike placement is all the more important.
On the upside, and if MS stock rallies as anticipated, profits are initially capped at $4.30 or roughly 8.5%. Remember, the collar trader has sold the $55 call to partially finance the protective put contract. The bottom-line? That would still be a nice return for a several-week holding period. But, if all goes well, this strategy is also adjustable and can continue to profit from a bullish trend.
— Chris Tyler
The Ultimate Marijuana Stock to Go Ballistic in the Next 90 Days
[sponsor]
Recreational marijuana is set to become legal in Canada this fall. And the result will send this stock soaring. If you act quickly, before most Americans catch on, you, could turn every $10,000 you invest into $30,000, $40,000, $50,000, or more. This Special Report reveals the No. 1 Marijuana Stock to Buy Now -
Read It Here.
Source: Investor Place