After a two-month slumber, Netflix, Inc. (NASDAQ:NFLX) shares are finally perking up. And the timing of its awakening was spot on.
Technical patterns suggested a pop was imminent and the holiday season is giving NFLX all the reason needed to begin a year-end run.
Since launching higher in early October amid positive earnings from the tech sector, NFLX has been consolidating in a triangle pattern.
Compression has been the name of the game as the stock has traded in an ever-tightening range.
Chartists view this formation as a coiled spring — one with pent-up energy just waiting for a reason to release.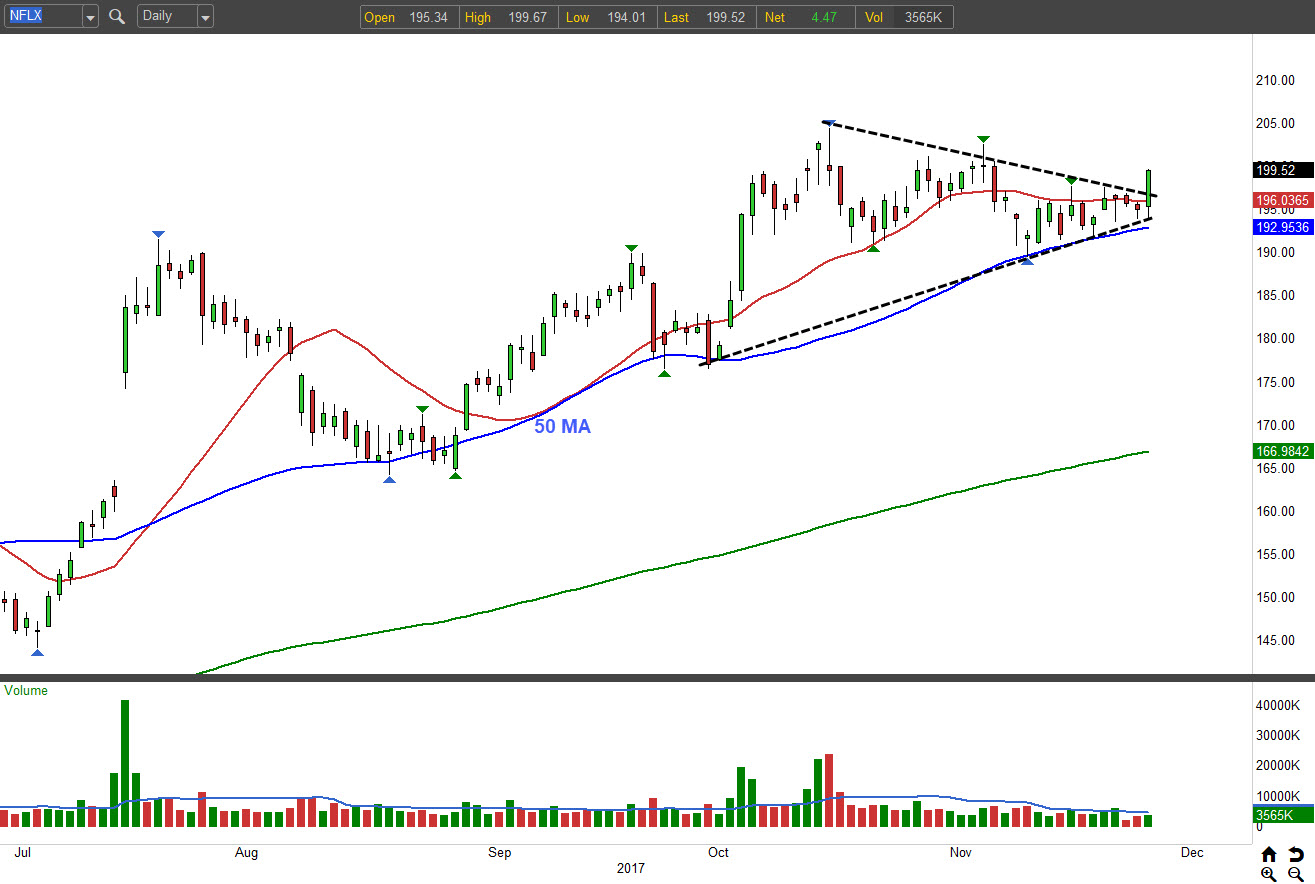 Source: OptionsAnalytix
[Yesterday] was that release.
And NFLX shares are shooting to the moon to make up for lost time. [Tuesday's] pop really couldn't have come at a better time.
The triangle's apex was fast approaching, and any further dithering would have threatened to take NFLX below its 50-day moving average. In sizing up potential targets, $205 should be the first stop. That marks the top of the triangle as well as the current high water mark for Netflix shares.
If buyers really press their advantage, look for the stock to move into $210 and beyond.
The Netflix Christmas Trade
To fully capitalize on continued strength into year-end, not to mention an increase in volatility, buy a Jan $200/$210 bull call spread for $4.15. The long vertical consists of buying to open the Jan $200 call while selling to open the $210 call. The initial cost represents the max loss and will be forfeited if Netflix sits below $200 at expiration. The max gain is $5.85 and will be captured if we rise above $210.
By risking $415 to make $585, the potential return on investment is a mouth-watering 141%.
— Tyler Craig
The One Stock That Could Make You a Marijuana Millionaire
[sponsor]
FDA approval and a pipeline of breakthrough marijuana medicines are about to send this stock soaring another 1,303%, making millionaires out of many early shareholders. But time is running out for you to get in on the ground floor.
This Special Report will give you all the details, absolutely free.
Source: Investor Place