WATCH THIS COUNTRY'S STOCKS AS THINGS GET 'LESS BAD'
Today's chart highlights a beaten-down market that's starting to climb…
Regular readers know Steve coined the term "bad-to-less-bad trading" several years ago.
If you buy assets dirt-cheap when no one is left to sell, you can make massive profits as the market returns to normal – that is, when things simply get "less bad."
Right now, we can see this at work in Russian stocks…
The VanEck Vectors Russia Fund (RSX) holds some of the country's biggest companies.
It tracks a basket of 31 stocks, with its largest holdings in the energy, materials, and financials sectors…
And it's one of the easiest ways for Americans to invest in Russia.
From its 2013 peak to its 2016 low, RSX plunged more than 60%. But then oil prices bottomed, Russian energy stocks stopped falling, and things got "less bad"…
Since then, RSX has exploded into an uptrend. Shares are up nearly 85% from last year's lows, and they're trading close to 52-week highs. Pay attention – this could be the start of the next rally in Russian stocks…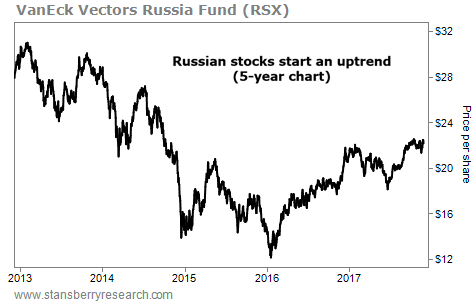 Claim a 100% Risk-Free Trial to DailyWealth Trader... [sponsor]
For a limited time, get immediate access to "the best of" Stansberry Research's trading ideas. As one reader said: "I am 11 for 11 so far... in less than 2 months." Learn more here.
Source: Daily Wealth's Market Notes