The cat's almost out of the bag. If a cat's a Caterpillar and a bag's a box, that is. Heavy equipment juggernaut, Caterpillar Inc. (NYSE:CAT), is on the cusp of busting out of the box it's been locked in since last month's earnings release. And that means another advance will soon be upon us.
The time to prepare is now, and the trade to consider is, well, outlined below.
Year-to-date, CAT stock is up just shy of 50%.
And she's reached record highs in the process.
The optimistic backdrop for equities this year certainly hasn't hurt, but CAT fundamentals have improved notably as well.
Earnings growth has helped propel the Dow Jones component into the stratosphere.
The stock has now gapped higher over three straight earnings releases.
It's always comforting when a large-cap company can gap higher on earnings after it's already risen 30% to 40% in previous months. It shows the gains were justified and the underlying fundamentals support the lofty price tag, and then some.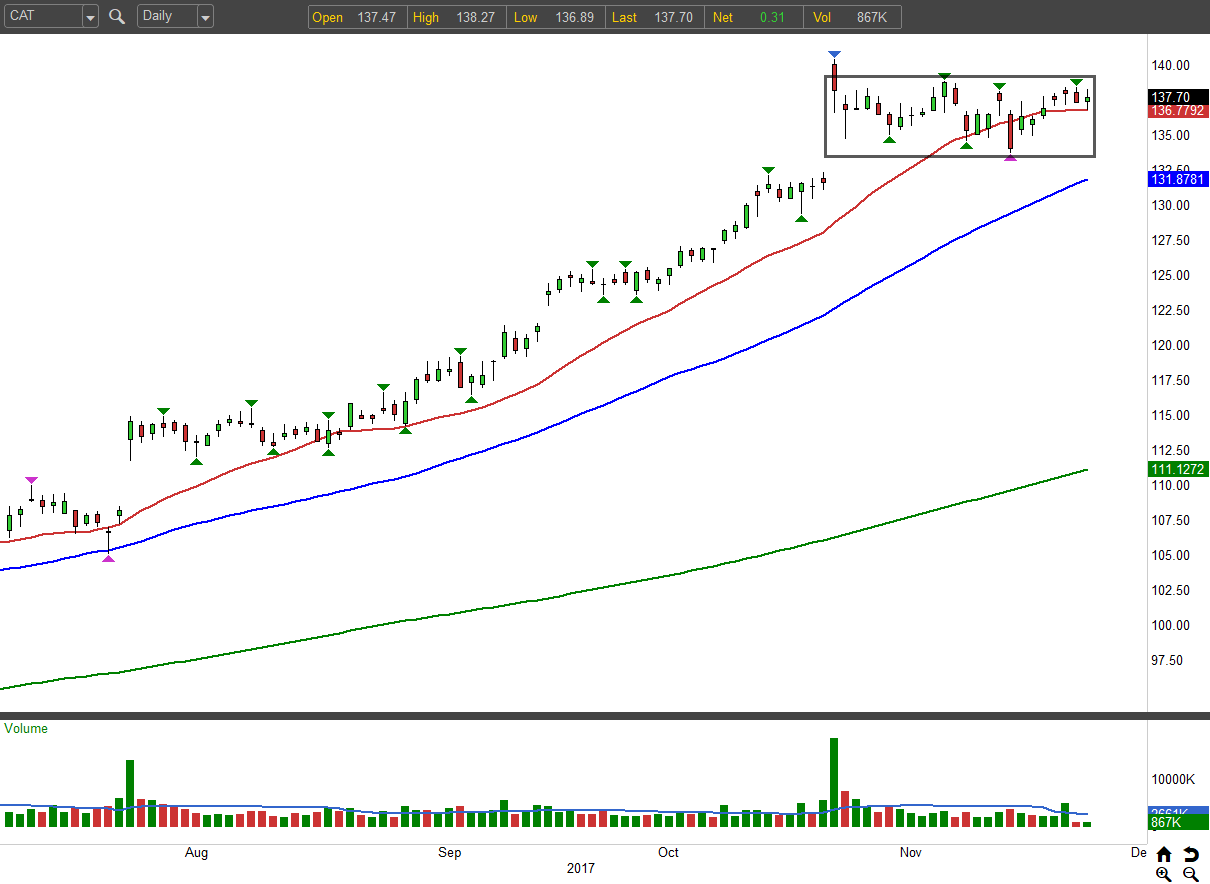 Source: OptionsAnalytix
Since the mid-October jump, CAT has traded sideways in a narrow box between $139 and $134. The stock's ability to remain aloft after such a strong run is impressive and speaks to the underlying bid beneath the surface.
With the 20-day moving average now caught up, and the 50-day well on its way, CAT's next advance will soon begin.
Watch for a breakout over $139 in the coming days to confirm.
The CAT Stock Trade
Demand for CAT options is subdued and that has driven its implied volatility rank to a lowly 19%. Cheap premiums suggest long option plays are the way to go. Here's a spread trade that strikes a nice balance between the probability of profit and return on investment.
Buy the Jan $135/$140 bull call spread for $2.74. The initial cost of $2.74 represents the max loss and will be forfeited if the stock sits below $135.
The max gain is $2.26 and will be captured if Caterpillar shares sit above $140 at expiration. By risking $2.74 to acquire $2.26, the position offers a potential 82% return.
— Tyler Craig
The Ultimate Marijuana Stock to Go Ballistic in the Next 90 Days
[sponsor]
Recreational marijuana is set to become legal in Canada this fall. And the result will send this stock soaring. If you act quickly, before most Americans catch on, you, could turn every $10,000 you invest into $30,000, $40,000, $50,000, or more. This Special Report reveals the No. 1 Marijuana Stock to Buy Now -
Read It Here.
Source: Investor Place