THE U.S. ECONOMY IS FORGING AHEAD
Today's chart suggests that America's economy is doing well…
Regular readers know we check the "pulse" of the U.S. economy in several different ways. One of those ways is looking at payroll-processing companies.
As long as businesses are hiring, this sector enjoys healthy growth.
We checked in on this idea last summer with one such company: Paychex (PAYX)…
Paychex offers payroll support to small and midsize businesses.
You might not know it, but companies in that range accounted for nearly half of U.S. jobs in recent years.
When employers spend money on managing their staff, it's often a good sign for the economy…
And business is good for Paychex today. According to the company's latest earnings report, its quarterly revenue increased 4% from the prior year to $803.1 million. Meanwhile, its earnings after expenses increased 9%.
As you can see below, the stock has made an impressive climb. Shares have increased more than 100% in the past five years, recently hitting record highs. It's another sign that the U.S. economy is on a healthy track…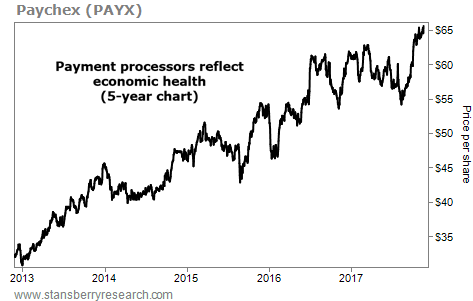 Claim a 100% Risk-Free Trial to DailyWealth Trader... [sponsor]
For a limited time, get immediate access to "the best of" Stansberry Research's trading ideas. As one reader said: "I am 11 for 11 so far... in less than 2 months." Learn more here.
Source: Daily Wealth's Market Notes