Roku Inc (NASDAQ:ROKU) finds itself square in the sights of momentum traders everywhere. The catalyst for their newfound excitement was ROKU stock's first earnings announcement which impressed the Street with rosy revenue and growth forecasts.
ROKU was rewarded with a double in the three trading sessions following the earnings surprise. And while the stock may be in for some backing-and-filling to digest the gargantuan gains, I suspect the nascent uptrend is here to stay.
Not surprisingly, volume exploded during the rocketship rise suggesting that institutions are now piling into the stock.
Their continued optimism should help contain the occasional bouts of profit taking since they will use price dips as an opportunity to accumulate more shares.
Rest assured, however, that volatility is here to stay.
ROKU is still in its infancy as a public company and stocks don't typically double in value and then settle down for sleepy-time trading.
No, we'll likely continue to see large swings in either direction as the stock continues to find its footing.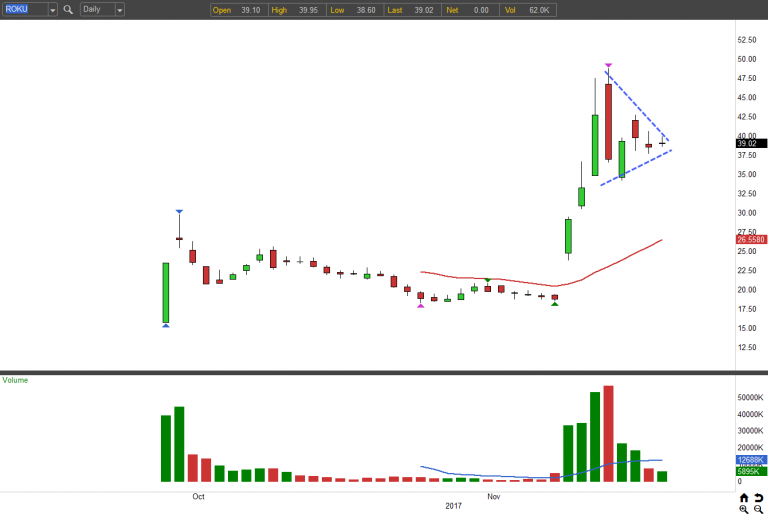 Source: OptionsAnalytix
The volatility does bring opportunity in its wake, however. ROKU stock options boast hefty premiums offering large rewards to those willing to step up and sell them. I'll suggest just such a trade momentarily, but first, let's highlight the current pattern gripping ROKU shares.
Over the past five trading sessions, a bull pennant has formed. Consider it an ever-tightening range that is allowing the stock to digest its recent gains. Like a coiled spring, the pattern has pent-up power that will unleash once it's completed.
The ROKU Stock Trade
I suspect the direction of this pausing pattern's resolution will be higher. And even if it's lower, I think dips will be bought in the stock going into year-end.
To capitalize on our bullish bias and to exploit the elevated volatility, sell the Dec $31 put for $1.05. You will capture the max reward of $1.05 if ROKU sits above $31 at expiration. If it falls below $31, you will be obligated to buy shares at an effective purchase price of $29.95.
— Tyler Craig
The Ultimate Marijuana Stock to Go Ballistic in the Next 90 Days
[sponsor]
Recreational marijuana is set to become legal in Canada this fall. And the result will send this stock soaring. If you act quickly, before most Americans catch on, you, could turn every $10,000 you invest into $30,000, $40,000, $50,000, or more. This Special Report reveals the No. 1 Marijuana Stock to Buy Now -
Read It Here.
Source: Investor Place