Small miracles can happen as Walt Disney Co (NYSE:DIS) investors recently learned. But slightly bigger and still difficult realities on and off the price chart have also cut the price of admission on Walt Disney stock. As such, if you're a bull with a longer-term vision, a bull put spread rather than shares is the preferred way to play the game in DIS right now.
Let me explain.
As I wrote back in October, Walt Disney stock has not been a walk in the (amusement) park for its investors the last couple years.
Blame it on the growing trend of cable-cutting as consumers find new digital avenues like Netflix, Inc. (NASDAQ:NFLX) and other streaming services to fulfill their entertainment needs at home and on-the-go.
No doubt Disney stock's recent, below-views Q4 corporate confessional reflected the toll this shift is having on the entertainment giant in the short-term.
But a funny thing happened, investors rallied shares following a reassuring conference call that indicated that the media headwinds DIS currently faces should be conquered.
Part of the plan calls for Disney's own streaming service, which will be priced "substantially below" Netflix initially. The initial cost for consumers is akin to a teaser rate, as rates will increase as it grows its library of content. DIS will also launch a streaming service for its crown jewel sports channel ESPN in 2018.
Both are good first moves for the company's longer-term prospects. Obviously though and as noted prior, there's still a lot of work to be done for Walt Disney stock. In saying that, maybe it's not entirely surprising some of the initial feel-good cheer has proven short-lived with Disney stock giving back the entirety of its earnings reaction gains.
Walt Disney Stock Daily Chart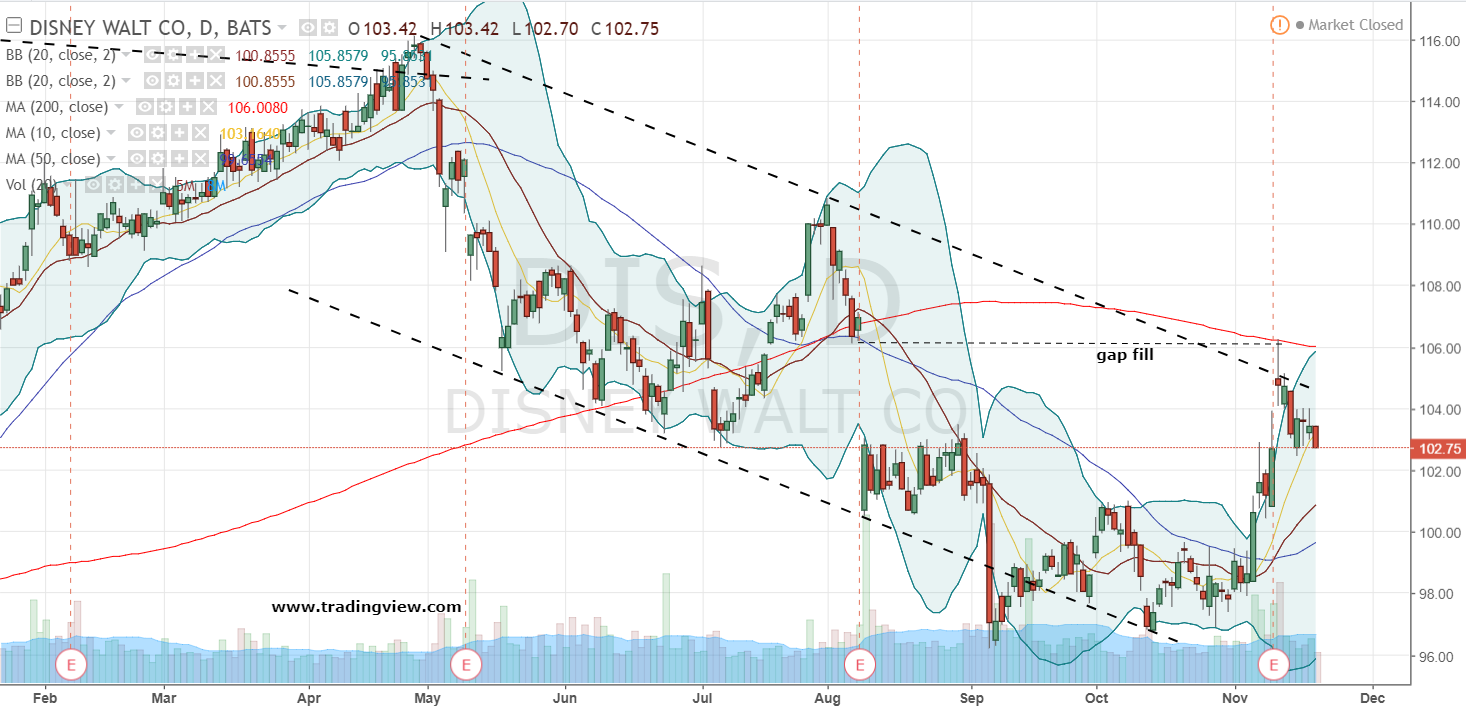 Before you blame evil bears for derailing the dreams of Walt Disney stock's bullish audience members, don't. On the daily price chart, a downtrend channel, 200-day simple moving average and filling of a bearish price gap all conspired against more optimistic investors.
Believe it or not, looking forward I see the current pullback as an opportunity to buy DIS shares on temporary weakness. It's a slightly different technical take than last month. But far from rigid in my view at the time, I was simply going with the path of least resistance, which failed as a previously discussed bearish weekly flag was broken.
So today, and with Walt Disney stock having already been mired in a massive correction over the last couple years, I'm interpreting the price action as the beginning of a new bullish trend for Disney stock without having to call an exact bottom.
Disney Stock Bull Put Spread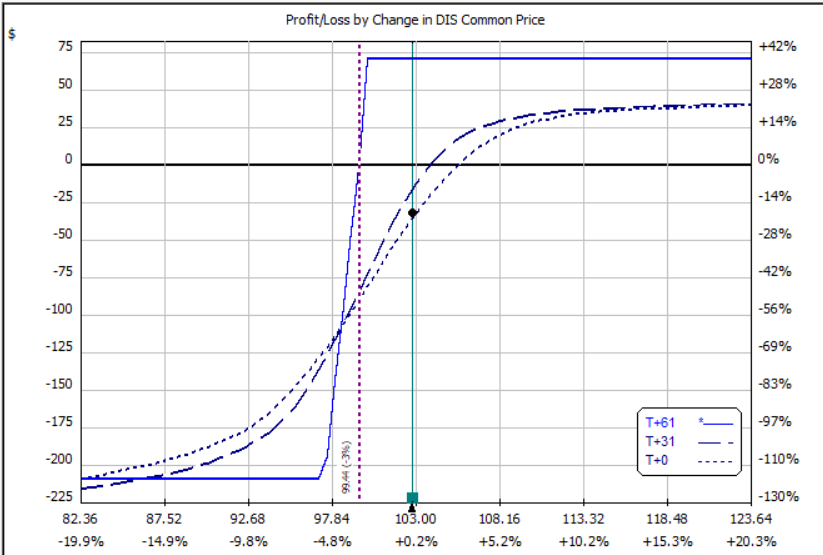 Courtesy of OptionVue.com
Based on what has been discussed above, one simple spread that's currently favored is selling the Jan $100 / $97.50 put spread for 70 cents with Walt Disney stock at $102.75.
Ultimately, most miracles and wishes typically don't get filled overnight. And some expectations even turn into unexpected disasters. Thus, collecting income with limited-risk exposure while enjoying a worst case scenario discounted purchase price of $99.30 in DIS stock looks like a nice way for bulls to suit up without looking silly.
— Chris Tyler
The Ultimate Marijuana Stock to Go Ballistic in the Next 90 Days
[sponsor]
Recreational marijuana is set to become legal in Canada this fall. And the result will send this stock soaring. If you act quickly, before most Americans catch on, you, could turn every $10,000 you invest into $30,000, $40,000, $50,000, or more. This Special Report reveals the No. 1 Marijuana Stock to Buy Now -
Read It Here.
Source: Investor Place