Traders seeking the best setups for this week have come to the right place. We'll delve into three such darlings momentarily. But first, a lesson to reward you for your visit. Every time the stock market sells off the Street rapidly turns bearish.
Rather than viewing these occasional dips as the glorious buying opportunities that they are, investors scurry to the safety of the sidelines like a bunch of nervous Nellies.
And those that remain in the market are quick to buy up puts to provide insurance in case the downturn turns nasty.
This knee-jerk shift to pessimism and bearishness illustrates how the Street is anything but euphoric despite the enormous gains that have accompanied our multi-year bull market.
And from a sentiment perspective, this is a good thing.
One that will likely continue to propel stocks higher for the foreseeable future.
In the spirit of buying dips, here are three stocks that are flashing low-risk entries for buyers.
Best Setups on the Street: Apple Inc (AAPL)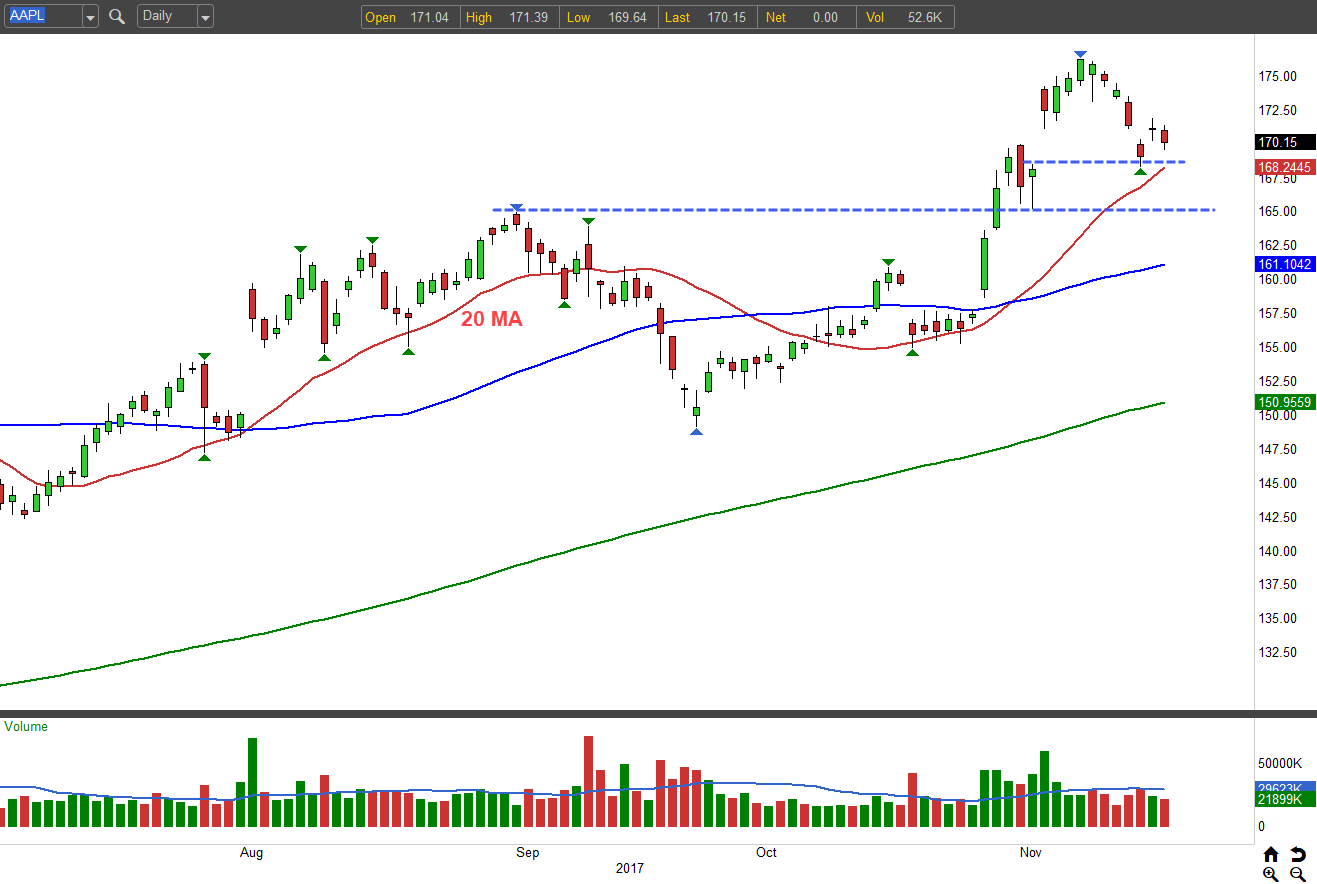 Source: OptionsAnalytix
We begin with Apple Inc. (NASDAQ:AAPL), the King of the Street. Earnings season treated AAPL stock well. Rousing reports by fellow tech titans Amazon.com, Inc. (NASDAQ:AMZN) and Alphabet Inc (NASDAQ:GOOG, NASDAQ:GOOGL) sparked a breakout that was only added upon by Apple's earnings beat.
Couple that with the fact that the tech sector has been one of the hottest on the Street and we have ample reason to consider buying AAPL. The recent weakness striking stocks delivered a mini pullback that is likely a buying opportunity. The selling weighed on Apple stock causing it to fill the earnings gap and return to its rising 20-day moving average.
Once AAPL pops above Friday's high ($171.39), buy it. Options traders might buy the Jan $170/$180 bull call spread for around $3.90.
Best Setups on the Street: YUM! Brands, Inc. (YUM)
Source: OptionsAnalytix
Like its predecessor, YUM! Brands, Inc. (NYSE:YUM) scored big on earnings. Its impressive quarter generated a substantial breakout in the stock that carried it to record highs. Like all stocks perched at all-time highs, YUM finds itself in the midst of a strong uptrend with rising 20-day, 50-day and 200-day moving averages. Traders reticent to chase will be happy to know that last week's pullback returned the stock to its breakout area.
We'll soon see if old resistance becomes new support, but Friday's small bullish reversal candle was certainly a start. While YUM stock may need a bit more time to bottom-out, this dip is undoubtedly a buy.
Buy YUM over Friday's high ($78.78). Options traders can buy the Jan $77.50 call for around $2.70.
Best Setups on the Street: BP plc (ADR) (BP)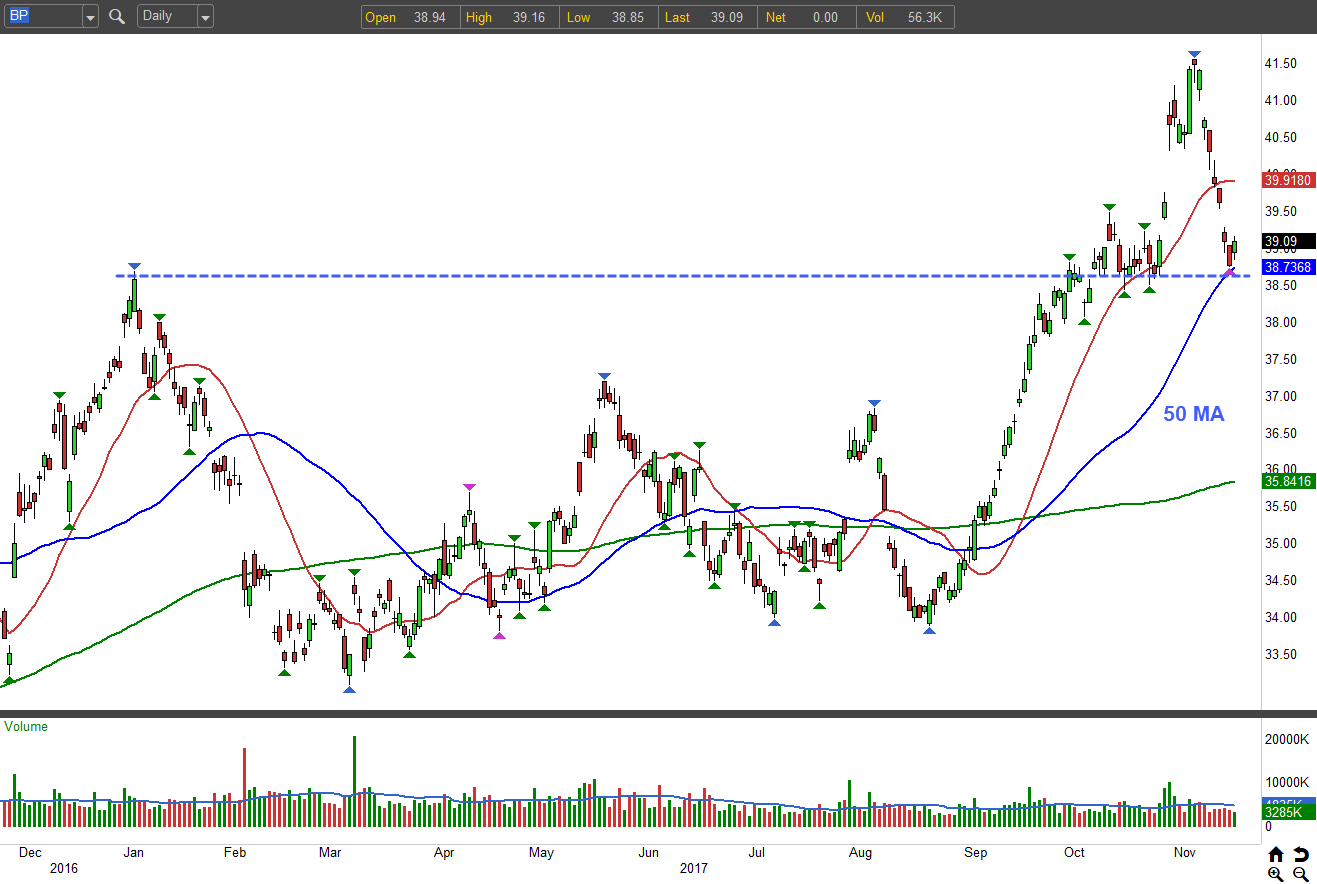 Source: OptionsAnalytix
Our final pick comes from a sector that recently adopted a leadership role: energy. The breakout in oil prices is breathing new life into a sector that sat out this year's bull run almost entirely. BP plc (ADR)'s (NYSE:BP) newfound uptrend is steep, littered with accumulation and arguably here to stay. And that makes last week's pullback a very tempting buy.
Although BP stock fell below its 20-day moving average, it remains above the 50-day and it is testing a significant old resistance zone. The lack of volume accompanying the recent retreat suggests it was mild profit-taking and nothing more. No matter how you slice it, this setup is a buying opportunity.
Buy BP over Friday's high ($39.16). Options traders can buy the Jan $39 call for $1.10.
— Tyler Craig
The Ultimate Marijuana Stock to Go Ballistic in the Next 90 Days
[sponsor]
Recreational marijuana is set to become legal in Canada this fall. And the result will send this stock soaring. If you act quickly, before most Americans catch on, you, could turn every $10,000 you invest into $30,000, $40,000, $50,000, or more. This Special Report reveals the No. 1 Marijuana Stock to Buy Now -
Read It Here.
Source: Investor Place