Since surprising the Street with an earnings report worth celebrating, First Solar, Inc. (NASDAQ:FSLR) shares have continued to impress.
Although selling pressure has crept into stocks this week, FSLR remains aloft, pressing firmly toward yet another 52-week high.
And that makes it one of the best stocks on the board to buy once the bear raid weighing on the broad market runs its course.
The past week of churn has been entirely justified.
With the post-earnings pole vault, FSLR stock was up 31% in a little over a week. That's a monster gain deserved of digestion.
Overbought stocks typically experience a correction that arrives in one of two forms — time or price.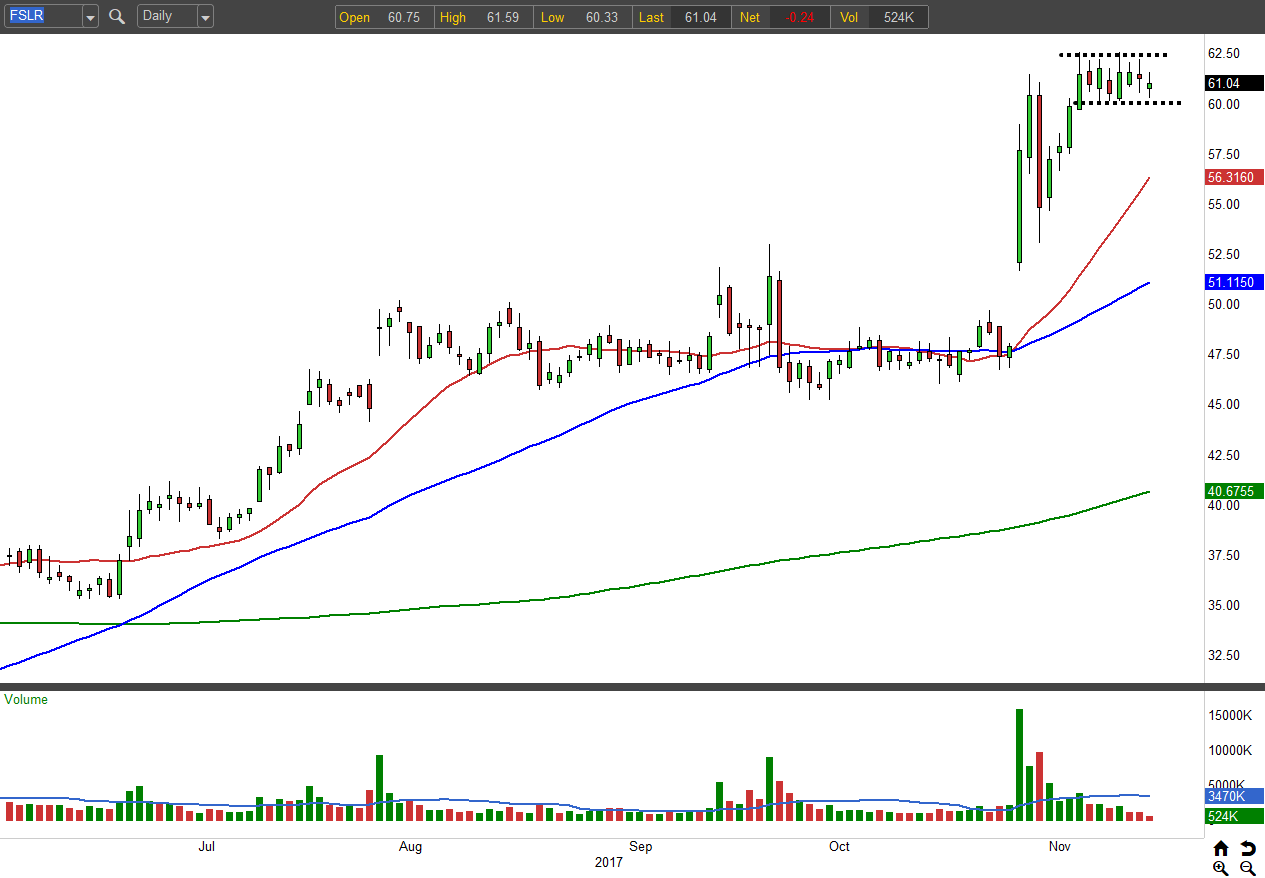 Source: OptionsAnalytix
If heavy profit-taking strikes, the stock will see a price correction or retracement. Alternatively, if sellers are kept at bay and buying pressure simply dries up, then the stock will correct through time, essentially drifting sideways.
For First Solar shares we've seen that of the latter variety.
With today's small trading range, FSLR has now been treading water for seven trading sessions. And with overbought pressures starting to abate and the 20-day moving average playing catch-up, FSLR is in a much better spot to buy.
While it may meander for a few days yet, the stock is a buy over $62.50.
Sell FSLR Puts for Profit
The elevated volatility in First Solar shares is keeping implied volatility pumped. And that means we can sell puts for a hefty premium to create a high probability of profit. Once FSLR trades above $62.50, sell the Dec $55 puts for around $1.00.
Consider it a bet that the stock will sit above $55 at expiration. If it doesn't, you will be obligated to buy shares at a cost basis of $54. Of course, you can avoid assignment by closing the trade if FSLR falls below $55 near expiration.
— Tyler Craig
The Ultimate Marijuana Stock to Go Ballistic in the Next 90 Days
[sponsor]
Recreational marijuana is set to become legal in Canada this fall. And the result will send this stock soaring. If you act quickly, before most Americans catch on, you, could turn every $10,000 you invest into $30,000, $40,000, $50,000, or more. This Special Report reveals the No. 1 Marijuana Stock to Buy Now -
Read It Here.
Source: Investor Place