This digital age in which we live is literally changing everything… including when it comes to sports. Forget physical smashmouth sports like football and hockey. This new generation of sports fan wants to see lots of action – but only on a digital screen.
Welcome the world of e-sports, which unlike most sports, originated in Asia.
The love of such activities extended to the stock market as Monday saw a red-hot IPO in Hong Kong, called Razer, debut.
The company is the "arms merchant" for serious gamers making mice, headsets and notebooks.
And I do mean serious gamers. There are tournaments where there is a $10+ million top prize.
It's hard for someone not a teenager or in their 20s, like myself and maybe you, to understand the attraction of e-sports.
But one thing I do understand – it is already a huge business and growing rapidly.
e-Sports Business
I want you to think for a moment about its potential. In sheer numbers, video gaming is a market that is bigger than China and larger than the number of Facebook users (over one billion). And last year, the sport's fans watched more than 6 billion hours of competitive gaming!
According to data from the consultancy Frost & Sullivan, the global industry generated more than $100 billion in 2016! Of that figure, e-sports is still rather small, at about $892 million. A rather conservative forecast from another consultancy, PricewaterhouseCoopers, says the industry will generate $133 billion in revenues by 2021. The investment bank Macquarie forecasts that e-sports will be a $5 billion business by 2020.
I think the $5 billion number will even be exceeded by 2020. You see, there are three main areas where e-sports can produce revenues. First is direct payments from live streaming services – some live tournaments have tens of millions of viewers. Last year, there were 11.1 billion e-sports videos streamed in China and 2.7 billion in North America, where about one-third of gamers reside.
The next source of revenue is the sale of content rights to broadcasters. Finally, advertising revenues, which today come largely from the gaming industry. But it isn't hard to imagine a whole raft of companies looking to get their message in front of millions of viewers. That new reality is already beginning to unfold, which I will show you in a moment.
e-Sports Growth
The growth of e-sports looks to just be accelerating with two Las Vegas casinos planning to build dedicated e-sports arenas.
More importantly, the backers of e-sports are being smart and adapting what works for traditional sports and applying it to e-sports. Such as creating a league and having teams in many of the major cities. The parent companies of the New England Patriots, Los Angeles Rams and the New York Mets now own franchises (at a cost $20 million) in the first attempt to create an actual league.
The teams were sold by the world's largest publisher of video games, Activision Blizzard (Nasdaq: ATVI), which came up with the idea of a 12-team Overwatch League. Unlike traditional sports leagues, this league also has teams from London and Shanghai.
The Overwatch League is not the only e-sports league in existence. There is a similar venture from Riot Games, which is owned by Chinese tech giant Tencent (OTC: TCEHY). It is charging $10 million for franchises in the North American League of Legends Championship Series. Over 43 million people watched last year's League of Legends World Championship online, up from just 8 million in 2012. Major venues such as Seoul, South Korea's Olympic Stadium were sold out to watch the event.
The build-out of leagues is already attracting sponsors, as I hinted at before. Both Intel (Nasdaq: INTC) and HP (NYSE: HPQ) are lead sponsors for the Overwatch League, whose regular season starts on January 10.
e-Sports Investments
So how can you invest into this e-sports phenomena?
You'll want to look at companies whose business is heavily e-sports related. A firm like Amazon.com (Nasdaq: AMZN), which paid about $1 billion in 2014 for Twitch – the favorite live streaming platform to watch gamers battling has many other businesses. Even with a $1 billion price tag Twitch is just too small a part of Amazon to significantly affect the company's performance.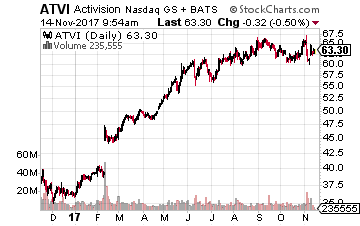 At the top of my buy list is the aforementioned Activision Blizzard, which also has a live streaming channel called Major League Gaming.
It acquired the firm in 2016 for $46 million.
I believe its CEO, Bobby Kotick, really understands the video gaming and e-sports better than the CEOs at its rivals.
He sees e-sports as becoming more broad-based in its appeal in 2018 and I agree.
During the company's latest earnings conference call, he said "We view that (e-sports) as a major growth initiative and a very sizable standalone opportunity for the company."
The company is already enjoying the growth in the general gaming industry with $1 billion from in-game (digital games) revenues in the last quarter. It currently has eight $1 billion franchises, including the very popular Call of Duty.
Not surprising then Kotick raised the company's guidance for the next quarter and that the stock is up nearly 75% year-to-date and almost 60% over the past year.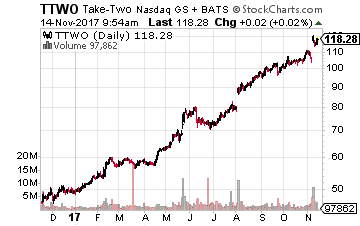 Next on the list is a rival of Activision, Take Two Interactive Software (Nasdaq: TTWO), which is best known for its Grand Theft Auto franchise.
Its stock soared nearly 10% after its recently-released earnings report.
While trailing in the e-sports business, the company is finally moving ahead now.
It inked a deal with the NBA to launch a NBA eLeague.
The NBA will be the only major professional sports league to have its own e-sports league. The league will begin in May 2018 with so far 17 of the 30 NBA teams saying they will play for at least three years.
Take Two is also expanding rapidly into mobile games. It strengthened this area of the company with its acquisition of Barcelona-based Social Point for $250 million earlier this year. Social Point is one of the most prolific mobile games developers.
Again not surprisingly, Take Two management also raised guidance for its next quarter. Its stock has even outperformed Activision with a 133% gain for the year so far and it has risen 140% over the past 12 months.
Finally, an alternative way to play the e-sports trend is through the semiconductor company, Nvidia (Nasdaq: NVDA). Its stock has soared 101% year-to-date and 144% over the past 52 weeks. As I'm sure you may know, Nvidia is a worldwide leader in visual computing technologies and the inventor of the graphic processing unit, or GPU.
The key to its rapid growth to date has been the video gaming industry. The company continues to steadily gain market share among gaming service providers, strengthening the company's position in the workstation-based gaming services in supercomputing segments. That's because its lineup of advanced graphics and gaming cards offer significantly higher functionality. That should continue to be a strong tailwind for Nvidia.
You also need to add in the company's moves into the latest tablet computers and the automobile technology space and data centers and Nvidia continues to tell an exciting tale. Its recent alliance with China's Baidu (Nasdaq: BIDU) on artificial intelligence (AI) technology could also be another big winner for Nvidia.
Bottom line – you may not understand video gaming or e-sports, but do realize they will continue to be big money winners in the years ahead.
— Tony Daltorio
[ hana-code-insert ] 'ia-alan' is not found
Source: Investors Alley