THE BULL MARKET IN HEALTH CARE COVERAGE
Today's chart highlights another winner in the insurance business…
Regular readers are familiar with our colleague Dave Eifrig's bullish argument on health care. As Baby Boomers grow older, they'll need more medicine, testing, and doctor's visits.
This trend has been one of the market's greatest tailwinds over the past few years.
And we've seen it driving share prices higher for many companies, like major health insurers Aetna (AET) and Cigna (CI).
Today, we can see this trend's success with UnitedHealth (UNH).
The company is the largest health care insurer in the nation.
And as aging Americans take more trips to the doctor's office, UnitedHealth's revenues keep growing…
The company brought in more than $185 billion in revenue over the past 12 months. That's 18% higher than $157 billion in revenue the year before.
As you can see below, the stock has soared over the long term. Shares are up around 280% over the past five years… and just reached an all-time high. It's more proof that the big health care trend is still thriving…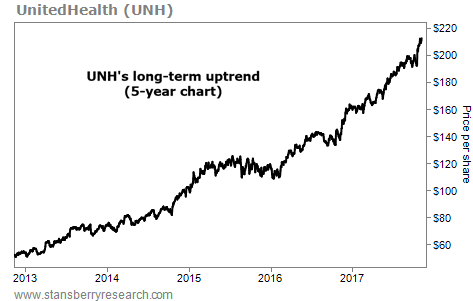 Claim a 100% Risk-Free Trial to DailyWealth Trader...
[sponsor]
For a limited time, get immediate access to "the best of" Stansberry Research's trading ideas. As one reader said: "I am 11 for 11 so far... in less than 2 months."
Learn more here.
Source: Daily Wealth's Market Notes