A HUGE SECULAR TREND YOU MIGHT NOT HAVE NOTICED
Today's chart highlights another winner in the booming semiconductor business…
Regular readers know we're always looking for big secular trends to invest in. Due to the increasing reliance on personal computers and cellphones, right now is a good time to be a semiconductor company.
These companies produce the little devices that power most of the electronics we use today.
Texas Instruments (TXN) is an industry leader.
It earns big profits – nearly $4 billion over the past year – by selling computer chips and processors.
And business is booming: Last quarter, Texas Instruments' sales jumped 13% versus the same period last year.
The company earned nearly $800 million in cash profits in the second quarter alone.
As you can see in the chart below, its shares are soaring. They're up nearly 35% over the past year… and they just hit a new all-time high. As long as we continue to rely on chips and processors to power our devices, TXN will continue to thrive…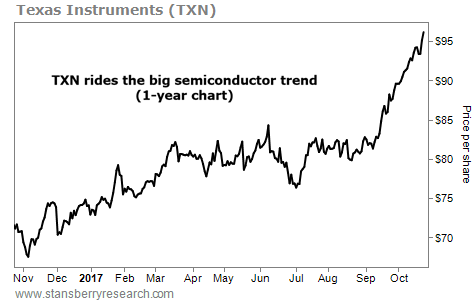 Claim a 100% Risk-Free Trial to DailyWealth Trader... [sponsor]
For a limited time, get immediate access to "the best of" Stansberry Research's trading ideas. As one reader said: "I am 11 for 11 so far... in less than 2 months." Learn more here.
Source: Daily Wealth's Market Notes