THIS 'MIDDLEMAN' IS QUIETLY MAKING BIG GAINS
Today, we look at the benefits of playing the "middleman"…
Insurance companies profit from a rock-solid business model, collecting premiums up front and investing the cash. But often, they have help…
Enter the "insurance intermediaries," which act like brokers, connecting folks to insurance products.
It's a win-win relationship.
And that's why betting on the middleman can be a powerful investing strategy…
Brown & Brown (BRO) is the sixth-largest intermediary in the U.S., offering a slew of insurance-related products and services.
The company is enjoying healthy profits, bringing in $1.8 billion in revenue last year – up 6% from 2015. Not only that, but Brown & Brown is using the cash to reward shareholders… It recently raised its dividend for the 24th year in a row.
As you can see in the chart below, shares have soared more than 90% in the past five years. They shot up 31% in the past year alone… and recently hit an all-time high. It goes to show that although supporting players may fly under the radar, they can be stellar long-term investments…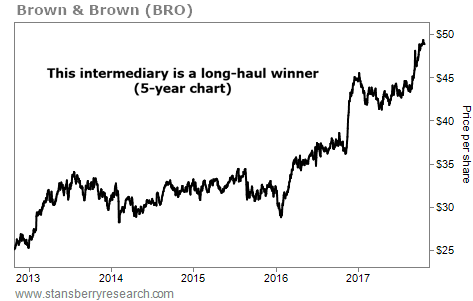 Claim a 100% Risk-Free Trial to DailyWealth Trader... [sponsor]
For a limited time, get immediate access to "the best of" Stansberry Research's trading ideas. As one reader said: "I am 11 for 11 so far... in less than 2 months." Learn more here.
Source: Daily Wealth's Market Notes