THIS COMPANY KNOWS YOU CAN'T RESIST ITS FOOD
Today's chart shows a market leader that built its success on addictive products…
Longtime DailyWealth readers know we've highlighted the power of investing in companies that sell habit-forming products, like soda, coffee, and alcohol.
People buy these products, consume them, then go out and buy more.
And we can see the same thing playing out in fast food…
McDonald's (MCD) has added some healthy options…
But people truly crave its burgers, chicken nuggets, fries, and milkshakes.
Most consumers know they're full of salt, fat, and sugar.
But they don't care. Steady, loyal business has earned the restaurant chain a solid balance sheet… And it passes those rewards on to its shareholders. The company has now raised its dividend 41 years in a row.
As you can see in the chart below, McDonald's shares are up 49% over the past year… And they're hitting new all-time highs. It may not be a popular strategy, but buying companies that sell addictive products can consistently boost your returns…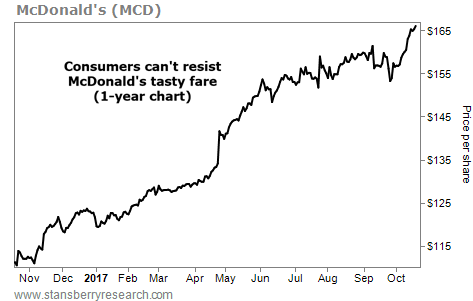 Claim a 100% Risk-Free Trial to DailyWealth Trader...
[sponsor]
For a limited time, get immediate access to "the best of" Stansberry Research's trading ideas. As one reader said: "I am 11 for 11 so far... in less than 2 months."
Learn more here.
Source: Daily Wealth's Market Notes