Any way you slice it, risks still abound for Qualcomm, Inc. (NASDAQ:QCOM). But if the price chart is an accurate and forward-looking indicator, QCOM bulls are in good position for the first time in a very long while. Let me explain.
Off the price chart, there are still lots of risks surrounding Qualcomm's business opportunities.
For one, the company's desired attempt at much-needed diversification vis-à-vis a tender offer for
NXP Semiconductors NV (NASDAQ:NXPI)
is still a question mark.
There's also the much-ballyhooed twin threats from tech giant Apple Inc. (NASDAQ:AAPL).
Not to sound like a broken record, but not much has changed there either. Qualcomm's status as an Apple supplier and licensing business remain in limbo.
And if you like, throw in a warhead from North Korea and it could always get worse for Qualcomm too.
Bottom line — or in this case, top line — QCOM does generate a hefty 17% of its sales and around $4 billion in revenue from at-risk South Korea.
If it all sounds too risky to consider Qualcomm as an investment right now, then the stage is properly set for a contrarian-based bullish trade idea. That's good news. Even better, it's an approach now supported by the QCOM stock price chart, suggesting it's the end of the road for bears.
QCOM Stock Weekly Chart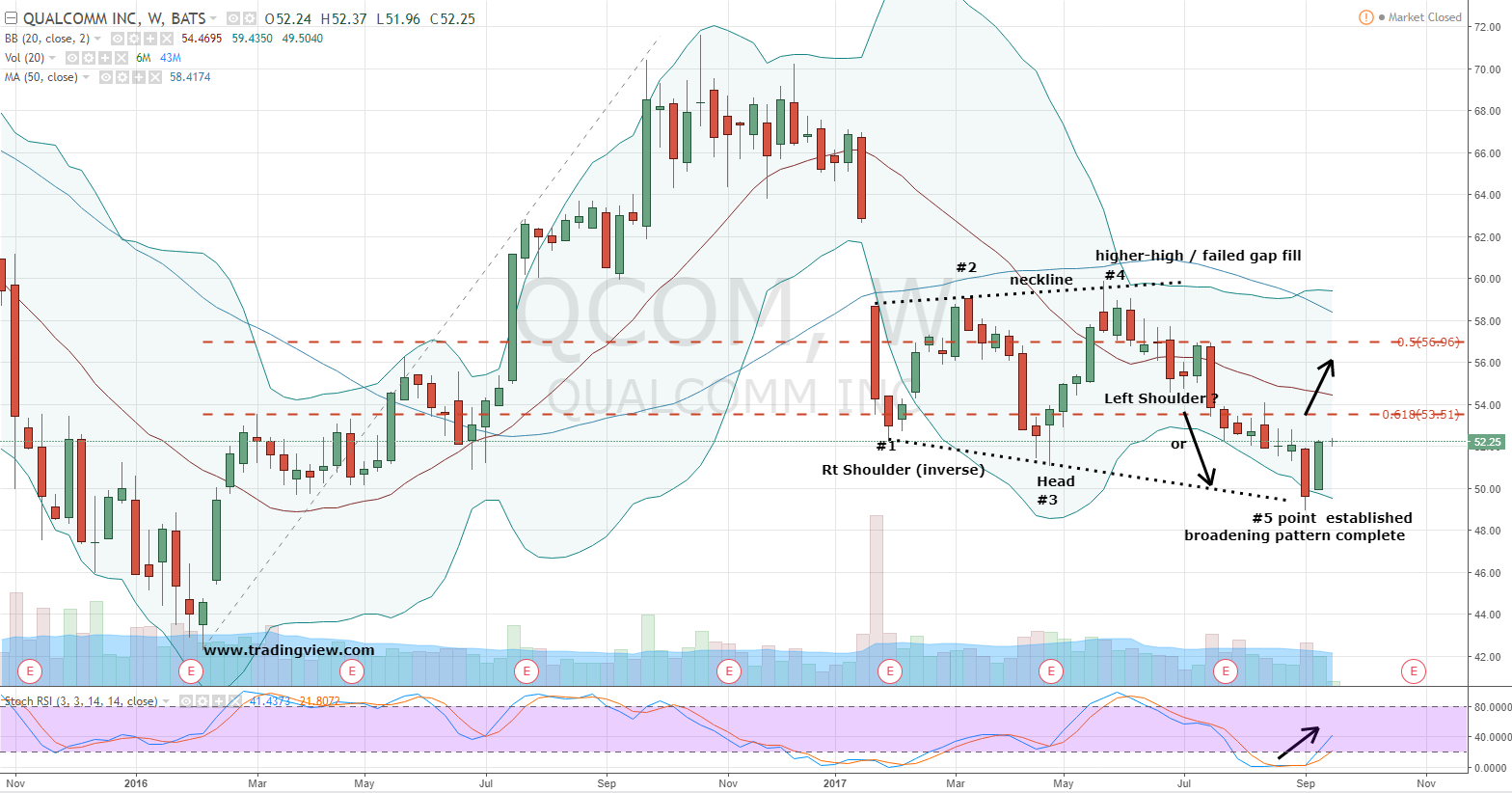 Since last weighing in on QCOM on Aug. 22 and with shares near $52, you could almost say it's a "same as it ever was" situation with the stock roughly 25 cents removed from where we left off. But that would be doing QCOM bulls a very big injustice.
Price aside, the underlying technical action in QCOM stock has turned decidedly bullish. A discussed and then-still-developing broadening formation has more or less played out as forecast, and that's very good news for contrarian-oriented investors.
At the time, an oversold stochastics was showing supportive signs for bulls. However, it was suggested waiting for an anticipated test of $50 due to its "whole number" importance and pattern symmetry, and then look for confirmation of a price reversal before turning bullish. It may have been a lot to ask for, but QCOM has more or less delivered in spades.
True, last week's absolute low did press below $50 support. More important, the broadening formation did put in a confirmed weekly bottom near our price target. Further, the two-week-long candlestick reversal pattern marking the low in QCOM stock is supportive in its own right and also has the backing of a bullish stochastics set-up for traders willing to commit to a contrarian-style position.
QCOM Stock Long Call Strategy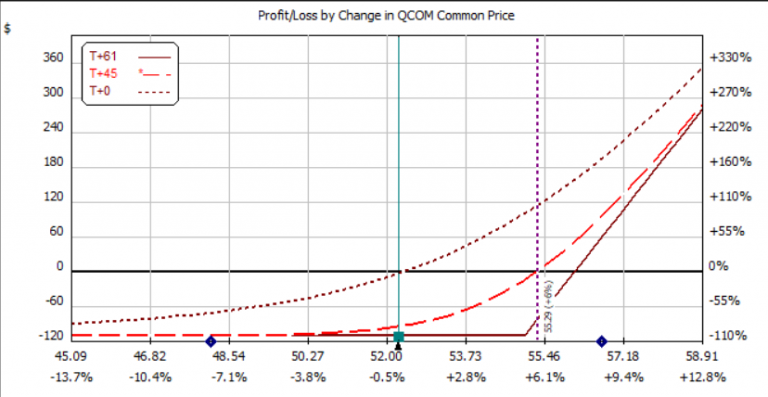 Courtesy of OptionVue.com
Our last at bat in Qualcomm was overall a nice technical call. That said, a proffered Oct $50 put which went fully in-the-money and saw nice profitability and adjustment opportunities as shares declined into pattern support, worked out even better.
Now and given our stance that QCOM stock has bottomed, after reviewing Qualcomm's options board, the purchase of an out-of-the-money Nov $55 call for $1.10 with shares at $52.25 is favored.
I personally like the long call position, as premiums are fair relative to stock volatility and implieds are priced near 52-week lows. The combination makes buying straight premium like our long call more attractive.
With risk contained to a fairly modest 2% of QCOM stock through November expiration and shares positioned nicely for a reaction rally given the pattern completion and bearish relative weakness in 2017, waiting for an expected better opportunity to hedge the long call and eventually adjust into a spread appears very approachable at this time.
— Chris Tyler
The Ultimate Marijuana Stock to Go Ballistic in the Next 90 Days
[sponsor]
Recreational marijuana is set to become legal in Canada this fall. And the result will send this stock soaring. If you act quickly, before most Americans catch on, you, could turn every $10,000 you invest into $30,000, $40,000, $50,000, or more. This Special Report reveals the No. 1 Marijuana Stock to Buy Now -
Read It Here.
Source: Investor Place