In the course of my research for the Singularity project, I uncovered something very important for investors like you.
It really didn't come as a shock to me, but I'm sure it will surprise many investors. What did I uncover?
Just this — the days of China being just a copycat are over. In fact, in some technology areas, China is not only challenging U.S. preeminence, but actually surpassing the U.S. That can translate to profit opportunities for you.
Let me give you just two examples of where you can profit…
E-Payments
Here at home even the rollout of EMV chip credit and debit cards is way behind schedule. Meanwhile, China has become the global center for e-payments, which have become a part of everyday life for many Chinese consumers.
According to research from iResearch Global, the volume of Chinese mobile payments is expected to reach $3.2 trillion this year.
That is more than double the total in 2015 of $1.45 trillion.
In comparison, the 2015 number for the U.S. was a paltry $8.71 billion in 2015 and not much higher is forecast for 2017.
The growth in e-payments is partially driven by China's e-commerce market, which reached $750 billion in sales in 2016.
In the first half of 2017, online sales jumped by 28.6% to about $350 billion.
That raised the share of total retail sales being made online to 13.8% from 11.6% from the year earlier period.
U.S. online sales figures from the first quarter of 2017 – $105.7 billion – showed, in contrast, that online sales accounted for only 8.5% of total retail sales.
Getting back to e-payments, there are two companies that are dominating the sector in China, which I'll share in a moment.
Deep Learning
But first, I also wanted to bring to your attention another tech sector that China is moving toward becoming, at the least, very competitive. It is the defining technology of the artificial intelligence (AI) revolution – machine learning.
The most advanced form of this 'art' is called "deep learning". If you go back just a few years ago, most work in the field came from just a few U.S. universities. But today, there are upstarts in the U.K. and especially in China, where the government has outlined plans to become the world's leading AI innovation center by 2030.
These Chinese upstarts have a few advantages over their U.S. counterparts including a large population from which to draw lots of data (the more data, the faster machines learn) and much looser regulations surrounding data privacy than here in the U.S.
Alphabet (Nasdaq: GOOG) is recognized as one of the world leaders in deep learning. Yet, even it is hedging its bet. Earlier this month, it announced it was ramping up efforts to build an artificial intelligence team in China to tap into the country's deep pool of talent. But Google will be in a race for that talent against the recognized AI leader in China.
Go to BAT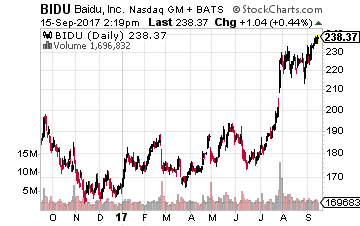 The top AI company in China is Baidu (Nasdaq: BIDU). It is also leading the way in China for autonomous vehicles, thanks to its AI expertise.
And like Google, it is moving away rapidly from its search engine roots.
Circling back to e-payments in China, the leaders are Alibaba (NYSE: BABA), with a 54% market share for its Alipay service and a fast-closing Tencent (OTC: TCEHY) and its WeChat Pay with a 40% market share.
Of course, Alibaba and Tencent are a lot more than e-payment companies. Alibaba is the e-commerce leader in China with approximately $34 billion in sales this year and a fast-growing cloud business similar to Amazon.com's (Nasdaq: AMZN) AWS. Meanwhile, Tencent's WeChat is THE messaging app in China with about 938 million active users (up 23% from a year earlier). And the company is the world's largest videogame publisher by revenue.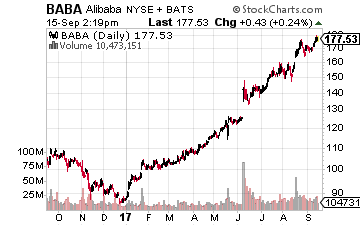 These three companies – Baidu, Alibaba, and Tencent – are collectively known as the BAT stocks and are beginning to be regarded as high-growth stocks the same way as the FANG stocks are with many global investors.
Earlier this year, Alibaba and Tencent joined a most exclusive club, with their stocks valued at more than $300 billion each.
Both are in the top 10 globally joining the likes of Amazon, Alphabet, Facebook (Nasdaq: FB), Microsoft (Nasdaq: MSFT) and Apple (Nasdaq: AAPL) among others.
BAT Differences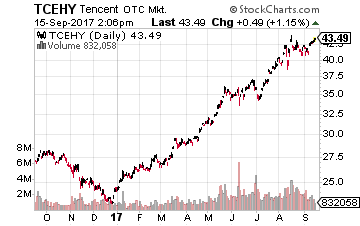 The BAT companies operate using an asset-lite model, throwing off lots of cash.
For example, in the last fiscal year Alibaba generated about $10.48 billion in free cash flow while Tencent generated $8.85 billion.
These huge cash flows have allowed the BAT companies to invest into new projects and technologies.
This is the one main difference I do see between the Chinese tech giants and U.S. tech titans – diversification.
The BAT companies have all diversified into a number of sectors including finance, asset management and logistics. For example, the Wall Street Journal recently published an article about an Alibaba spinoff, Yu'e Bao, which is now the world's biggest money market fund with 370 million account holders and $211 billion in assets.
Some U.S. tech giants are largely reliant on one core business like smartphones or advertising. In contrast, Alibaba and Tencent get little from advertising. Most of their revenues come from subscriber fees, merchant commissions and in-app purchases.
When these companies do start to use advertising as another monetization stream, it will make their long-term future even brighter.
BAT vs FANG
Over the short-term, everything looks rosy too. Their performance so far in 2017 has made U.S. technology stocks look dull in comparison.
The MSCI China Information Technology index was up nearly 63% as of the end August. Meanwhile, the S&P 500 tech index had gained about 30%.
On an individual basis, the BAT stocks shine versus the U.S. tech giants year-to-date:
Apple + 37%, Facebook + 49%, Amazon + 32%, Alphabet + 20%.
Baidu + 44%, Alibaba + 102%, Tencent + 78%.
Yet, their valuations are relatively cheap, especially for companies growing their revenues and earnings at a 40% or 50% clip. The forward price-to-earnings ratios for the BAT stocks are in the 35 to 50 times range.
Yes, that sounds high. But in comparison, the four FANG stocks trade at a valuation of roughly 90 times projected earnings.
That makes all three relative bargains and buys for growth stock investors. One final note – do not be put off that Tencent trades in the over-the-counter market. It is highly liquid, trading well over two million shares per day.
— Tony Daltorio
[ hana-code-insert ] 'ia-alan' is not found
Source: Investors Alley