THIS BREAKOUT IS A GOOD SIGN FOR OUR COUNTRY
Today, we'll highlight an economic "gauge"…
Longtime readers know we like to check in on certain economic "bellwethers" from time to time. We often measure the health of the U.S. economy using the strength of things like shipping companies, ski resorts, and swimming pools.
Today, we'll look at railroad giant
Norfolk Southern (NSC)
to give us some insight…
Norfolk operates one of America's largest railroad systems – around 20,000 route miles in 22 states and the District of Columbia.
Its network is the most extensive on the East Coast with transportation to more than 40 ports.
NSC's share price rises and falls with economic activity.
So it's a good gauge of how the American economy is performing…
Last quarter, Norfolk reported that its railway-operations sales jumped 15%.
Its transportation volume also grew 6% from the same period last year. As you can see in the chart below, its shares have ripped higher. They're up nearly 40% since this time last year… and recently hit a fresh all-time high. It's more proof that the American economy is going strong…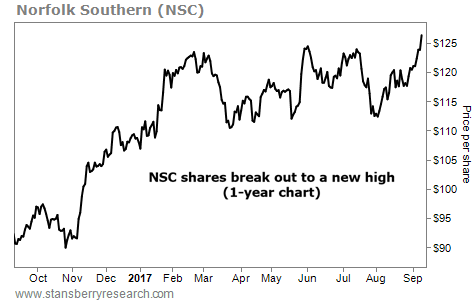 10 Worry-Free Stocks to Survive the Coming Correction [sponsored ad]
These ultra-safe stocks rarely take a hit from the market. And even if they do, they bounce back like a rubber ball right after the dip. If you're interested in a million-dollar retirement portfolio, you'll definitely want to read this. Click here now.
Source: Daily Wealth's Market Notes