THIS WORLD-CLASS SOFTWARE COMPANY IS BREAKING OUT
Today's chart highlights a leader in the software business…
Adobe Systems (ADBE) is a $77 billion computer software giant. The company invented the portable document format, better known as the "PDF."
Today, it's one of the most common file types used to exchange information on the web.
And its Adobe Acrobat and Reader software are mainstays for viewing and modifying these documents.
But Adobe has grown into much more than a PDF company.
Two of its other major divisions are its Creativity- and Marketing-Cloud groups. Its Adobe Illustrator and Photoshop applications are extremely popular among graphic designers, architects, and artists.
And its Marketing Cloud includes tools businesses use to create and analyze marketing campaigns.
Over the past year, Adobe's sales and profits jumped 23% and 68%, respectively. As you can see below, its shares aren't lagging. They're up nearly 60% over the past year… and recently hit a new all-time high. It's a bull market for this tech giant…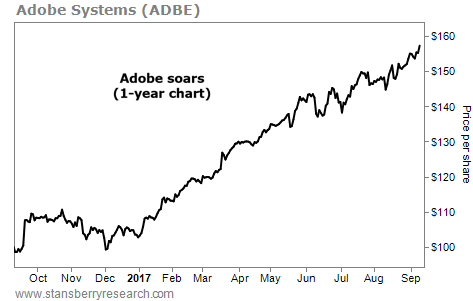 Claim a 100% Risk-Free Trial to DailyWealth Trader... [sponsor]
For a limited time, get immediate access to "the best of" Stansberry Research's trading ideas. As one reader said: "I am 11 for 11 so far... in less than 2 months." Learn more here.
Source: Daily Wealth's Market Notes