Things have certainly got interesting lately for the leading cryptocurrency, Bitcoin, and the investor rush into initial coin offerings (ICOs). For those of you unfamiliar with ICOs, they are somewhat similar to an IPO… but with a cryptocurrency twist.
To put it simply, an ICO is a fundraising by a start-up company that gives 'investors' their own digital currency in exchange for (usually) bitcoins. Of course, you will have already exchanged your dollars for bitcoins.
ICOs are like the Wild West right now.
That's because, at the moment, they are unregulated.
However, regulators globally – including the SEC – are rushing in to regulate ICOs.
At the moment though, companies can launch an ICO with just a very simple document that gives a rather limited explanation of the offering.
There is a heck of a lot of risk with ICOs since you don't actually own shares in the company.
Token buyers are granted widely varying privileges.
You may have access to new software being developed, or you may own a piece of 'virtual land' to nothing at all but the promise of riches. The point I want emphasize here is that those tokens or coins may or may not have any value in the future.
China Bans ICOs
One of those aforementioned regulators resides in China – the People's Bank of China (PBoC), which is its central bank. On Labor Day, it banned all ICOs in China, saying they were "a form of unapproved, illegal public financing behavior". This followed a warning from China's National Internet Finance Association that said ICOs were rife with fraud.
China had been a hotbed of activity for initial coin offerings. The equivalent of $766 million had been raised in China in July and August before the ban on ICOs.
Of course, no one can be certain about those ICO numbers from China. The research firm Smith + Crown estimates that there was about $863,000 raised from 60 ICOs in the second quarter. That would be nearly five times the amount raised in 2013, when ICOs were invented.
Other regulators are chiming in. The SEC issued this warning in July: "Fraudsters often try to use the lure of new and emerging technologies to convince potential victims to invest their money in scams."
The chorus is just warming up. Regulatory authorities from Canada to the United Kingdom to Singapore to Israel are saying that ICOs could be classified and regulated as securities. I strongly suspect ICOs will be regulated globally sooner rather than later.
So where does that leave Bitcoin? Good question! The action by the PBOC sent the price of some cryptocurrencies, including Bitcoin, down by as much as 20% in a few short days.
Bitcoin Bubble?
Not helping Bitcoin is the fact that it seems to be under attack from several sides.
First, we have the Nobel Prize winning economist Robert Shiller saying Bitcoin is a bubble. Shiller is the authority on bubbles – he wrote the definite book on speculative manias, Irrational Exuberance. People listen to Shiller because he correctly called the last two bubbles we've experienced – the Internet bubble and the housing bubble.
Now he is saying Bitcoin is fitting the same type of bubble pattern, with the accompanying 'sexy' story surrounding it as to why it will continue rising in price. No doubt that Shiller noticed that Bitcoin has risen 643% in the past year and more than 4,000% over the last five years.
A related piece of Bitcoin bubble news came from noted short seller, Andrew Left. No, he is not shorting Bitcoin.
But he did notice the same thing I did and that I told you about in past articles – the huge premium to the value of the bitcoins it owns for the Greyscale Bitcoin Investment Trust (OTC: GBTC). Left is recommending that investors short it, calling it "the most dangerous way to own Bitcoin."
The reasoning of Left is very straightforward. The valuation of GBTC is about $1.55 billion, which is roughly 70% above the value of the bitcoins and bitcoin cash it holds. The valuation is due to the novelty of GBTC – it is the only direct stock market way to own bitcoins. So instead of $1,000+ it was trading for before Left's announcement of his short, he feels fair value is around $550.
Bitcoin's Future
So what is the future of Bitcoin as a currency?
I still see a bright future for it and the underlying blockchain technology it is based on. There is only one thing I see that could quash the growing popularity of bitcoins – governments and central banks. And I don't mean through the regulation of ICOs, which is necessary to stop the fraudsters.
Both governments and central banks don't like cryptocurrencies invading their currency turf. Governments like their citizens to use their currency so they can tax them. And central banks enjoy the lucrative business that is the issuing of currency and pocketing the difference between the cost of issuing currency and the face value of the coin or bill. Remember that central banks are privately-owned.
I expect that as the popularity of Bitcoin and other cryptocurrencies grows, reasons will be found to restrict or outlaw them. Criminal activity stands out among the anticipated reasons I expect to hear.
Bitcoin Investments
First, consider buying some semiconductor stocks such as Nvidia (Nasdaq: NVDA), Advanced Micro Devices (Nasdaq: AMD) and Micron Technology (Nasdaq: MU). If you look at a chart of Bitcoin versus the SOX (Philadelphia Semiconductor Sector) index, the correlation is remarkable.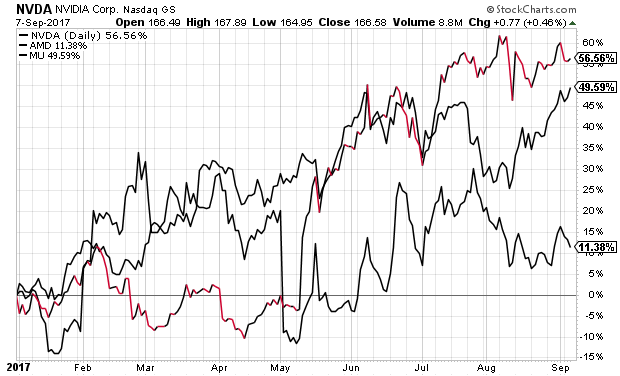 There are some fundamentals behind the correlation. The prime reason being the 2017 spike in the cryptocurrency mining market. Mining is how cryptocurrencies are created by solving complex mathematical problems.
One of the primary tools for these type of miners is desktop graphic cards. And graphics processing units (GPUs) from Nvidia and AMD have been in demand. When AMD recently reported its first positive operating earnings in a long time, management specifically pointed to cryptocurrency miners as a factor in its sales growth.
For those unfamiliar with this type of mining, these GPUs are ideal for mining Ethers. But Bitcoins are tougher to mine and Bitcoin miners require more powerful ASICs (application-specific integrated circuit) chips. Micron – the biggest U.S. maker of memory chips – benefits here since memory chips are a key component of a mining rig.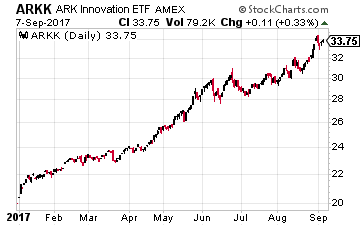 And if you're skeptical of all those naysayers about Bitcoin and GBTC, you could buy an exchange traded fund – the Ark Innovation ETF (NYSE: ARKK).
It invests in a broad range of technology stocks including Nvidia, Amazon.com (NASDAQ: AMZN), Tesla Motors (Nasdaq: TSLA), Illumina (Nasdaq: ILMN) and Bluebird Bio (Nasdaq: BLUE).
And, oh yes, the top position (7.6% of the portfolio) is GBTC, offering some exposure to Bitcoin. But with much less overall risk.
— Tony Daltorio
[ hana-code-insert ] 'ia-alan' is not found
Source: Investors Alley