Sometimes you have to know when it's time to hang up or disconnect from a bad call. And in our opinion, AT&T Inc. (NYSE:T) is dialed into this type situation, and much to the chagrin of T stock investors. Let me explain.
T stock is going higher, or so I thought. Just under a month ago (and shortly after AT&T's better-than-expected and well-received earnings report), the call was for shares of T to rally and affirm an emerging uptrend off a staunch technical bottom.
The call failed miserably and if there is to be any finger pointing, there are some prime suspects behind investors' collective about-face in T stock.
For one, there's been growing investor weariness over debt tied to the pending Time Warner, Inc. (NYSE:TWX) deal and possibilities of a future dividend cut.
Over this period shares have also felt some pressure as AT&T entered the courtroom.
The company is in litigation tied to a deceitful marketing lawsuit against its DirecTV unit and one which could cost the company $3.95 billion.
And now, the latest and less-than-great news is Wednesday's raised competitive threat from T-Mobile US Inc (NASDAQ:TMUS). The industry upstart has announced free Netflix service to new family plan subscribers. And bottom line, this strategist's optimism for T stock has been disconnected in the process.
T Stock Weekly Chart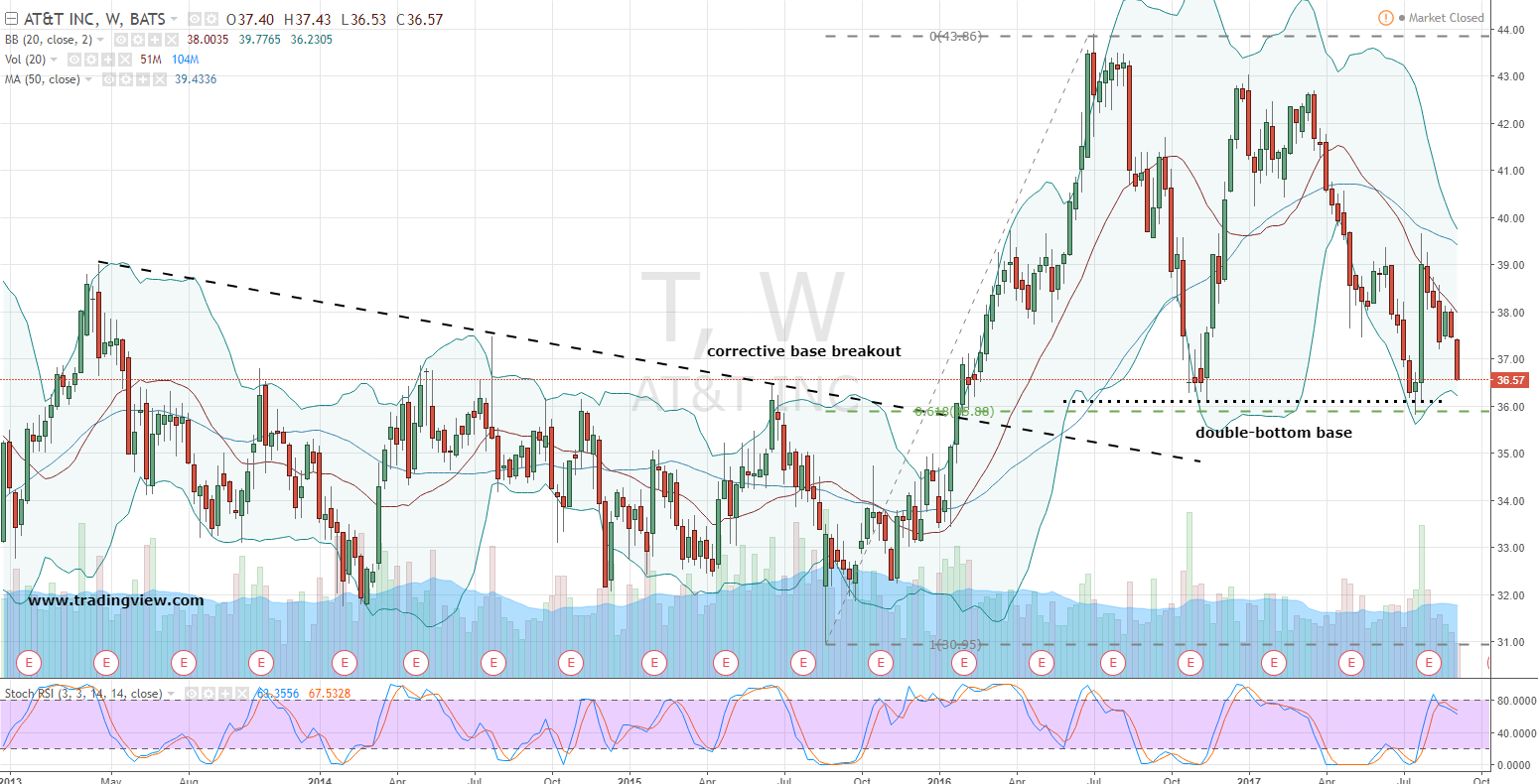 If you've heard the advice to cut your losses and let your winners run, T stock has made the technical case for bullish investors the past couple weeks, to take a small loss and move on.
Last month, I presented evidence shares of AT&T had bottomed on the weekly view. In our estimation T stock was offering a pullback opportunity to investors on the days following a massive, and well-built, double-bottom base off key 62% support.
Technically, support has not been breached in T stock. I see little reason in waiting. Bottom-line, the severity and speed of the move back towards a full-blown test of the low trumps remaining optimistic — and yes, despite Wednesday's earnings gap fill. Having said that, I'm making the call to hang up on T stock and respect price action strongly suggesting an impressive base has already failed.
T Stock Bear Put Spread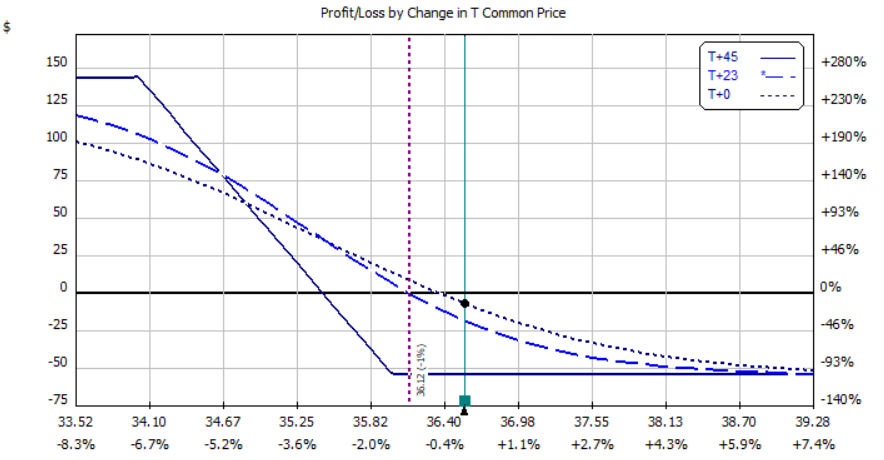 Given our view T stock will break its double-bottom near $36, a sprinkle of seasonal market pessimism and mixed option premiums, I like the Oct $36/$34 bear put spread for positioning.
Priced for 50 cents mid-market with shares at $36.56, the position offers traders stock risk of less than 1.50%, a breakeven roughly 1% below the described technical support and a potential return of $1.50, or 300%, if T trades below $34 at expiration.
T stock under $34? That may seem like a stretch as it's a full 7% removed from current prices. But given the prep work and failure to connect with investors, an opportunity to profit from a bearish breakdown is looking fairly dialed in, all things considered.
— Chris Tyler
The Ultimate Marijuana Stock to Go Ballistic in the Next 90 Days
[sponsor]
Recreational marijuana is set to become legal in Canada this fall. And the result will send this stock soaring. If you act quickly, before most Americans catch on, you, could turn every $10,000 you invest into $30,000, $40,000, $50,000, or more. This Special Report reveals the No. 1 Marijuana Stock to Buy Now -
Read It Here.
Source: Investor Place