One of the areas I've been looking into as part of my Singularity research project is drones. These small flying robots have tremendous potential to become a crucial part of other technological advancements.
One example that immediately comes to mind is Agriculture 3.0. That's where drones can gather all sorts of data for farmers on the state of their crop, the dryness of the soil, or whether something must be done to control pests.
This data will help farmers grow more food to help feed a growing world population, while saving money on water, fertilizer and pesticides.
But up until now people have looked at drones in one of two ways.
Either as a toy – a small, insect-like buzzing around a park or as a weapon, dealing destruction from the sky.
The former are the most numerous, with about two million recreational drones sold globally last year.
But the latter category accounted for the vast majority (90%+) of the money spent on drones last year.
The good news is that, finally, a space in the middle – commercial applications, is beginning to grow. More on that in a moment and the possible investment opportunities there. But first, I wanted to fill you in on the latest development on the military side.
Drone Swarms
There was a demonstration on June 11 by the state-owned China Electronics Technology Group that I'm sure got the attention of the Pentagon brass. It involved the largest-ever "swarm" of drones – 119 – breaking a U.S. record. These were ordinary, off-the-shelf drones you could buy online. But there was a difference – they were all loaded with software and sensors, allowing them to communicate with every drone in the swarm.
That brings a nightmare scenario to mind, where a swarm may involve thousands of drones all connected and driven by artificial intelligence (AI). If such drones were fitted with missiles or warheads, such a light attack force may be able to overcome a more powerful and sophisticated opponent just with sheer numbers.
I'm sure the Pentagon is aware that our aircraft carriers and fighter jets currently have no defense for such an attack from a 'wolf pack' of weaponized drones. And that China leads the global commercial drone industry with companies like DJI (Dà-Jiāng Innovation Science and Technology), Ehang and Zerotech, whose technology it is likely the Chinese military 'borrows'.
But of course, we have our own drones. An exercise last October by the U.S. military at Naval Air Weapons Station China Lake involved the release of a swarm of 103 Perdix drones.
Drone swarm technology thankfully is still in its early stages, but it must be watched. The future may depend on what country has the best software and AI.
Commercial Applications
Let's now move away from the unpleasant side of drones to what I touched on previously – commercial uses of drones are proliferating.
According to the tech research firm Gartner, last year saw 110,000 drones that were sold for commercial use. This year Gartner estimates that number will rise to 174,000. Even though this seems like a small number, the revenues generated from these sales are already nearly twice as big as what is generated from consumer drones.
In a research report by Goldman Sachs, it predicted that $100 billion would be spent on military and commercial drones though 2020. In fact, Goldman said the commercial segment would be the fastest-growing. It specifically pointed to spend from the following sectors on drones: construction ($11.2 billion), agriculture ($5.9 billion), insurance ($1.4 billion) and infrastructure ($1.1 billion).
I believe the commercial drone segment will become the fastest-growing part for the drone industry. That should be especially true here in the U.S. since the Federal Aviation Administration (FAA) has finally lid out some rules and regulations for commercial drones after years of delay.
Now companies can proceed with their drone plans. Remember that Amazon (Nasdaq: AMZN), Alphabet (Nasdaq: GOOG) and others are developing drones for package deliveries. Walmart (NYSE: WMT) intends to use drones to run its warehouses. Advancements will continue, so don't be surprised if someday a drone delivers a pizza to your house.
Drone Investments
A number of drone companies and start-ups have already gone by the wayside. But there are a few solid ways for you to invest into the industry.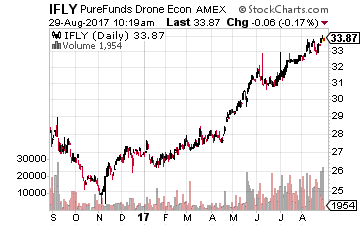 One is a broad play through the ETFMG Drone Economy Strategy ETF (NYSE: IFLY), which is up about 25% year-to-date.
Its top portfolio components second through fifth are: the struggling French company Parrot SA, Boeing (NYSE: BA), the also struggling GoPro (Nasdaq: GPRO) and another laggard Ambarella (Nasdaq: AMBA).
I would much rather opt for the top position in the fund, Aerovironment (Nasdaq: AVAV), which manufactures drones for both the commercial and military markets. It was founded in 1971 by Paul Maccready, the inventor of the Gossamer Condor, the first human-powered aircraft capable of controlled and sustained flight.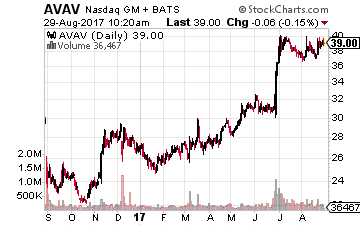 It is the largest supplier of drones to the Pentagon with drones like the Raven (the most widely-used unmanned aircraft in the world today), the Puma AE, the Wasp AE, the Snipe and the Switchblade.
The U.S. government accounts for 71% of the company's revenues.
On the commercial side, Aerovironment offers the Quantix (packed with AI) for use in aerial inspections, mapping, etc. Besides agriculture, other industries that may make use of the Quantix are: mining, energy, communications as well as local police forces.
The company is also moving into another business. Its electric transportation solutions include a suite of electric vehicle charging systems and installation services for consumers, automakers, utilities and governments.
Aerovironment's stock, after years of being a market laggard, has awoken this year, rising nearly 45% year-to-date to about $39 a share.
If the seminal research report by PricewaterhouseCoopers in 2016 is even close to right, there's a lot more to come for AVAV. The report said the worldwide commercial market for drones, worth about $2 billion last year, would soar to as much as $127 billion by the end of the decade. That's the kind of exponential growth investors dream about.
— Tony Daltorio
[ hana-code-insert ] 'ia-alan' is not found
Source: Investors Alley