RETAIL TURMOIL WEIGHS HEAVILY ON THIS MALL OWNER
Today's chart highlights the next victim in the retail bust…
As regular readers know, the brick-and-mortar retail sector has been struggling as more consumers turn to online shopping.
Retailers are seeing major foot-traffic declines and are regularly reporting sinking sales. Many are filing for bankruptcy.
With 127 properties in 40 states, GGP (GGP) is one of the largest mall real estate investment trusts in the U.S.
But the company is highly dependent on failing tenants like Macy's (M), JC Penney (JCP), and Sears (SHLD).
This year, those department stores are closing nearly 600 stores combined. That means lots of vacant space and no rent for GGP…
As you can see below, GGP shares are breaking down. They just hit a three-year low. Last September, Porter's team recommended shorting the stock in Stansberry's Investment Advisory. Readers who followed that advice are sitting on gains of more than 20%. Congratulations to Porter on another great call…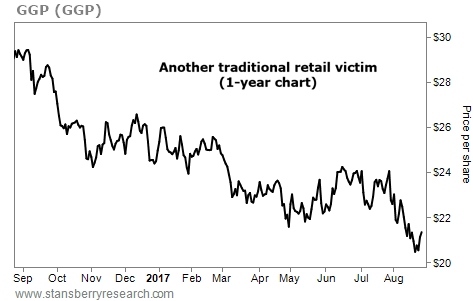 Claim a 100% Risk-Free Trial to DailyWealth Trader...
[sponsor]
For a limited time, get immediate access to "the best of" Stansberry Research's trading ideas. As one reader said: "I am 11 for 11 so far... in less than 2 months."
Learn more here.
Source: Daily Wealth's Market Notes