Much has been said about Amazon.com, Inc. (NASDAQ:AMZN) and its retail-killing ways. It seems like every week a new brick-and-mortar store is seeing its share price plunge to fresh 52-week lows.
And while their pain may be Amazon's gain, the stock has actually been struggling of late. Sellers have seized control, and the technical damage is beginning to pile up.
Perhaps the good news has been priced in.
Or maybe AMZN stock is getting caught up in the widespread weakness that has taken the entire market down a few pegs this month.
Either way, the character of Amazon stock has changed.
And that warrants caution from even the most ardent fans.
Since the late-summer swoon isn't isolated to Amazon alone, let's first assess the entire tech sector using the PowerShares QQQ Trust, Series 1 (ETF) (NASDAQ:QQQ).
Are Tech Stocks Topping?
After peaking on July 27, QQQ proceeded to lose 3.2% in value. Obviously, the magnitude of the decline makes any talk of a major top entirely premature. There are numerous areas of the market — from small-caps and retail to energy and consumer discretionary — that have fared far worse. In fact, from a charting perspective, tech is undoubtedly one of the healthier sectors.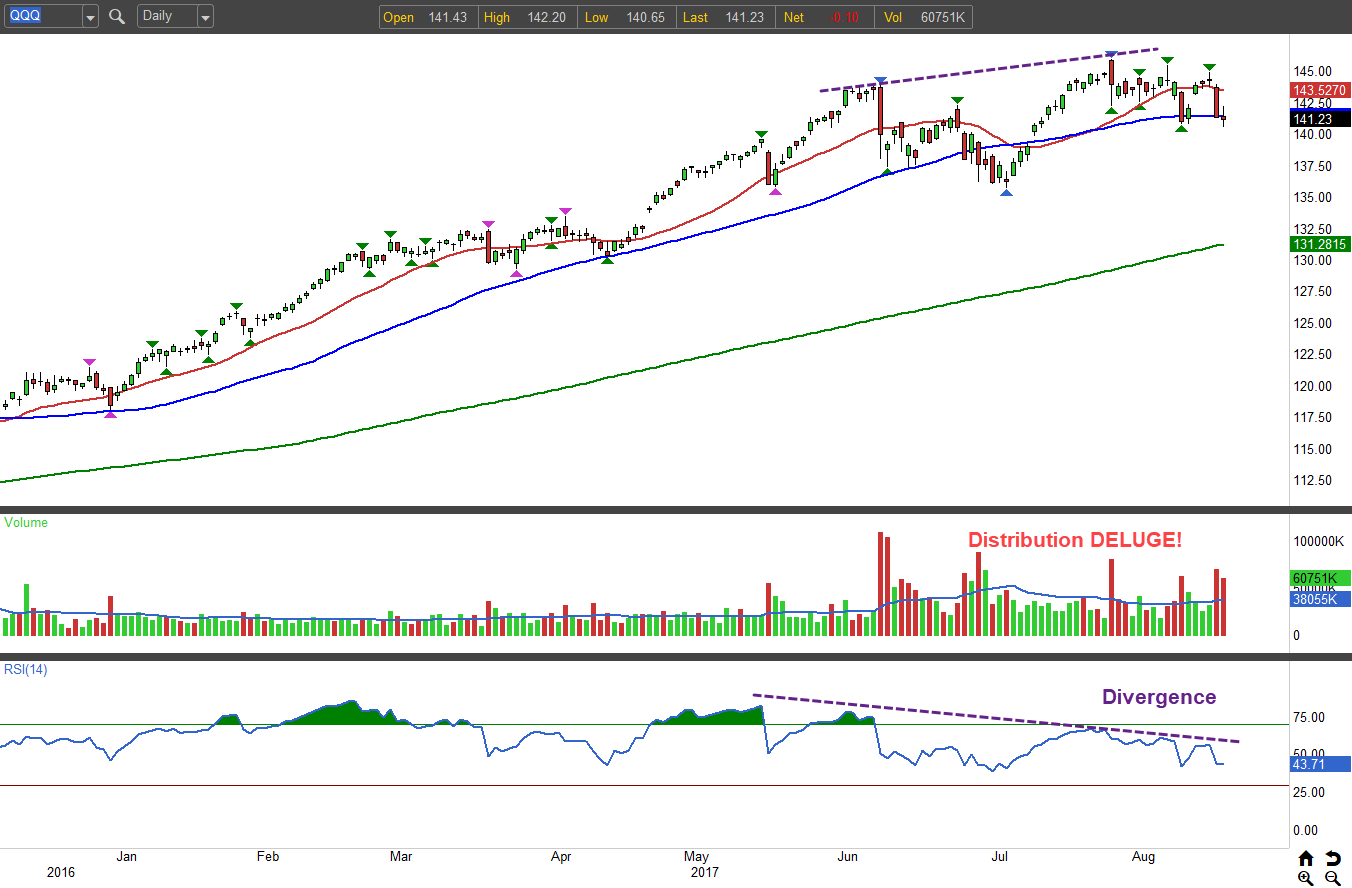 Source: OptionsAnalytix
Still, all major corrections begin from minor declines, so it's worth keeping an eye on the deterioration as it materializes.
Perhaps the biggest reason for caution in QQQ is the increasing number of distribution days seen over the past three months. The participation on down days has been extremely aggressive, suggesting it's more than small-money, retail traders parting with their shares.
On top of that, tech stocks have lost some serious momentum. The RSI indicator has flashed a bearish divergence since June. In isolation, this type of signal isn't all that potent. When seen with other warnings signs (like distribution and seasonality), however, it's worth taking note.
Until QQQ climbs back above its $145 resistance level, caution is warranted in the land of tech.
AMZN Stock Charts
Amazon has turned from leader to laggard in the tech space. At least since its last earnings announcement, that is. The stock is off 11.5% from its record peak of $1,083.31.
When viewed on the weekly time frame, the past month of selling appears a garden-variety pullback and nothing more. Not yet at least. Worrywarts will note the slight RSI bearish divergence created on the last upswing. The takeaway is similar to that mentioned above with QQQ.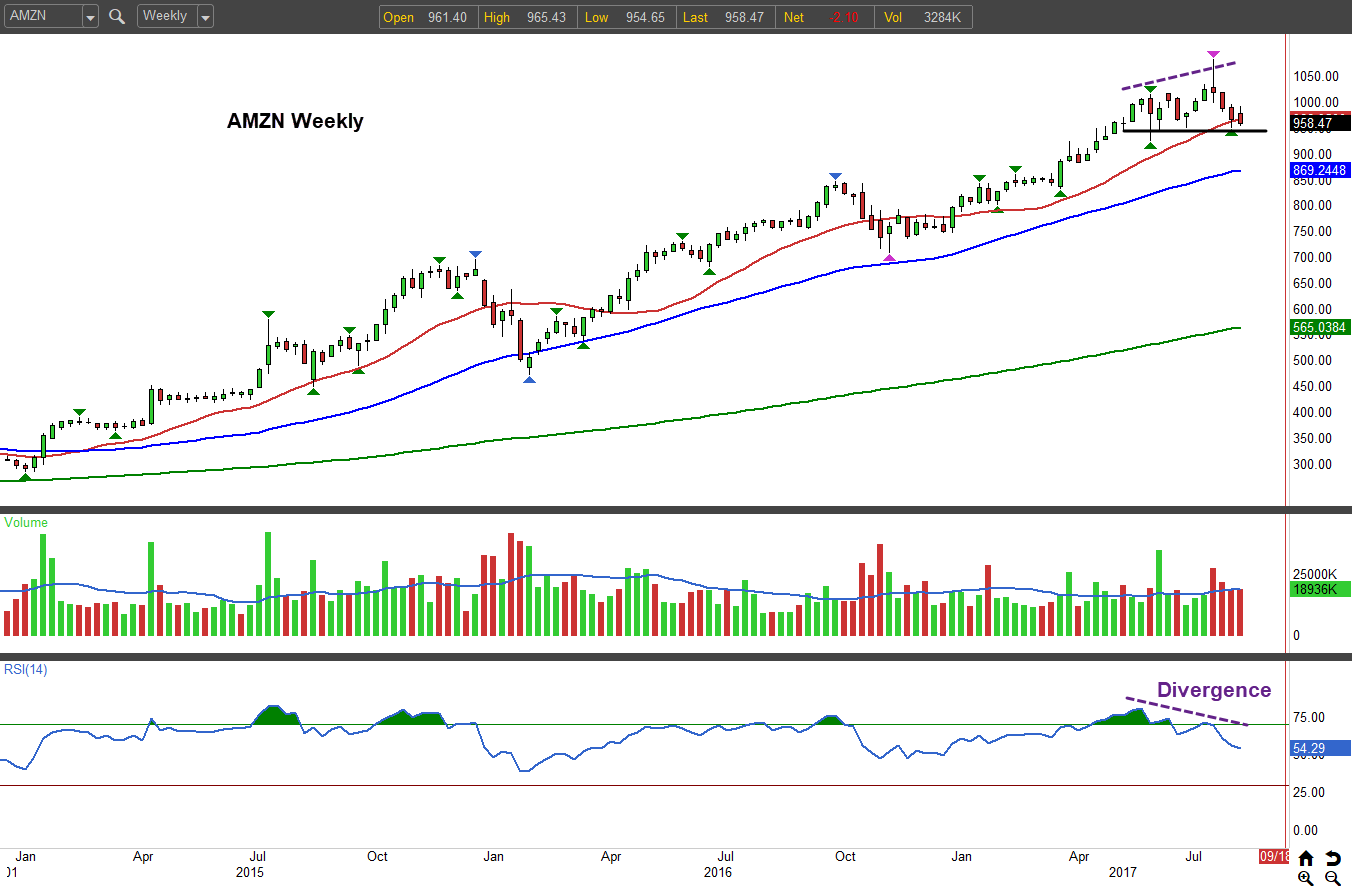 Source: OptionsAnalytix
Support is in the process of being tested at $950. If we break that pivot, it will be the first time a weekly support zone has failed since the beginning of 2016.
Things turn nastier when viewing the daily time frame. The recent rollover carried AMZN stock below its 20-day and 50-day moving averages. Worse yet, they're both descending which confirms the short-term and intermediate-term trends have officially reversed.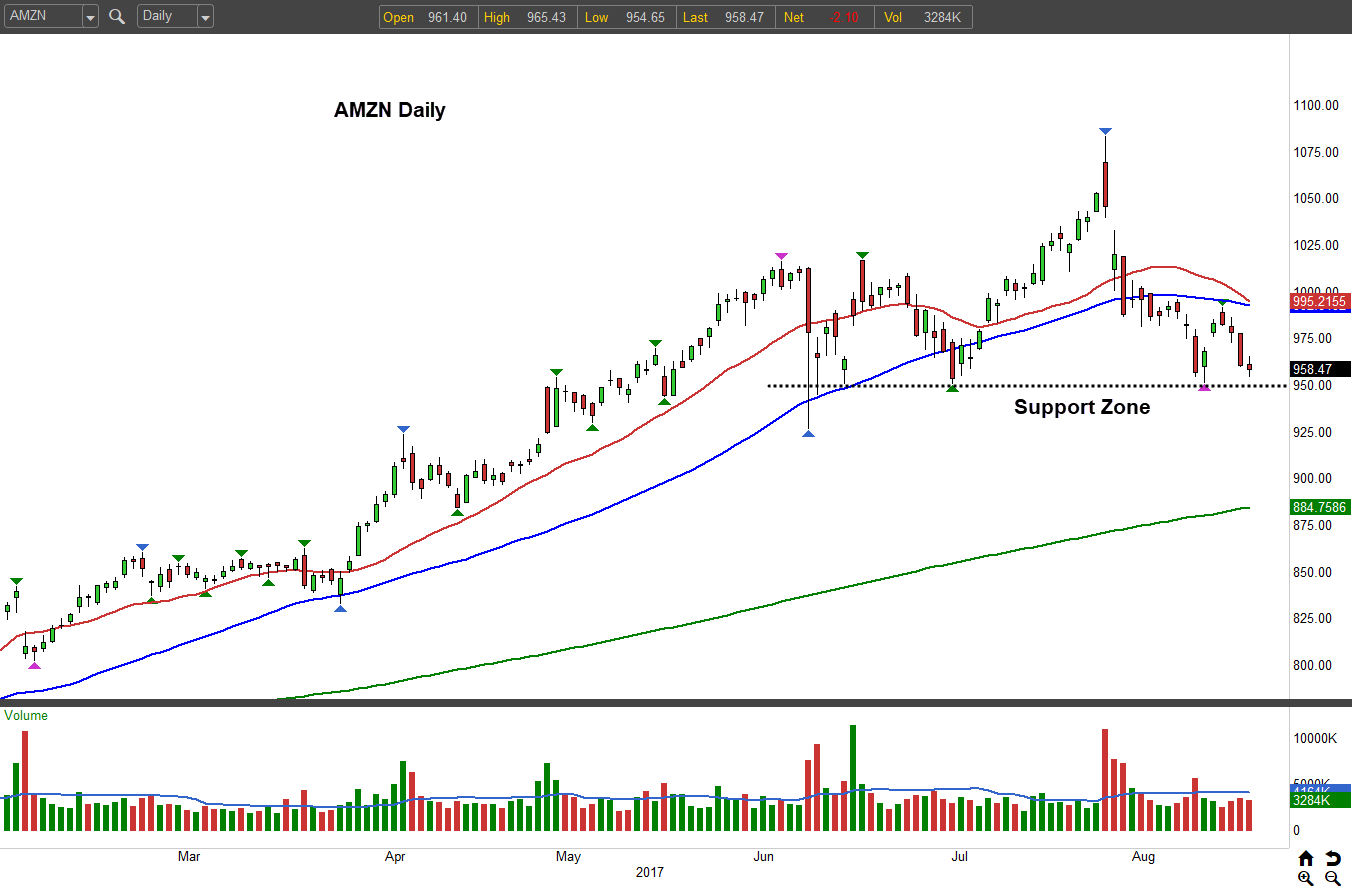 Source: OptionsAnalytix
Last week's rebound off the $950 support level was swiftly rejected, and we're once again testing the floor. The more we chip away at this zone, the more it's likely to give way.
The best case scenario for the bulls is to see a false breakdown of this floor in the days ahead. That is, a drop below it followed by a swift recovery.
If you're looking for a bullish AMZN play, then that's your setup.
AMZN Breakdown Trade
Those looking for the support breach to stick could initiate bearish trades instead. The elevated implied volatility in tech stocks is making bear call spreads an attractive proposition. Sell the Sept $1000/$1010 call spread for $2.25.
To limit the loss if you're wrong, consider exiting if we rise above the recent pivot high of $992.
— Tyler Craig
Take the $20 Trading Challenge
[sponsor]
Give us $20 – $19.95, actually – and we'll give you 20 powerful trades. That's a month's worth of trading. 5 new trades each week, handpicked by Ken Trester – one of the longest-lasting & most successful options traders of all time. So, if you're interested, -
click here to avoid missing out.
Source: Investor Place