The recent bearish turnabout has me eyeing potential plays that will profit from continued selling. After an exhaustive survey of my watchlist, FedEx Corporation (NYSE:FDX) is one of the best setups on the board. Indeed, while the broad market has been grinding higher, FDX stock has been stumbling.
Don't let yesterday's quarter-percent drop in the S&P 500 fool you. Volatility was on the rise, delivering quite the intraday reversal.
From high to low, the S&P experienced a 0.8% drop, which qualifies as a massive move these days.
The CBOE Volatility Index jumped 10%, confirming the elevated anxiety.
It looked as if buyers were going to run away with prices in early morning trading.
The SPDR S&P 500 ETF Trust (NYSEARCA:SPY) cleared the $248 resistance level finally departing the range it's called home for the past two weeks.
Then it all fell apart.
By day's end, the breakout had been soundly rejected. Time will tell if sellers will press their advantage. So far this summer they've proven impotent, but perhaps weak seasonality will finally spur them to action.
Trouble in Transports
One area that's already succumbed to selling pressure is transportation stocks. To chronicle the crumbling let's turn to the iShares Dow Jones Transport. Avg. (ETF) (BATS:IYT).
All told, I spot three feathers in the bears' cap:
First, a failed breakout over $173 from early-July.
Second, a support break that transpired on heavy volume.
Third, a lower pivot high that just formed.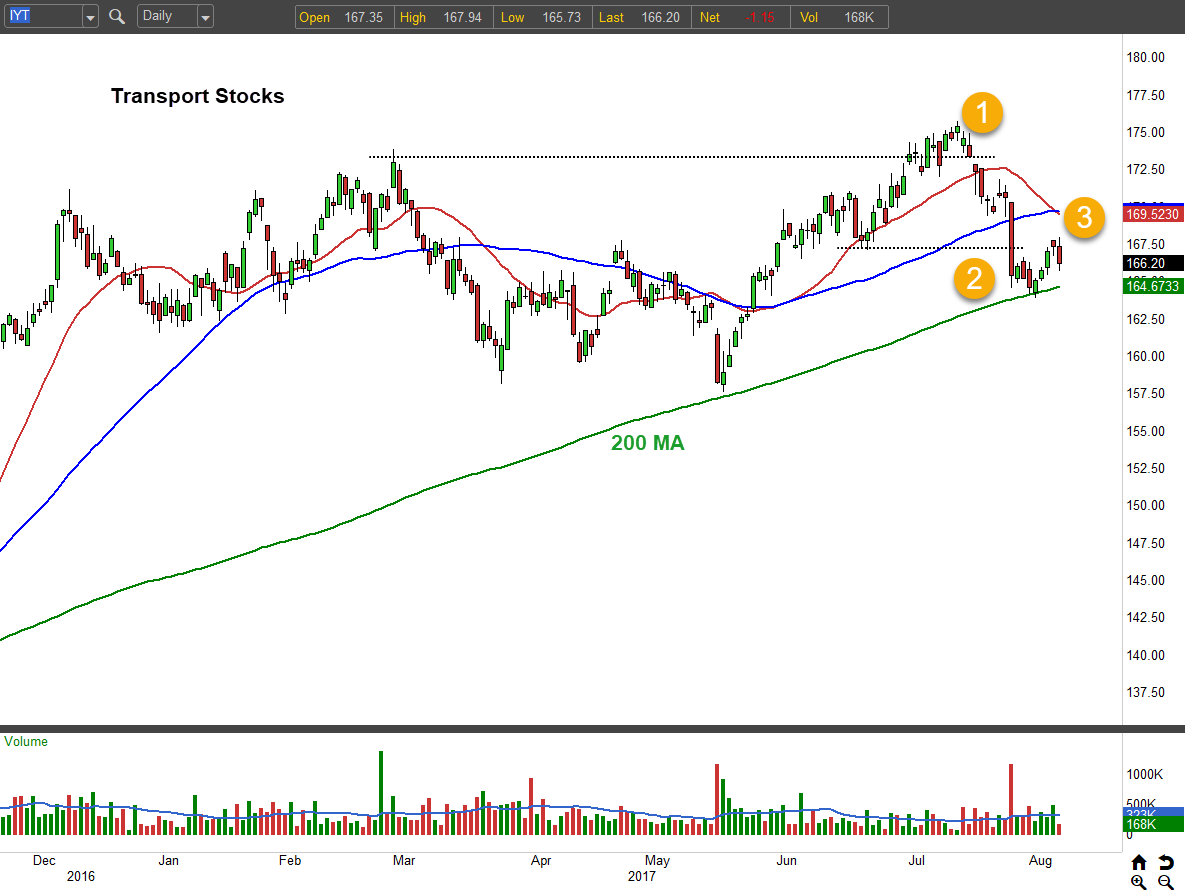 Source: OptionsAnalytix
Thus far the 200-day moving average has been able to keep serious sellers at bay, but its days may be numbered. IYT is one banana peel away from falling below this critical moving average.
Throw it all together, and it's no wonder why the transportation industry boasts some of the better bearish setups on the Street this week.
FDX Stock Charts
The weekly chart of FedEx shares still shows an uptrend. So despite the signs of weakness I'm about to lay out on its daily time frame, the bigger trend remains in the bulls' hands (hooves?). But remember, weakness always shows up on smaller time frames first. The daily trend always reverses before the weekly.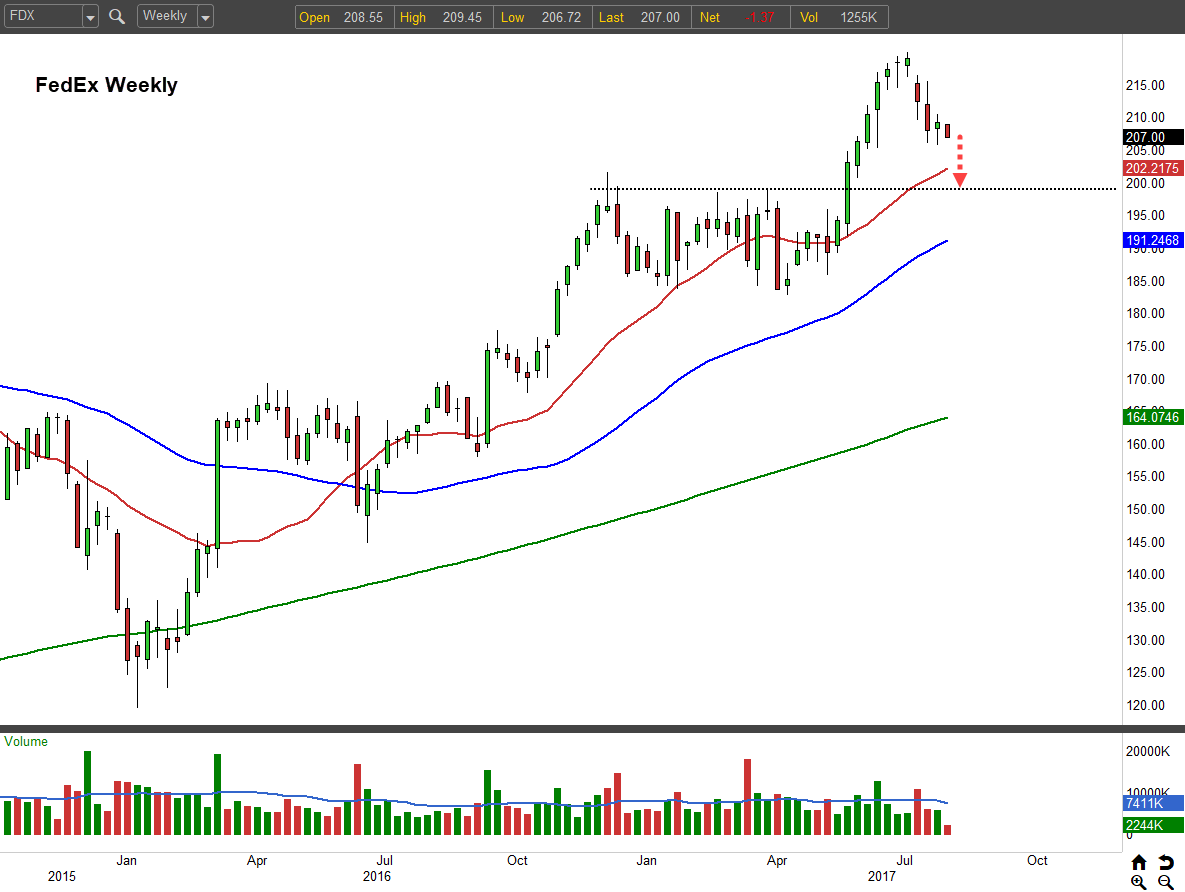 Source: OptionsAnalytix
Before departing the weekly, it's worth mentioning FDX does have room to fall farther. The next potential support rests at $200, so it's realistic to see another $7 drop before buyers swoop in.
The past month has been filled with bearish price action. Distribution days have multiplied. Support levels and moving averages have been breached. And bear retracement and breakdown patterns have cropped up. Currently, FDX stock boasts a low base setup which appears poised to trigger. Since cratering on heavy volume July 27, FedEx has been basing sideways, unable to get off the mat.
With Tuesday's drop back to support, I think a breakdown is imminent.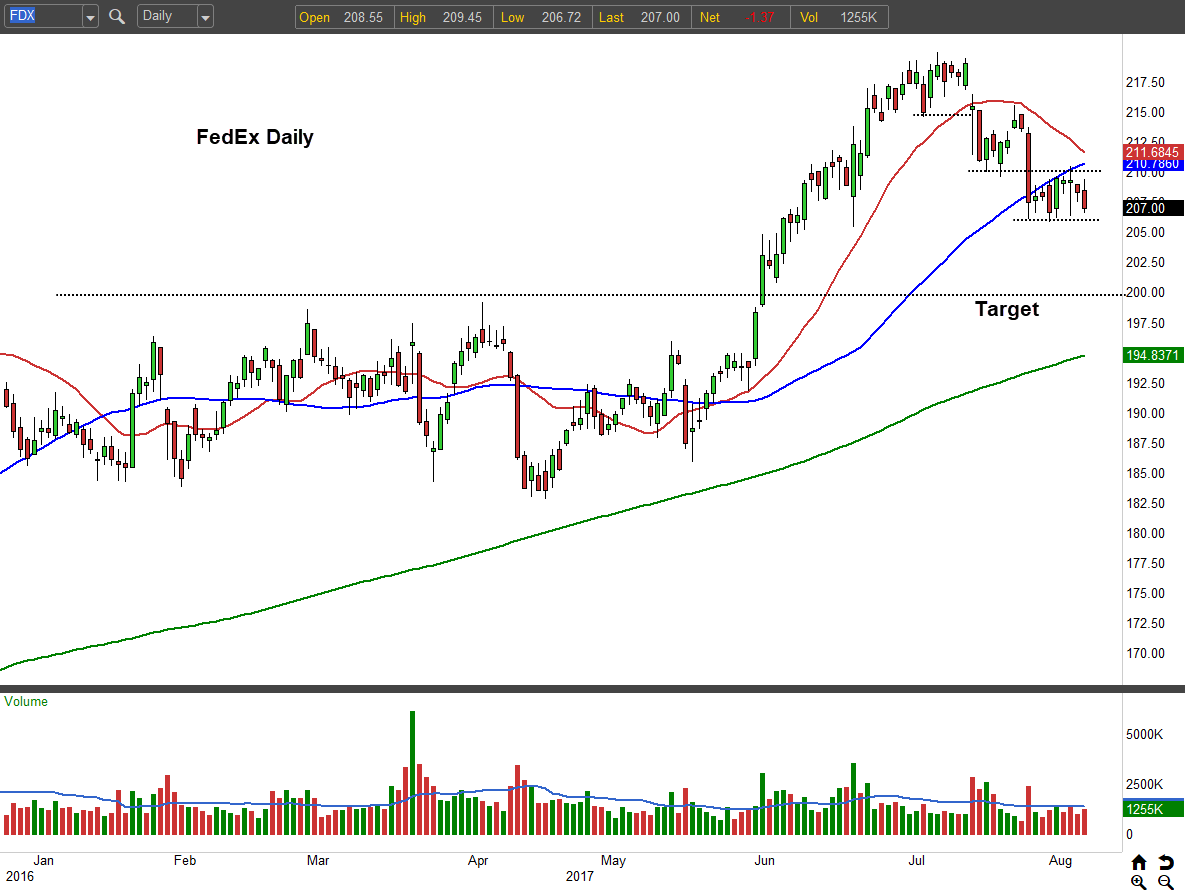 Source: OptionsAnalytix
Watch for a drop below $206, then sally forth with your bearish trade of choice.
The Trade on FDX Stock
If you're looking for a higher octane trade that will really deliver the dough if FDX bites the dust, I suggest buying the Sep $210/$200 bear put spread for $4.10. The vertical spread sets up nicely to capitalize on a move toward $200 since that's the price level where the profit maxes out. The initial cost of $4.10 represents the max risk, while the max reward is $5.90.
To minimize the damage if FedEx somehow finds its footing, consider exiting on a break back above the 20-day moving average at $211.68.
— Tyler Craig
The Ultimate Marijuana Stock to Go Ballistic in the Next 90 Days
[sponsor]
Recreational marijuana is set to become legal in Canada this fall. And the result will send this stock soaring. If you act quickly, before most Americans catch on, you, could turn every $10,000 you invest into $30,000, $40,000, $50,000, or more. This Special Report reveals the No. 1 Marijuana Stock to Buy Now -
Read It Here.
Source: Investor Place